Flying Sporran's Mid-Week Diary


UNESCO TO PROBE FAKE AWARDS IN THAILAND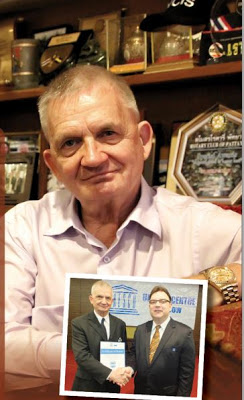 Picture-Thailand Professionals
I took time off this week to attend a conference in Pattaya about combatting foreign crime. Mayor Ittiphol Khonpluem put up a very good show appearing genuinely interested in combatting crimes against foreigners (and presumably by foreigners too).
There was an impressive display of generals including the CSD chief and of course Pattaya's most decorated foreigners, Niels Colov, CEO of the Pattaya People Media Group and Drew Noyes founder of the Pattaya Times.
Mayor Ittiphol called on foreigners to help solve the city's crime problems and Niels was there in one of his many roles as, head of an expat club, publisher, and leader of the Pattaya Police Volunteers.
And downstairs officers of the CSD Consumer Protection Department in Bangkok were busily interviewing foreigners who had been scammed out of property in the resort city. Seems a real start was being made.
So the following day I was surprised to read of the arrest of Somchai Khunploem, Ittiphol's dad, at the Lat Krabang toll way having visited Samitivej Srinakarin Hospital and how he was carted off to Bangkok Remand Prison possibly on the way to Bangkwang Prison 'The Big Tiger' to serve a 30 year sentence for murder and corruption.
Some mistake surely.
Niels Colov with Kamnan Poh
Somchai, alias Kamnan Poh, Somchai, once dubbed the "Godfather of Chon Buri", according to the Bangkok Post was convicted in March last year in absentia by the Supreme Court for masterminding the murder of political rival Prayoon Sitthichoke at a wedding reception in March 2003. He was handed a sentence of 25 years in prison. The other five years was for building a rubbish dump in a forest reserve – which in my book seems a lot more serious.
Another son is Culture Minister Sonthaya Khunploem, Somchai's son, who, the Bangkok Post reported, arrived at the prison but did not get out of the car.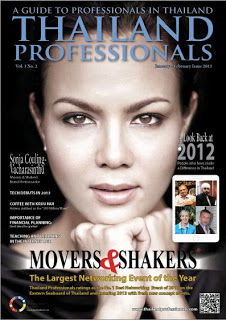 It seems Kamnan Poh had been living at home in Chonburi all the time.
On the same day I also turned to a copy of a new 'lifestyle' magazine called the 'Thailand Professionals' – a 'guide to professionals in Thailand' to see a picture of Niels Colov posing in front of his shelves which are stacked with medals awards etc.
Prominent pictures were also shown of Colov and various others in Bangkok receiving Blue Crosses from the UNESCO centre in Cracow, Poland. What UNESCO centre in Cracow?
UNESCO PR people are of course puzzled and have issued a statement saying this ceremony had absolutely nothing to do with them.
They do not have any Blue Crosses and there has been a fraudulent use of UNESCO logos etc.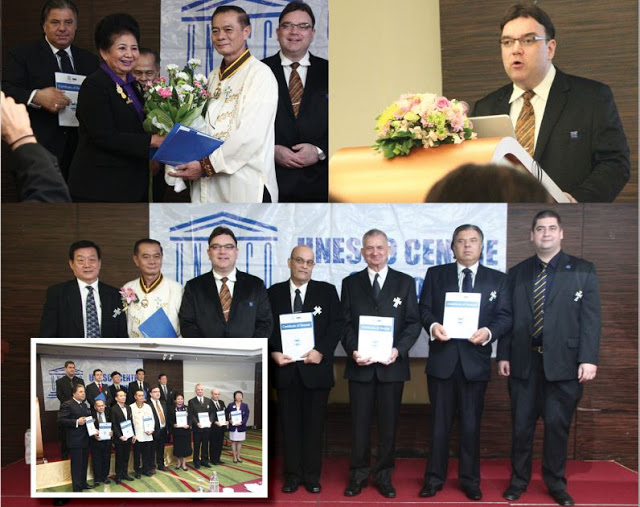 The mysterious Dr. Kunze speachmaking and awarding medals
Colov refuses to acknowledge the UNESCO statement and his Pattaya People sent the photographs of him receiving the award plus a big public relations piece on him.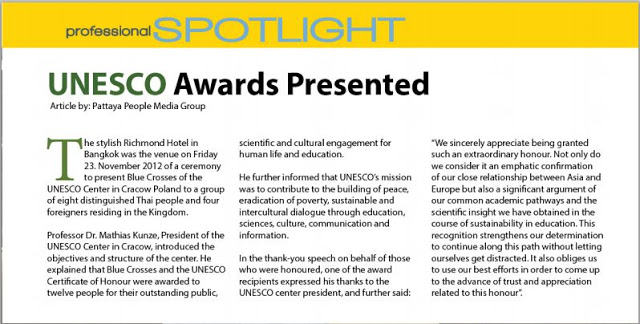 In fact this is what he said:
"I will see what comes out of that. If no clarification comes, I might take further personal action about the matter, but so far I only have your words for that you think the awards ceremony is a "scam".
I think?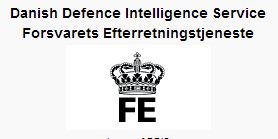 In the article Niels Colov says he was formerly in Danish Military Intelligence that is before becoming the boss of a film company. No mention of his days in Copenhagen running streets girls, or his convictions for pimping and violence.
I dated a female Danish military intelligence officer once. She was in naval intelligence. It was not a massive organisation. This was when the Cold War was still on and I think Denmark's foreign policy in the event of war was to pick up a phone, call the Kremlin and say 'We surrender!' (Vi overgiver)
It's a funny old world to the east. Hard to know what is real and what is fantasy.
And finally – How a well known American businessman in Thailand pretended he was organising the event and in charge of seating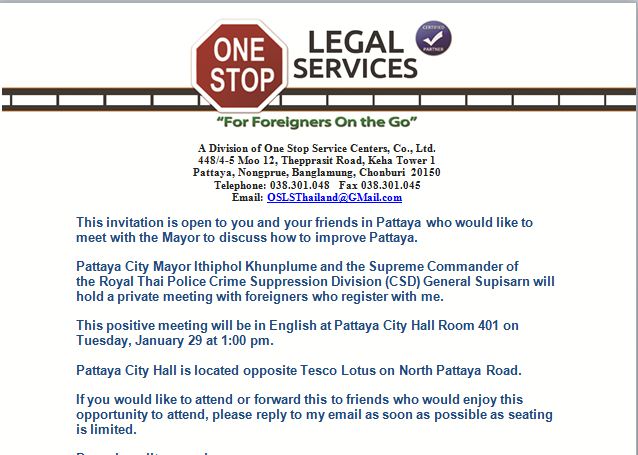 But he was quiet as a church mouse and only there to pose for pictures
This iin today (01/02/13) From UNESCO Public Relations Department
Please kindly note that after consulting our Legal Affairs department in
UNESCO Headquarters, this issue has been formally forwarded to Thailand´s
National Commission for UNESCO, so it is now in their hands to take the
appropriate action at the national level.
You will find their contact information below:
English
Name

Thai
National Commission for UNESCO

Address

Bureau of
International Cooperation
Ministry of Education
Ratchadamnoen – Nok Avenue, Dusit
Bangkok 10300
Thailand

Phone

(66)
2628 5646/9

Fax

(66) 2281 0953

E-mail

Web
site
Thank you once again and best regards,
Rosa M. Gonzalez