WILL LIFE, AS ANDREW DRUMMOND KNOWS IT, STILL EXIST?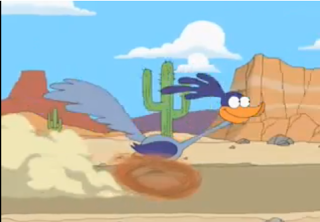 PLUS – PATTAYA PUBLISHER WARNED CASE WILL BE DISMISSED IF HE FAILS TO ATTEND.
AND THERE'S MORE – NOYES MAKES HIS OWN TV DEBUT WITH RUSSIAN WOMEN, A RETIRED SERVICEMAN AND THE BOSS OF THE PLACE WHERE HE WAS ARRESTED FOR EXTORTION!

Amerikanets v sluchayakh moshennichestva v nastoyashcheye vremya stremitsya russkikh kliyentov v Pattayye
Controversial American businessman Drew Noyes was told by a Pattaya Judge yesterday that unless he came prepared to court the next time yet another libel case he had brought against Andrew Drummond would be dismissed.
Drew Noyes, the boss with Wanrapa Boonsu of a company calling itself 'One Stop Service Center', turned up with a new lady lawyer, after his last one quit, for a case in which he is prosecuting, claiming Andrew Drummond had libelled him by making him out to be gay when he is in fact a 'real man'.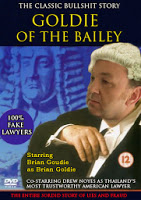 Six cases brought by Drew Noyes and his wife Wanrapa against Andrew Drummond have already been dismissed, as have two brought by Brian Goudie. aka Goldie, a Scotsman posing as a barrister in Thailand.
Noyes lawyer had asked for an adjournment. This was refused after lawyers for Andrew Drummond pointed out his time wasting techniques, detailed the cases which had been dismissed, and the ill-conceived nature of the current case. Drummond's lawyers insisted the case start straight away – which it did after a power-cut.
Noyes' lawyer however said she was not ready to put Noyes himself on the stand to complain how Drummond had taken away his manhood and proffered instead Wanrapa Boonsu, who expressed her usual shock at allegations made by Andrew Drummond, but said she had three children by Drew Noyes, thus demonstrating quite clearly that he was a real man.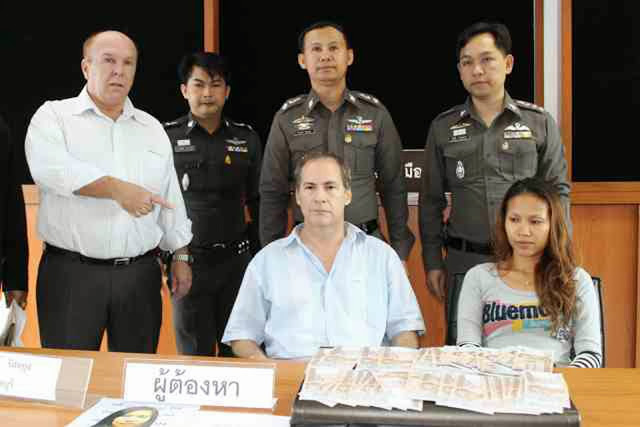 Noyes was told unless he testified on December 21st the case would be dismissed. Drummond was not present at the hearing.
Drew Noyes however turned up with two of his daughters for reasons yet to be explained.
A reader has written in to ask Andrew Drummond. 'Will be there life after Drew Noyes?' Unfortunately we can re-assure readers there will be another one along in a minute.
But we sympathise with some readers who are suffering from a surfeit of Noyes over the last week but that's because we have had court hearings on five out of the last seven days!
However we enjoyed the cartoon link he enclosed.
DREW NOYES MAKES HIS OWN TV DEBUT
Американец в случаях мошенничества в настоящее время стремится русских клиентов в Паттайе


The 57-year-old boss of One Stop Service Center – the company which illegally used the Thai government promotional film starring former Premier Abhisit Vejjajiva to promote the the Board of Investments's 'One Start One Stop Service Centres' – to pretend his own Pattaya company had government legitimacy – is now set to make himself a TV star.
Unfortunately he does not use microphones so its very difficult to hear here what these Russian women, one looking eerily like Rosa Klebb, are saying, either in Russian or English or where he has dragged them in from. Nevertheless if you look at Drew Noyes he understands it all as usual as he nods away knowledgeably while the woman talks in a provincial Russian dialect.
Drew Noyes is of course now targeting the Russians, perhaps because The West is now aware. So he has now had his askthailandpolice.com website translated into Russian and provides a special box where can they can report Russian crimes directly to him.
Soobshchit' Rossii prestupleniyam i prestupnikam Dryu Noyyes!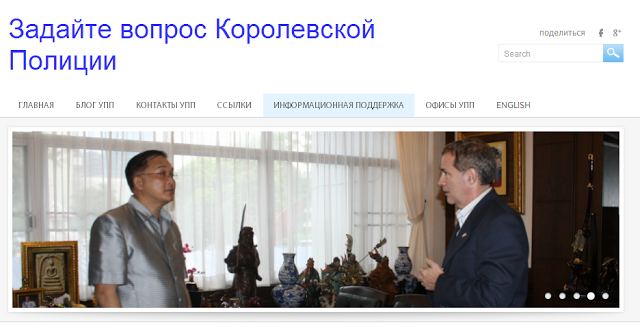 Noyes with the head of the CSD. The CSD apparently deny that his police website has anything to do with them,
so I guess all their answers to foreigners' questions- like 'Andrew Drummond has libeled me,
what do I do? – may have been made up!
But here below he has found a testimonial from an American retired serviceman – again I cannot quite hear his name, but it's Captain Larry something (not Warry as in the film title) – who says Drew saved his condos from his wife (even though his wife was willing to give them to him). The American seems a bit of a sucker for punishment. He has fallen in love again something he could not have done it appears have done without Drew Noyes – who is handling all the new documentation and by the looks of things also helped prop him up for the interview. Oh. Oh.

(PAPPA was no acquired by One Stop as he states btw)
Drew Noyes announces that he specialises in getting property back from wives – at which point perhaps the audience needs to be reminded that he is being sued by Dutchman Theo van der schaaf. van der schaff says he paid Noyes over 400,000 baht plus sent Noyes' 'wife' Wanrapa Boonsu 2.5 million baht to pay off his former girlfriend in Hua Hin to get his property back. He had been advised by Drew Noyes that his company very tactful and delicate in negotiations.
The angry ex-girlfriend called the local police on Noyes' representatives, who made no attempt to give her the 2.5 million baht – and which they now stand accused of pocketing. Noyes and Wanrapa Boonsu are in the Pattaya Court for this.
And finally the film I love the best. This is redfaced hurdy gurdy 'Andy' the Swedish chef proprietor of the News Restaurant on Thappraya Road, Pattaya – very close to the Thonglor Clinic. In fact the News Restaurant is where Drew Noyes and Wanrapa Boonsu were arrested for allegedly trying to extort the clinic out of initially 7 million but finally 2.3 million baht.
Join Us At The News Restaurant and Grill And Get Done For Extortion!
Andy has been listed as a witness in Noyes' continuing extortion trial where he is expected to say:
"Ät min svenska köttbullar och du kan också ha ett ansikte som David Hanks."
(Actually if you say this in a Swedish chef accent you will totally understand it)
There are more videos but they have not been watched much yet (I have clicked on the ones above a few times) Each video is prefixed with a sequence of photos of Noyes with the U.S. Ambassador, Mayor of Pattaya, Chief of Tourist Police, Head of the Crime Suppression Division, with former Melbourne pimp David 'Babyface' Hanks, 65, and two Army Generals etc. etc. ENJOY! And see how many times you can see Drew Noyes in the video below before at a welcoming party for a police chief and red shirt leader Arisman. I have looked at the foreigners in this video – There are some others you do not want to do business with.
Drew Noyes has cancelled comments and has been hastily taking down the videos and re-submit them to remove the dislikes.
Meanwhile here's a link below which shows how Drew Noyes is stealing other people's videos – this one coherent – and passing them off as his own. Its a good advert for Isaan Lawyers though!
The very same lawyer featured on his DivorceThai website – is the same man he accused of being a murderer on his andrew-drummond-watch.blogspot site! and who is allegedly my friend. I don't know the guy but he seems to run a respectable business, has a law degree, and I have had so far not had any complaints about his services.
Drew Noyes has also nicked the logo for his site from the Fox TV programme 'Divorce Court'.
And finally – see any similarity between Saul Goodman from 'Breaking Bad' – He's a fictitious character but I think he has a law degree –