NOYES PRODUCES THE 'MICHAEL JACKSON' DEFENCE IN EXTORTION TRIAL.-
David Hanks at the clinic
David Hanks, the former owner of Masquerades Brothel in Melbourne, is being used by controversial American Drew Noyes, as his 'get out' from a charge of conspiring to extort a beauty clinic in Pattaya out of millions of Thai baht.
In an indignant letter to this site a poster calling himself Stan Longley, but sounding very much like Drew Noyes himself, claims that 65-year-old Hanks, born in Girvan, Ayrshire, Scotland, with also Australian nationality, now looks like a cross between Michael Jackson and a Gay Doll.
And Noyes was allegedly legally acting on behalf of Hanks, who was allegedly planning to file a law suit against the Thonglor Clinic for damages to his cherubic face.
The new claim flies in the face of allegations made in court by Dr. Mike Goulet, joint partner of the Thonglor Clinic in Jomtien, who told Pattaya Provincial Court in October, that Hanks had checked in to his clinic for facelift treatment and asked to speak to him.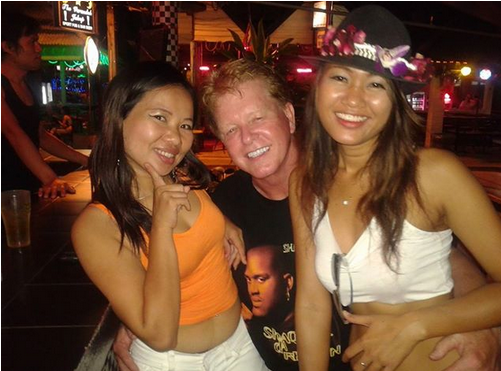 David Hanks, after his treatment, supposedly looking like a cross between Michael Jackson and a Gay Doll
He immediately imparted the information that he was involved in the brothel business in Australia and knew Chinese mafia.
Dr. Goulet said that Hanks told him that his boss, Noyes, whom Goulet also took to be mafia, wanted to speak to him.
"When Noyes called he said: 'Come to my office and we can talk about the protection we can offer so your business can run smoothly.'
"David Hanks said things that scared me."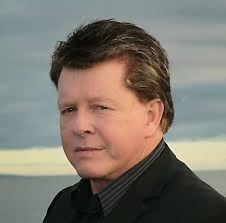 Pattaya Provincial Court was told that at first the cost would be 7 million baht, later reduced as a special favour to 2.3 million to stop a raid by police of the CSD Consumer Protection Department, who would find material which was illegal to use in Thailand.
But Goulet and his Thai partner went to the local police who then ran a sting operation arresting Noyes in the News Restaurant, Jomtien, after Goulet had handed him a down payment of 100,000 baht in a brief case.
Investigating officers also listened in to a conversation between Drew Noyes' partner Wanrapa Boonsu, saying Goulet would have to find the cash immediately if she was to stop the police raid.
Drew Noyes and Wanrapa Boonsu have pleaded not guilty to trying to extort the Thonglor Clinic. However earlier cross examination of Dr. Goulet seemed to indicate Noyes was going to claim that the cash was for advertising in the now defunct 'Pattaya Times' newspaper.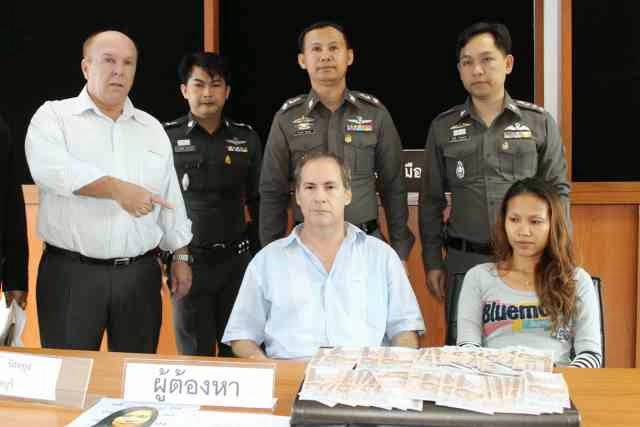 Dr. Goulet points to Drew Noyes and Wanrapa Boonsu after their arrest for extortion
Stan Longley wrote:
"I am probably wasting my time as I am sure Drummond doesn't allow positive comments on this hate blog. The reporting here is just so one sided. Drew has helped me and thousands of other foreigners in Thailand spanning over 16 years.
"This site has identified maybe 10 disgruntled customers from the thousands. It is just a beat up. Works out to be about one a year. A pretty good record considering the tricky and detailed work he does.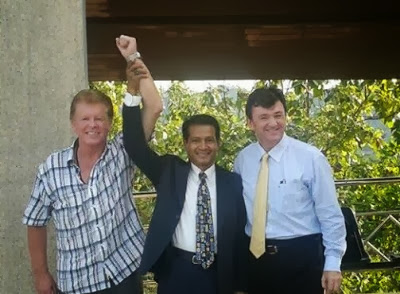 HANKS 'RECUPERATING' IN SAMUI WITH LAWYER AND BRIAN GOUDIE
"Also being a high profile individual always draws critisism from those who are jealous of his success. He will beat the extortion case simply because it was a fabrication made by David Goulet, who is an advertiser on this site. Drew will demonstrate that the measly 100,000 was for a refund for the substandard work they did on David Hanks.
"That is why David was present along with the thai policeman from Consumer Affairs. Simple really. Anyone can see they botched up David. He now looks like a cross between Michael Jackson and a gay doll."
For the first time the Noyes camp has acknowledged that CSD police officer was present in the restaurant when local police carried out their sting. That policeman has now been removed to apparently a very active post in the most southerly provinces.
The trial continues this month. Hanks has been charged in connection with illegal money lending to Russians in Pattaya (charging 60 per cent per month) in an operation overseen by the Department of Special Investigations.
Longley also claimed that the judgement out against Noyes in San Jose, Calfornia, for US$72,000, was merely a company matter. He claimed Drew Noyes has made a lot of money for the plaintiff Tom Flanagan.
This also flies in the face of evidence presented to the San Jose Court which was told that Noyes posed as a medical doctor to scam Mr. Flanagan out of initally US$25,000 through his New England Trading Company. Indeed if he made lots of money why would he sue?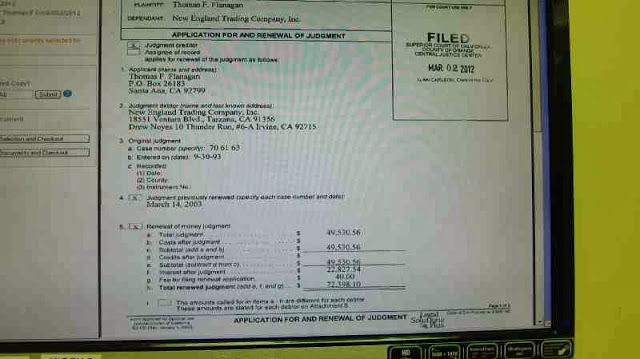 .
The judgement was updated in March last year. Drew Noyes's name has been removed from the membership of the National Futures Association.
Longley attacked posters hiding behind anonymity, while making no reference to the various anonymous websites created by Noyes and Goudie and said that all Noyes influential friends were behind him, including the Pattaya Mayor, Police and even the 'CSI' (sic).
Longley said supporters of this site would be tracked down and not able to hide behind anonymity – and action would be taken against people named as Lee, Ally, and Barry Kenyon. Barry Kenyon is the former British Honorary Consul.
The comments made by Stan Longley are similar to remarks made on Noyes and Goudie's anonymous case-watch-asia.blogspot site below.
Anatomy of a very amateur and implausible claim
"Dr. Mike Goulet, a Canadian living in Thailand, is currently facing criminal charges in Pattaya in a similar case, after he allegedly recommended a similar treatment to an Australian businessman.
"The businessman, suffering complications from the treatment, was later stunned to find out that Goulet is not a medical doctor, but a veterinary surgeon, and as such cannot in any way consult with patients or recommend treatments.
"Following a course of treatment allegedly recommended by Goulet, the businessman has suffered nerve and skin damage, and could face the prospect of facial surgery and skin grafts in the future. The businessman became suspicious when the Clinic allegedly refused to provide medical records with the name of the medicines used."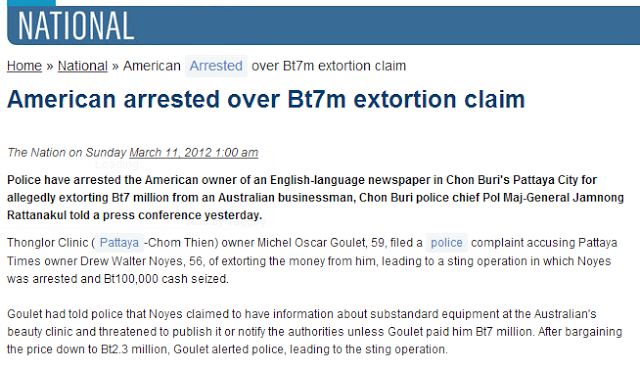 Comment: Dr Goulet is a business partner in the highly rated clinic. He does not perform operations. In his own pictures David Hanks does not appear to be suffering too much. He looks a bit like a British social security invalidity care allowance claimant – caught running a marathon.
No, I do not know what a gay doll is. Nor indeed can I find any record for a Stan Longley in Thailand.
Sifu McInnes has been in touch to say that he has not spoken to Noyes for five years and will not be having any business dealings with Drew Noyes. On that basis this previous story has been withdrawn.
————-
www.andrew-drummond.com: Alexa World Ranking: 34,898: Thailand 257. Today