"HE SAYS I AM 'MAFIA' ! THIS IS READ BY 55 MILLION PEOPLE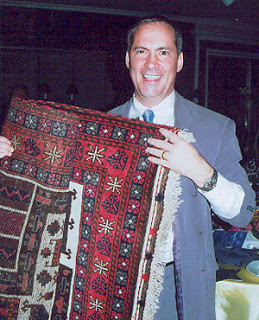 (Pic:Carpetbagger?)
Drew Noyes the former publisher of the late Pattaya Times withdrew a case brought under the Computer Data act against journalist Andrew Drummond at Pattaya Provincial Court (Monday) and failed in a bid to ban reporting on his extortion trial until it was completed.
An allegation by him that Andrew Drummond had breached a court compromise was also rejected as was an application for him to make a television video of the proceedings.
The video application was made in the name of the Pattaya Times Media Corporation. The organisation hardly exists as an entity. It does not have a video outlet and the newspaper no longer publishes.
The website is still leading on a story published in April about the Las Vegas LLC celebrating its second Thai new year (songran)
It nevertheless contains mainly stories about Andrew Drummond who does not even live in the city.
Noyes, 57, held up a copy of the Scottish SUN in the court saying: 'Look they are calling me mafia. This is read by 55 million people'. (Population of Scotland 5.2 million)
Outside the court he shook the paper at Andrew Drummond and said: "This will be your downfall".
The SUN report by-lined Andrew Drummond and headlined 'OAP from Girvan was 'Mafia Enforcer' was compiled from dispatches sent by him to the UK from Noyes' extortion trial and referred to David Hanks who, Goulet testified, said he was in the sex business in Australia, knew lots of Chinese mafia and said his mafia bosss wanted to talk to him.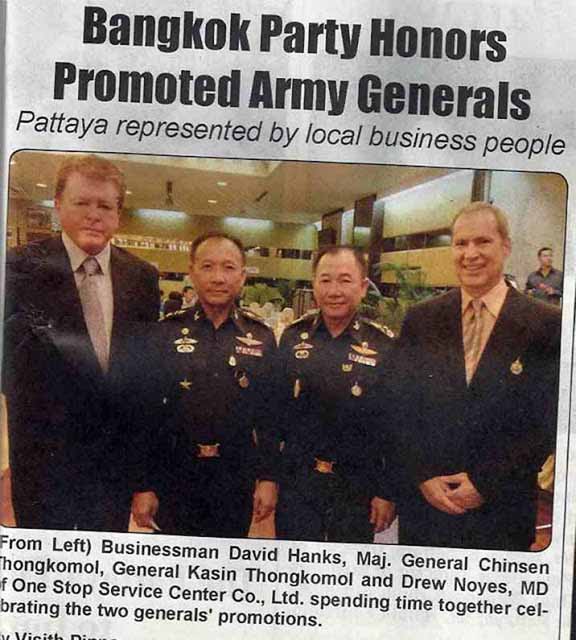 David Hanks (left) Drew Noyes (right) making connections
Drummond said: "Drew Noyes was referred to in court as Mafia by the owner of the Thonglor Clinic who it is alleged was being blackmailed on pain of a police raid and bad publicity in Noyes' now defunct Pattaya Times.
"If he were real mafia however I am sure he would have woken up with a horse's head on the pillow beside him a long time ago."
Noyes was advised by the judge that he if had a complaint he should make a case. Noyes replied: "I will. I will."
Noyes said he was outraged because he had graciously dropped a 5 million baht law suit against Andrew Drummond. The court had ordered him to drop the case.
On charges of libelling David Hanks, from Girvan, Scotland, and Drew Noyes, a trial date was set for October 17 and Drummond was bailed in the sum of 100,000 baht.
Hanks claimed he has been libelled by Drummond who called him a former 'pimp'.
'He's no heavy. He's my brother'
As the records of the Australian Securities and Investment Commission record him as being the former owner of the 'Masquerades' brothel in Melbourne and his younger sister Margaret McCulloch, 61, admitted she knew he ran a brothel but 'did not approve' this seems, said Drummond, a difficult case to lose.
"Pimping is legal in Victoria," said Drummond "and I am at loggerheads to find another word in the English language to describe a person who lives of the earnings of prostitutes".
Noyes claimed his business was badly affected by Drummond allowing posters on his site to refer to 'pimps, oral sex, and mia nois (minor wives). Drummond claims he will prove all the allegations. Drew Noyes registered the websites officialblowjob.info and sextouristapp and sextouristmap.

Growing exponentially. Drew Noyes to the administrator of the subzerosiam forum this month. Drummond
is still at home – not rented btw.
As the case was closed Niels Colov turned up at the court with a bevy of photographers and video cameramen.
Andrew Drummond was allowed to pass unhindered – court officials required all photographers to delete all their pictures. David Hanks was found to have taken a picture of Andrew Drummond within the court.
A complaint was later made to Pattaya Police by Kanokrat Nimsamoot Booth, a former journalist, who was monitoring the proceedings. The complaint was witnessed by Andrew Drummond.
COMMENT
SEND IN THE CLOWNS – HOW PATTAYA'S ENGLISH LANGUAGE NEWSPAPER PUBLISHERS PLAY THE MAFIA GAME.


As a journalist covering more and more crime in Thailand I have a lot of sympathy with journalists trying to get pictures of people involved in trials. Like the UK in Thailand it is illegal to photograph within the precincts of the courts. I was recently filmed myself at Pattaya Provincial Court by the Crime and Investigation Network. Common sense is needed. If it's not intrusive some courts will turn a blind eye.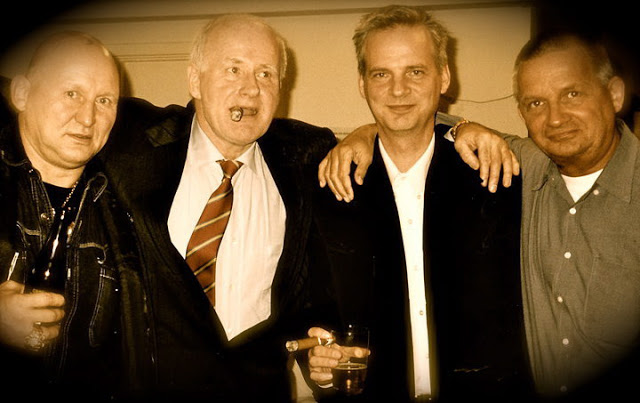 Old pals:Former convicted Copenhagen pimp Niels Colov now CEO of Pattaya People Media and a Foreign Police
Volunteer chief with old criminal pals pimp and trafficker Lonne Fristrup Jensen and trafficker Leon Owild
Yesterday's efforts were laughable. Particularly when the court had refused permission. As the court closed yesterday I was shadowed by the former pimp and outside stood Noyes and Colov with six photographers. I say that loosely. These guys looked like motorcycle taxis drivers with instamatics. As I walked through them Noyes shouted in desperation: "He's getting away!"
But the numbers and the direction of the clowns by the three foreigners was clearly an attempt at intimidation.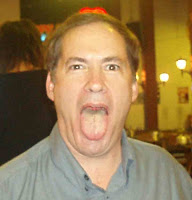 I was however chuckling as I drove away with Noyes in hot pursuit. well, not so hot, I left him standing at the first U-turn, grimacing in my rear view mirror, and then stopped at a restaurant to have some lamb chops as he later shot past. Actually I had posed for a picture for him earlier, but he said I want you with your mouth open.(Seriously!)
I am obviously rattling a few cages in Pattaya and once again I have to thank readers of this site who have been so generous in contributing towards my costs.
And finally:
NOW FAMOUS BARRISTER AND COMMANDO HERO SAYS HE IS A JOURNALIST.
After yesterday's proceedings convicted fraudster Brian Goudie sent a phoney court report to the media in the UK. He sent it from his ramidin@gmail.com account.

It began 'Edinburgh born journalist Andrew Michael Drummond'. The story was of course spiked by the media but not because I was not born in Edinburgh.
If you follow the links (sorry they have now been taken down as has the site) you get to a site called asiacasewatchers.blogspot and there is his picture in all its glory.
This is the picture he used on google+ when he was Brian Boru. But he'd look better with Drew's carpet around him.

Footnote: The Scottish SUN is a popular paper but not read by 55 million but about 220,000. Then again the Pattaya Times had at max 500 readers not the 500,000 advertised. If you take what Noyes says and divide by 275 this should bring you to a more realistic figure.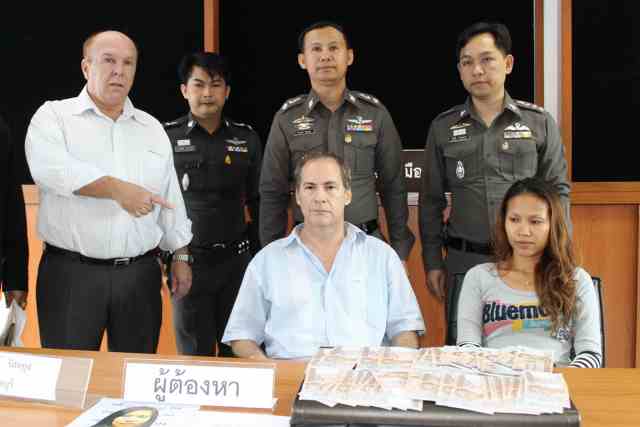 Drew Noyes and Wanrapa Boonsu on trial for extortion
Carpetbagger? An outsider, especially a politician, who presumptuously seeks a position or success in a new locality.
What the Wilmington Morning Star says Drew Noyes did before coming to Thailand.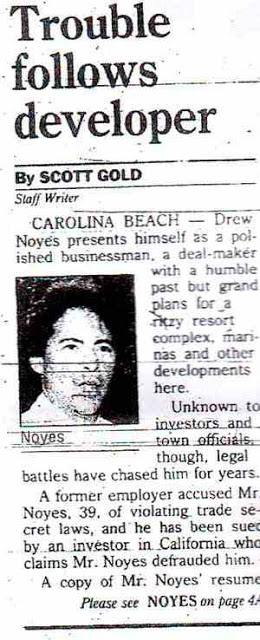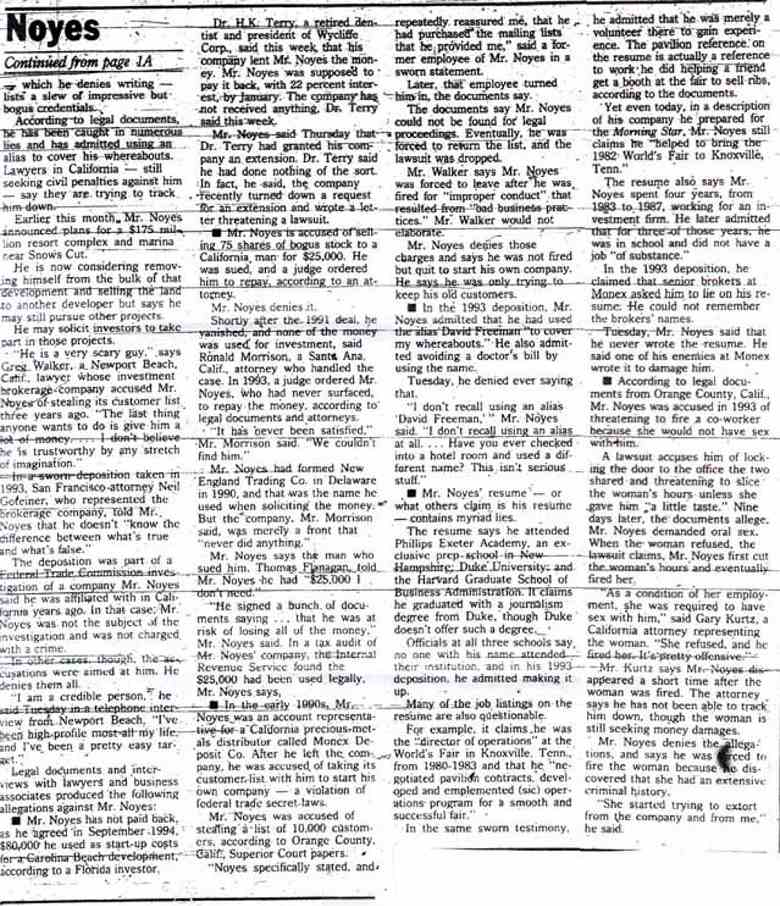 Current Alexa ranking in Thailand
www.pattaya-times.com 7209
www.andrew-drummond.com 410 (Not bad for English language site)
Nation is 221
Pattaya People: 3,463
Phuketwan: 677