COURT DISMISSES CASE AGAINST THONGLOR CLINIC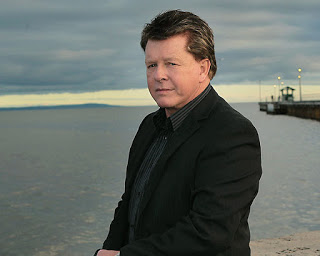 Tough guy Hanks before treatment
The former owner of Masquerades brothel in Victoria, Australia, David John Hanks, nicknamed Baby Face, will not be able to get paid-for reconstructive surgery on his face, after a court in Pattaya, Thailand, threw out a case he had brought against the owner of the local Thonglor Clinic.


Now 68-year-old Hanks will have to cough up himself if he wants to look again like the photograph here taken by 'The Age' in Melbourne before he arrived in Thailand – or alternatively he could cheer himself up and go down to the strip in Lamai on Koh Samui, where the next picture after treatment was taken… and then simply smile.
The case was thrown out by Pattaya court after neither #DavidHanks, nor his legal team headed by fake barrister #BrianGoudie, aka Goldie turned up.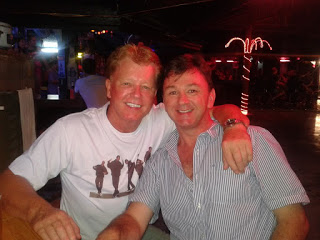 Mellow Hanks with Goudie after his treatment
The two Scotsman, Goudie is from Falkirk, where he claims his father is head of the Burns Society, and Hanks is from Girvan, and a former pupil of Girvan Academy, are colleagues of Drew Walter Noyes, who was jailed for two years for the attempted extortion of Goulet and the Thonglor 'Forever Young' Clinic.
Hanks took out the fraud case against Dr. Michel Goulet and the clinic after #DrewNoyes, was arrested and charged with attempting to extort Michel Goulet out of 7 million baht – about £130,000. Hanks claimed his face had received permanent damage after treatment at the clinic.
But at Noyes' trial the court heard that Noyes threatened Michael Goulet with a police raid on his clinic by the Crime Suppression Division, where something illegal would presumably be found, and he would suffer subsequent bad publicity in Noyes Pattaya Times newspaper. Noyes has demanded first 7 million baht (about £130,000)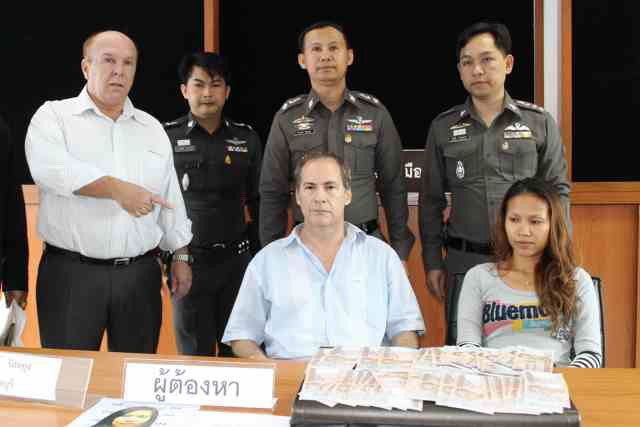 Michael Goulet points to Drew Noyes and Wanrapa Boonsu on their arrest
Michael Goulet told the court that Hanks was in fact an initiator in the extortion attempt. Hanks had asked to see Goulet while he was attending the clinic and told him that he should see his boss Noyes if he were to continue to operate successfully in Pattaya. He told Goulet that he had been in the sex business in Pattaya and that he knew Chinese mafia.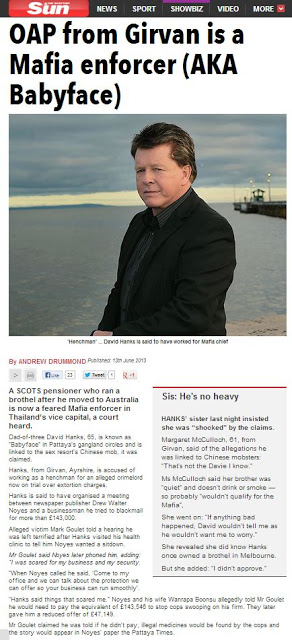 Goulet told the court after the meeting with Hanks that he was in fear for his own security.
Goulet's Thai partner tipped off police who mounted a sting operation against Noyes. When Goulet turned up at the News Restaurant in Pattaya with a deposit of 100,000 baht in a brief case police pounced after Noyes took possession.
After the arrest of Drew Noyes and his common law wife Wanrapa Boonsu (who made telephone demands telling Goulet to hurry up with the cash), Noyes claimed that he was carrying out a newspaper investigation into the clinic and other shady businesses in Pattaya as a public service to make Pattaya a safer place for tourists.
But as this did not fit in with the payment he changed his story later in court saying that the 100,000 baht was a down payment for advertising in the Pattaya Times.
In court he shouted: 'There is a conspiracy against me and it is all being led by that criminal journalist Andrew Drummond'.
He subsequently began a campaign in his Pattaya Times against Goulet claiming, falsely, that Goulet, a vet by profession carried out surgery on clients at the clinic. Goulet's role in the clinic is co-owner and administrator.
And Brian Goudie also inserted false stories into his CasewatchAsia website, which is dedicated to destroying the credibility of this site. (However an Alexa check shows that it has on average one reader a day. (And that maybe Goudie or the author of this site)
At the time of the extortion attempt against Mr. Goulet, a raid was carried out by the Crime Suppression Division but nothing was found. It is understood that Noyes had told them that Goulet was paying up.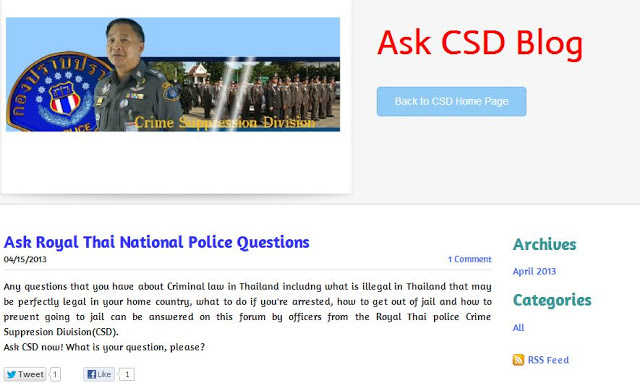 Noyes had set up a website on behalf of the local office of the Crime Suppression in which a CSD officer gave legal advice to foreigners – ghost written presumably Noyes – and the website also has a page where foreigners could also report other foreign criminals to the CSD, But all reports would have gone to Noyes' 'One Stop Service Center' in Pattaya first – that is if anyone was stupid enough to make one.

Hanks crouching in a promo for 'Drew Noyes Law' and One Stop Service Centers. Like Goudie Noyes also claimed
he was a lawyer on the internet
The CSD was subsequently investigated by the military government in relation to widespread corruption allegations and some 80 per cent of its officers have either been charged or transfer.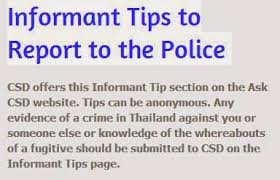 Two weeks ago Hanks was acquitted of racketeering in Pattaya (lending money to Russians at 60 per cent per month) after his Russian co-defendant , who was also bailed, and other Russian witnesses, returned to Russian.
Noyes is due to surrender to Pattaya Court on Friday on his extortion conviction, He too had been given bail to leave the country, even though he too, had been convicted.
*An earlier report stated Drew Noyes was plaintiff in this case. I am happy to correct.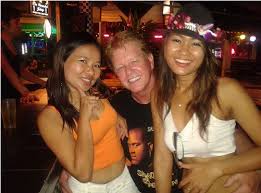 Footnote/Comment:
It is believed he will no longer seek corrective surgery for his looks, as the good time girls of Pattaya and Samui have convinced him he is a very handsome man.
They are considerably younger than the staff at Masquerades. In an Australian Immigration case against a 47-year-old 'massage therapist' the member of staff had obtained a visa by marrying a 19-year-old Aussie lad who did not appear to know her.
*The 'baby face' tag I understand was given to Hanks by staff at the clinic – not as reported in the SUN above.