BRITISH JOURNALIST BEGINS RETALIATION IN LIBEL COURT


A Thai English language newspaper deliberately falsified news to spite a British journalist who was hot on the trial of its directors and investigating complaints against them in Thailand, a court heard today.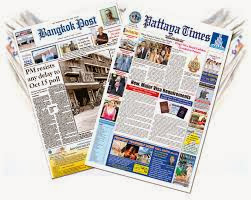 On the front page of their website they printed that British investigative journalist Andrew Drummond, had had his PRD press accreditation in Thailand withdrawn and that he was being pursued by the Department of Special Investigations, the Crime Suppression Division and Immigration police.
None of it was true said Andrew Drummond. What happened was that Wanrapa Boonsu had written a malicious letter in Thai to various government departments. As a result, one of the departments, the PRD, actually said they were removing him from its mailing list of accredited journalists.
At no time was his press card withdrawn. This would have been a matter for the Ministry of Foreign Affairs.
Very quickly officials at the PRD realized their mistake (In fact Drummond was contacted by the PRD before even reading the Pattaya Times to say he should not be concerned) and later after being given access to Drummond's files they sent both him and the Pattaya Times a letter saying they had acted hastily and Drummond had been immediately re-instated. It was not their wish to curtail the freedom of the media.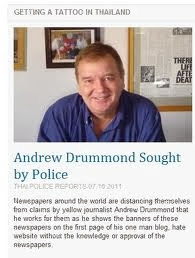 A typical Pattaya Times story about
Drummond
Drummond, who is accredited to the London Evening Standard in Thailand is suing the Pattaya Times Media Corporation, Wanrapa Boonsu, and American Drew Walter Noyes for libel under the criminal libel laws and computer crime act.
Asked what was their reason for the attack on him he replied: 'It's because I am on their case. I have investigated many complaints against them and had recently reported on their arrest in Pattaya for extortion. They had tried to blackmail a local clinic out of 7 million baht on pain of bad publicity in their newspaper and to stop a police raid on their premises according to a police press conference".
Andrew Drummond said his first role as a journalist was to cover major news events in the region. His second role was a crime journalist specializing in transnational crime in the region.
Stories in the Pattaya Times and on the website Pattaya-Times.com about him were malicious and totally fictitious. The Government Public Relations Department had sent the defendants a letter stating that Andrew Drummond was indeed fully accredited. Further they had erred in not hearing his side. The defendants had however refused to publish a correction and to this day still carry the original story as their lead.
"Their stories could be read in Thailand and all around the world. People who knew me of course knew the stories were all lies. But stating the Thai government had withdrawn my press accreditation would have caused people to think I had done something wrong."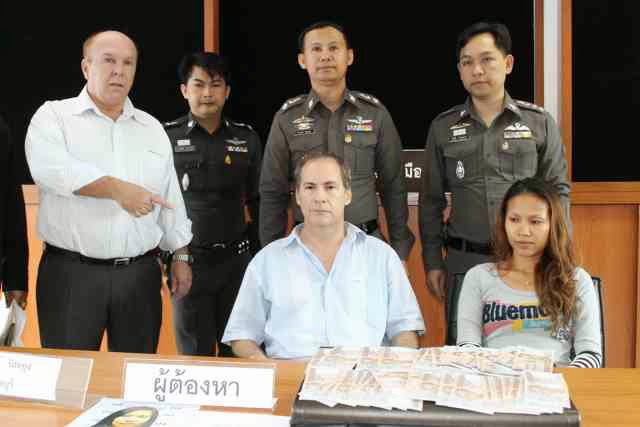 He was he said an award winning journalist with a good track record and reputation but people who read the story on the net who did not know him would think the opposite.
'As a journalist my reputation is very important. People need to trust me. People who read this stuff would of course think I was a bad person," he told Bangkok Criminal Court.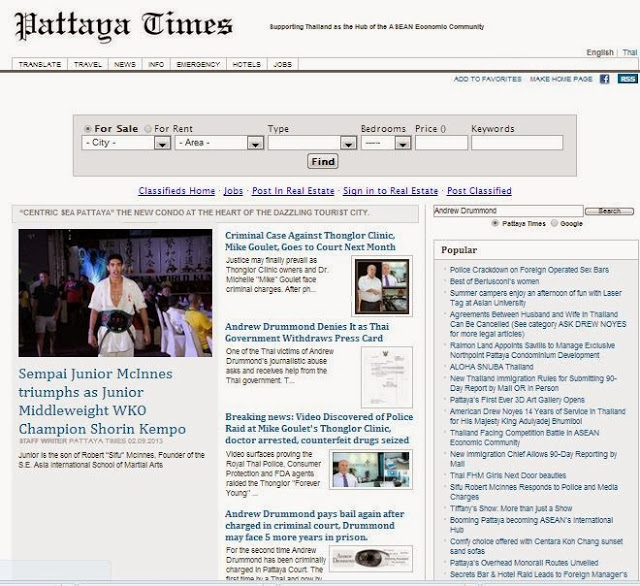 Pattaya Times attempts to discredit Andrew Drummond and the owner of the Thonglor Clinic whom Boonsu
and Noyes are charged with attempting to blackmail
The lawyer for Drew Noyes had asked for an adjournment. She had, she claimed, only received the writ this morning. The adjournment was refused. But as she was unprepared the court would allow her to cross examine on January 24th.
Outside the court the lawyer for the defendants said Wanrapa Boonsu could come to separate terms. She was told it was much too late for that.
Andrew Drummond was beginning retaliatory action having successfully defended eight libel suits brought against him by Wanrapa, Boonsu, Drew Noyes, and David Hanks. Further actions against Goudie, Noyes and Hanks are expected next week.
Comment: The Pattaya Times no longer prints. Its website remains stagnant.