Staff at the Pattaya People Media Group run by former Copenhagen gangster Niels Colov, now a reformed leader of the Pattaya Police Foreign Volunteers, are reported to have had their wages cut by 50 per cent amid rumours that the 'media empire' might come crashing down.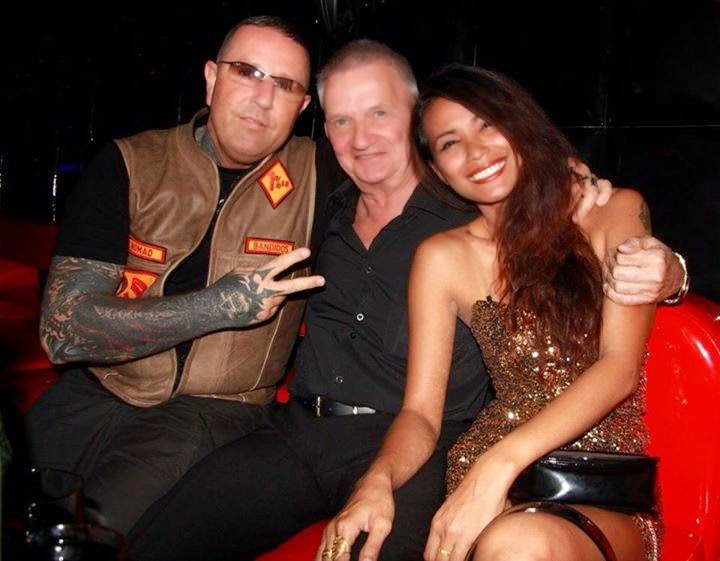 They are even more concerned that Colov, who set his eyes on opening a media company in the Philippines and was accompanied there two years ago by the infamous Drew Noyes, then boss of the Pattaya Times, has now legged it back there again – though he is expected to return.
The Pattaya People Media Group owns newspapers published in German, Thai and English, but not Danish – Colov's mother tongue.
It also runs radio stations, Pattaya People Television where the news is read by someone sounding exactly like the late Cyril Fletcher of Odd Odes fame on Esther's Rantzen's former 'That's Life' television show.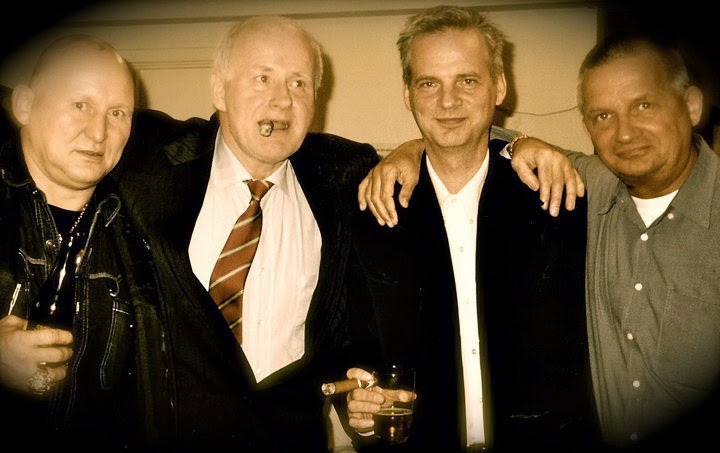 Re-union. Colov with on the left – two career criminals from Copenhagen/
Colov was convicted in Copenhagen of pimping, vandalism and using coercion but in Pattaya he is a pillar of society, former President of the Pattaya-Jomtien Rotary Club, an honorary Bandido, a former Knight of Rizal, the recipient of a Papal blessing (paid for) and a United Nations Cross (fake and staged).
Staff say they have been told they will get the other 50 per cent next month. Perhaps they do not like being treated as if they were working on a Thai fishing boat.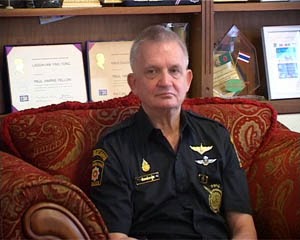 Now with Apostolic Blessing at heaven's door
Noyes, who is appealing a two year jail sentence for extortion closed his self aggrandising 'Pattaya Times' two years ago,
Recently Noyes closed down the Pattaya Times website which in latter days was used only to attack the owner of this site Andrew Drummond.
He told a court earlier this month that he had sold the business to another American.
Noyes has always follow in the footsteps of Colov, firstly into the directory publishing business, then attempting to form a rival Expats Club, whose members gave him the boot; then into publishing, but most of all into setting up a 'One Stop Service' for gullible new arrivals in Pattaya.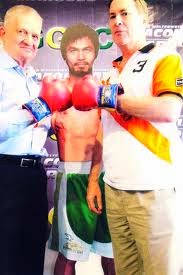 He failed to make the Rotary but managed to get elected to President of the mainly Indian Lions Club of Silom 310D – but things have gone a bit quiet there.
He also failed in his attempts to open radio and television stations.
They had a public squabble slagging off each other in each's respective newspapers – and there was even litigation – but they kissed and made up realising it was not doing too good for their images.
They both ventured to the Philippines where they signed a memorandum of undestanding, as is their usual style, with a local mayor in one of those sex locations. Neils Colov then set up the Angeles Media Group in SE Asia's other sex capital – Angelese City.
Nothing came of it despite their repeated the ' We love Filipinos and your country'.
In Noyes' case this may of course be because of one Noyes's former Filipina staff lodged a complaint with the Ombudsman for Women's Affairs there telling of her attack in Keha Condominium, Pattaya, after being lured to the Pattaya Times on the promise of a job.
But Colov apparently left the shell of a company there and may be planning a re-incarnation there – as he is having problems with creditors. He has taken his trusty steed Colin de Jong with him.

Perhaps now the Pattaya People Group will follow the Pattaya Times into oblivion. If so, I wonder what will happen to Barry Upton composer singer of that classic song Pattaya Wonderland who latched himself on to Colov years ago, 'Daytime, night time any times a good time for falling in love in Pattaya'.