AND HE'S FAIR PUFFED OOT!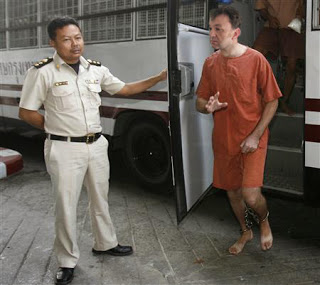 Photo-shopped pic of Brian Goudie or Goldie about to
complain to immigration about Drummond's journalistic
status.
Oh dear I'm on the run again from the law. This time for not writing enough stories for the London Evening Standard.


Brian Goudie – aka Brian Goldie – who was given a six year sentence for fraud in Australia- hence his name change- is writing today that something like an all points bulletin has been put out for me to Immigration Police by some mysterious plaintiffs.
He has this Asia-case watchers website as he is still pretending to be a lawyer running a company called Alba Laws while he is commuting between Koh Samui and Pattaya desperate to claim rights in Pattaya to the Jaggie Thistle pub, obtained on the death bed of Ulster drugs trafficker Doc Halliday – and Bang Kao Bay, from an unfortunate Scotswoman.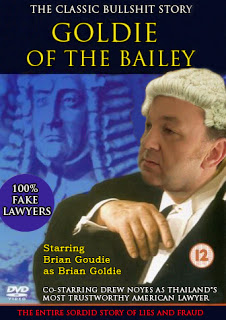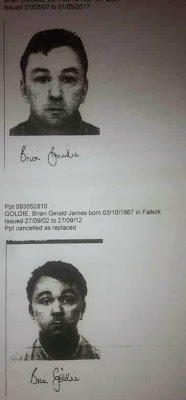 Goudie says I have not written for the Standard for years, hence I do not qualify for accreditation. He is either bad at Google or does not appear to know that journalists when reviewing their accreditation for newspapers and media have to provide sufficient samples of their work annually to the Ministry of Foreign Affairs.
(And thankfully their work is not judged by a numpty from Falkirk with a face like a skelpit erse, who can't remember the name by which he was born and who is doon the Dee with a digestive.) – Google Translate.
Lost count of the times I have allegedly been on the run. Drew Noyes had me fleeing to Malaysia from the CSD, and DSI. I've gotta be pretty fit by now. Nae Brian am at hame lookin after the bairns. Ye dinnae think ur a wee bit of a dobber gae-in to Immigration'.



The last time Goudie put out an all points bulletin was when I casually mentioned on this site that I would be going back to the U.K. to have my children educated. Here it is below
Bangkok, 5th September 2013

Bangkok based UK journalist Andrew Drummond, who is currently facing at least seven criminal cases in Pattaya and Koh Samui courts has announced he intends to leave Thailand to return to the UK 'next year'.

Plaintiffs in the various criminal cases against Andrew Drummond have alerted border authorities, immigration and police, as well as the various Courts of the comments made on his web site this week, as Drummond is currently on bail facing multiple charges of defamation and multiple offences under the Computer Crimes Act and cannot leave Thailand.

Plaintiffs have for some time been quietly raising concerns that Drummond may flee Thailand as the number of cases against him in the Courts mount, and in all future cases will oppose bail on the basis that Drummond now appears to be a flight risk.

Pattaya Provincial Court has already blocked Drummond from leaving Thailand, and has advised immigration authorities that Drummond must not be allowed to leave Thailand without the permission of the Court.
Comment:This all leaves me to wonder if Pattaya Court has blocked me from leaving Thailand why did they not keep my passport? All concluded cases brought by Noyes and Goudie have been dismissed. Hows about that for a couple of 'lawyers'?
For a complete list of the stories Goudie/Goldie who claimed to be a barrister and a former Captain in the Royal Marines, has made up about Andrew Drummond –
Go here!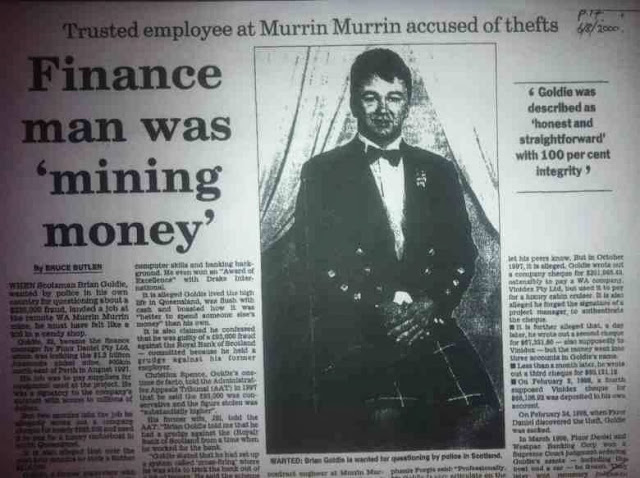 You'll also see how supporters of this site are being reported to the authorities – One is being reported for insulting 'Hilary Clinton'! by an American (can't guess who that might be. I think its the Lewinsky man)