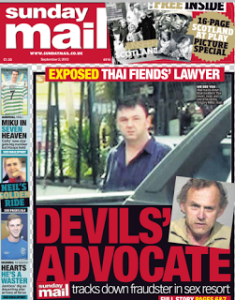 BUT IF SO, MAYBE HE JUST WANTS TO
…CHANGE HIS NAME AGAIN.
Brian Goudie, the phoney English Barrister, Scottish Advocate, and officer in the Royal Marines, who sought out victims for scamming in Thailand for more than 12 years has announced he has landed in Scotland via an Emirates flight from Dubai.
Goudie,48, born Goldie in Falkirk in October 1967, had fled Thailand while appealing a three-year jail sentence for embezzlement and fraud, and also from two other warrants for his arrest on charges of fraud and 'revenge porn' and another for criminal libel.
In a short comment on Google Plus Goudie complained of the cold weather back home in his native Scotland after land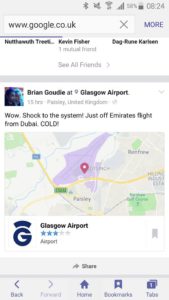 ing at Glasgow airport. However, his presence in Scotland could not immediately be confirmed.
With the warrants out for his arrest he could not leave Thailand legally without the permission of the court. The fact that he says he flew 'Emirates' suggests that he took a flight from Bangkok – but of course he could have made an illegal border crossing to Cambodia, or Malaysia.
If he is indeed in the Scotland it is unlikely he will stay there long. He fled the country in the 90s after which warrants of arrest were issued for him and two other Scotsmen in connection with an alleged fraud on the Royal Bank of Scotland.
All three fled to Australia where Goudie, who was then still Goldie, boasted to his new Australian girlfriend Christine Spence about his scam against the Royal Bank.
Australian immigration authorities attempted to deport him, but he led them a merry dance by continually appealing to the Australian Immigration Appeals Tribunal, where a judge described him as 'not a man of good character'.
He left the country of his own volition skipping his last hearing at which a deportation order was expected. He had meanwhile served over two years of a six-year jail sentence for stealing from his employer – a Perth mining company, confirming the Appeals Tribunal judge's comment.
He spent his time in Hakea Prison, West Australia.
By this time the warrant for his arrest for the alleged bank fraud had been cancelled. It would have been impossible to proceed because his co-defendants had also disappeared.
With the name Goldie now tarnished, Goldie (junior) the son of a machinist Brian Goldie (senior), who became a local candidate for UKIP in Falkirk and President of the local Burns Society, changed his name to Goudie.
After a brief period running a company which he claimed cleaned the guns of the US Navy, he headed to Thailand, now calling himself Brian Goudie and announced he was both a barrister, a Scottish advocate, and set up his own law company 'Alba Laws' employing an economically efficient Thai lawyer to process his cases.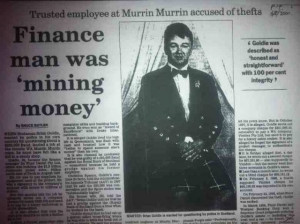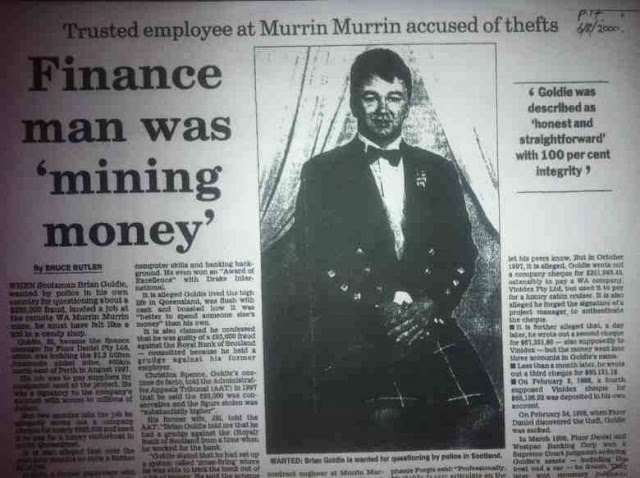 He trawled the local prison Nong Plalai near Pattaya for clients and successfully took on the case of former Ulster drugs trafficker Jimmy 'Doc' Halliday who was serving time for assault and had contracted the flesh eating disease 'necrotising fasciitis' while behind bars.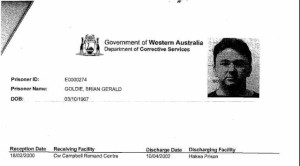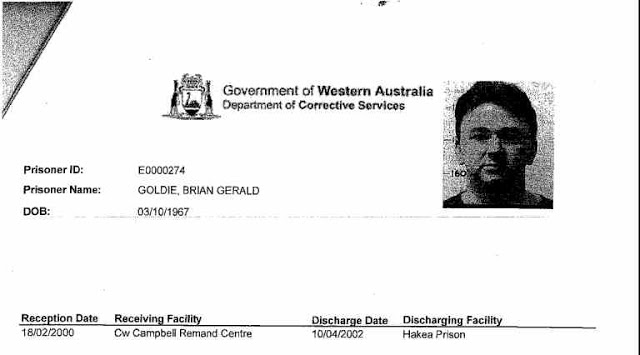 Halliday could not be saved but Goudie did get him to a hospital where under guard Halliday signed his 'Power of Attorney' over to Alba Laws, which Goudie used to strip him of his property – a pub and guest house called the 'Blarney Stone', two apartments and a car.
Halliday died of his illness in the hospital.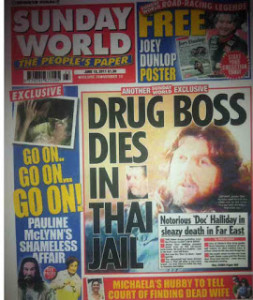 Goudie re-opened the bar as the 'Jaggie Thistle' but was not successful as a landlord and continued to milk his legal customers.
He cheated a 78-year-old American woman, Barbara Fanelli Miller, out of nearly US$300,000 in legal fees for representing and to pay bail for her son who had been arrested on child sexual abuse charges, promising to get him back home to Madison, Wisconsin.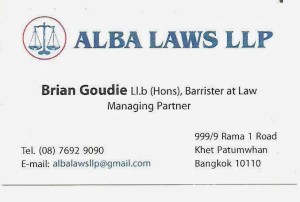 In fact, people on similar charges were being released by the court in Pattaya for as little as US$10,000, but Goudie had no intention of paying even that. He pocketed the cash and the accused Greg Miller, 43, died of heart failure while serving his sentence.
It was on fraud and embezzlement charges in this case that Goudie was sentenced to three years in jail.
But he was also being pursued by two Britons and a German, two other clients he had cheated, and was on trial in that case, and a warrant of arrest had been issued by his former girlfriend and managing director of the holding company of 'The Jaggie Thistle' for posting pornographic pictures and videos of her on the internet when their relationship soured.
The Bangko Criminal Court had also issued a warrant for his arrest for criminal libel.
Goudie's criminal exploits in Thailand had been exposed on this site and in the Sunday Mail in Scotland and later became the subject of a television documentary.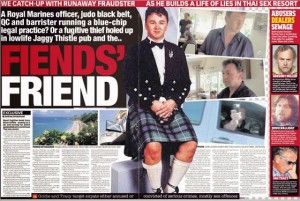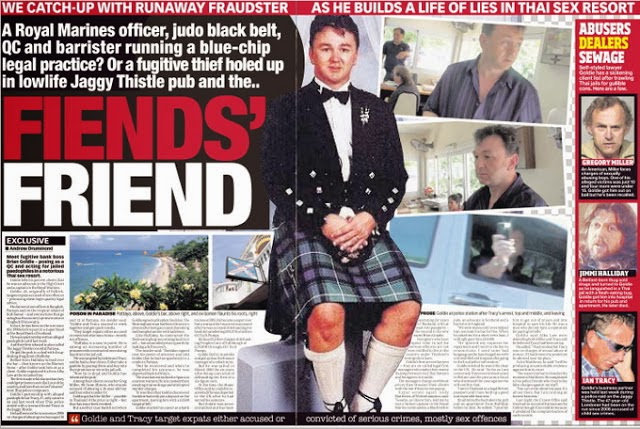 Goudie sued me, but not the Sunday Mail, and his case was dismissed.
As a witness and as his representative he had appointed David Hanks, a fellow Scot from Girvan, Ayrshire, who had emigrated to Australia where he became the owner and licensee of the Masquerades Brothel, in Keysborough, Victoria, on the outskirts of Melbourne.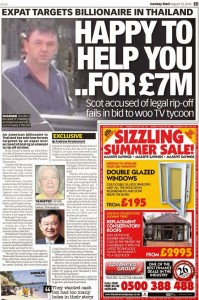 Goudie and Hanks were also exposed on this site when they got together and tried to con former American millionaire Bill Monson out of £7 million in a case in which they told him they could get the US$30 million he had been conned out of by Thailand's former Prime Minister Thaksin Shinawatra.
Initially another con man Drew Walter Noyes was party to this plot.
But the two Scotsmen ditched American Noyes, who himself ewas convicted of extortion and who also fled while on bail from Pattaya court while appealing his conviction and two year jail sentence.
Shinawatra had gone into business with Monson, and as often happens in Thailand kicked the foreigner out of the business – even having him arrested for a short while.
If Goudie is indeed in Scotland expect another name change soon.
Curiously, despite being the subject of a syndicated television documentary 'Brian Goldie – Scottish swindler' in the series 'Serial Swindlers' the Thai authorities either did not have a clue about his activities or merely ignored them and saw him as just another source of 'bail money' to add to their coffers.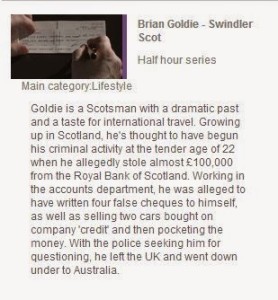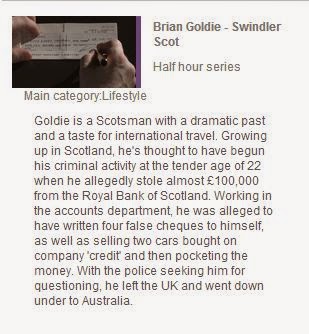 As for Goudie's own opinion of himself – this is the text he sent to an expat in Pattaya, Andy Mathew, who had lent Goudie in the region of US$10,000, and who of course never got it back.