BUT THE HORSES HAVE BOLTED

The Bangkok Appeal Court issued two more arrest warrants today for the two phony lawyers, American Drew Noyes, and Scot Brian Goudie, after they failed to turn up to face criminal libel charges.
Warrants have already been issued for Drew Noyes, who was convicted of extortion but fled while on appeal (which he lost) and Brian Goudie, for fraud and embezzlement, who also fled while on appeal.
Noyes,60, now of Green Valley Drive, Wilmington, North Carolina, sentenced to two years in jail, (reduced to 18 months on appeal.
Goudie, 48, from Falkirk, had been sentenced to three years.
Both had issued libel writs against myself and oil worker Ally Cooper. The arrest warrants issued today related to counter suits we both lodged.
I sued Noyes for a story which he published in his now defunct Pattaya Times website in which he claimed that my Press accreditation and card had been withdrawn by the Thai authorities. In fact, my accreditation and card were never withdrawn, but continued to be re-issued, and were valid several months after I had left Thailand.
A government officials testified on my behalf.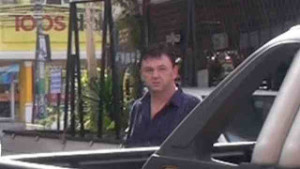 Ally Cooper sued on allegations made by Noyes that he was a drugs dealer.
Noyes had developed a habit of turning up at court with a Thai military colonel who testified that he was an upright person and supporter of the military government who planned to hold a seminar on how to live in peace with the government.
The lower court however initially ruled there was no case to answer against Noyes as he showed documents allegedly proving he did not own the Pattaya Times newspaper or website.
Noyes still boasts on the net about being the publisher of the Pattaya Times. He claimed to be the only American lawyer licensed to operate on Thailand's eastern seaboard.
But he was a serial con man who even persuaded the Lions Club of Bangkok (Branch Silom D 301) to make him their President.
Goudie also invented his own law degree, claiming to be a British barrister, to cheat people in the courts in Pattaya. In fact, he was an ex-con who'd been sentenced to 6 years in jail for theft in Australia.
An arrest warrant had also been issued against him for fraud and in connection with 'revenge porn'.
He had allegedly posted pornographic video and pictures on the internet of his Thai ex-girlfriend after she had been 'disloyal'.
Footnote: I am of course totally opposed to Thailand's criminal libel and Computer Crime Act libel laws but in cases where people take these actions to scare off people exposing them, it is the only course Thai law allows. All current actions taken by Noyes against those who helped expose him are now expected to be dismissed.