Flying Sporran's Weekend Diary

The Thai holiday island of Phuket made the headlines this week on account of the fact
that the passports of two foreigners which were stolen there were later used by
Iranians to board flight MH370.
It almost made the news again as Phuket and the
Andaman Sea were included in the search area.
But the story of the week down there is clearly not MH370
but the shock pictures of a foreigner
who caught and killed a small black tipped shark.
Well locals were up in arms that a foreigner had killed the
shark. This is in a country which has won world notoriety for its trade in
endangered species and destroyed most of its forests.
"We just received this awful pictures, it happened yesterday
in Kata Noi beach. In the spirit of education, please share these photos and we
appreciate all support from everyone who continue to raise the awareness of our
Sharks and marine environment!" – read the editorial on Go Eco Phuket.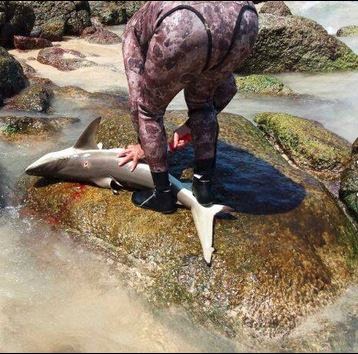 But what shocked me was not the pictures of the shark but
the foreigner. I'm not quite sure if those are all over body tattoos, the shark
killer's unique dress sense, a shark killer's camouflage outfit. Or is he US Navy Seal?