SECOND TIME UNLUCKY FOR THE FOLKS OF WILMINGTON
FAKE LAWYER DREW NOYES WHO FLED THAI JAIL TURNS UP SELLING DREAMS AGAIN
Drew Walter Noyes, who claimed he had been invited to Thailand by 'Royal' request to help the Bank of Thailand during the financial crisis of the late 90s looks very much like he is back up to his old tricks in Wilmington, North Carolina, where he has announced on Facebook that he is 'feeling ready to grow wealth'.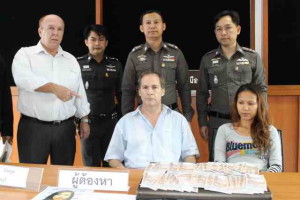 Plus ca change for Drew who is always ready to grow wealth from someone's else. I am afraid some good people of Wilmington and elsewhere are riding for a fall again. The last time he operated he got away with hundreds of thousands which set him up in Thailand in various guises, mostly imagined, including a girly bar operator, a lawyer, and 'international advisor to the Mayor' of the infamous sex resort of Pattaya.
I can't accuse the city fathers of having short memories. After all its more than 20 years ago on April 1st 1995 that he was the subject of a newspaper investigation by Scott Gold of the Wilmington Morning Star, spread across pages 1 and 4; exposed as a man of 'myriad lies', accused of sexual harassment by demanding oral sex from a junior employee to increase her hours, and, not to put too fine a point of it, obtaining money for investment by deception.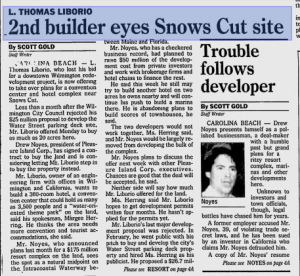 He invented his own biography as he appears to have done repeatedly over the years. If you read his biographies on the net, he is a skilled sky-diver (he never skydived), marksman, recipient of Royal medals (always paid for) in Thailand, as well as being a legal expert on divorce, and property buying in Thailand and a Futures Trader to boot.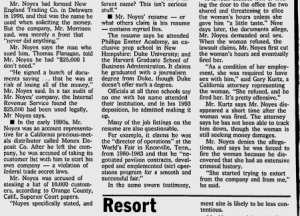 This harks back to the old days when he said he was one of the organisers of the Oklahoma State Fair but in fact had only been there to help a friend with a rib stand as the Wilmington Morning Star (now The Star, Wilmington, pointed out.


He set up a newspaper, the Pattaya Times (a newspaper in name only as apart from one story he wrote every week flattering the local authorities, and announcing his loyalty to the 'King of Thailand', Thaksin and Yingluck Shinawatra when they were in power, and then the current military government.  He also splashed on stories announcing he had the cure for HIV virus (this was when it was running seeming out of control), a way to clean up the Gulf of Mexico oil spill, and the death of Thaksin Shinawatra in exile!  Just about everything in the paper that he did not make up was lifted from the net.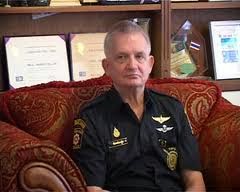 This was not unusual in the sex resort of Pattaya. The editor of the rival 'newspaper', Niels Colov, was a former Copenhagen underworld figure who had been jailed in Denmark for a series of offences including pimping, vandalism, and coercion and had also launched a newspaper to project his 'unbeatable offers'.
He was destined to become leader of the Pattaya Police Foreign Volunteers!
I forced Noyes to take down an advert in which he described himself as the only American lawyer qualified to practice on Thailand's eastern seaboard. (he's not a lawyer of course) But he started cheating foreigners on property deals anyway.
One way was to tell foreigners with property in Thailand that he had insider knowledge that the government was going to act against foreigners who had bought their property in 'dormant' company names. (It is illegal for foreigners to buy land and houses in Thailand. Many get around this by starting Thai companies with Thai nominees as the majority shareholders). Noyes then offered to buy their properties at knockdown prices.
Noyes was also accused of hiring Filipinas for his businesses, advertising on social media. When they arrived he never paid them the salaries promised, took them around Pattaya's sex bars. and he was accused the sexual harassment of one, after locking her in a room on one of his 'listed' properties, which happened to be in a block of flats the Thai National Housing Authority had built for the less-well off Thais, which he was selling top foreigners in a corrupt deal. The parents of one had to send fund to rescue her from Thailand.
Together with his common law wife, Scotsman Brian Goudie, another fake lawyer who had been jailed in Australia for theft, and David Hanks, the former owner of Masquerades Brothel, in Keysborough, Victoria, Australia, took out some 20 SLAPP cases against me at the time. All but one was dismissed. The court ruled it was libelous for a poster on my website to call Hanks a 'former pimp'. He had argued that his 'girls' were treated well. (Noyes also initially ran 'hostess' bars in Pattaya called 'Lollipop' and 'Zebra'. But of course officially in Thailand this trade in women does not exist otherwise say police 'It would be illegal')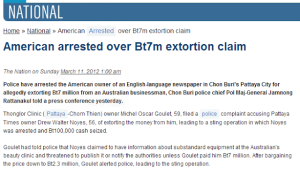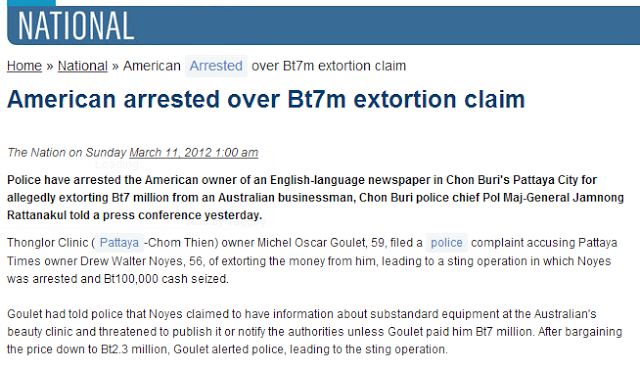 Noyes was however stopped from continuing his SLAPP cases after being arrested in the process of extortion. Working with corrupt officers of the Crime Suppression Division of the Thai Police had demanded 7 million Thai baht from the owners of the Thonglor Health and Beauty Clinic in Pattaya, otherwise they said their premises would be raided and 'illegal substances' would be found. Police had already tried this scam with the Thonglor Clinic in Bangkok and the angry owners notified friendly police who watched as the scam went down.
Drew Noyes' charmed life was over. After dragging the case out he was jailed for 2 years for the offence, but paid a deposit to the court to leave the country to clear up family matters while on bail appealing his conviction. This is a common process. If the fee is big enough the authorities do not want the offenders to return. They make money. The prison system saves money.
But they always express shock and issue warrants when those convicted fail to turn up for court.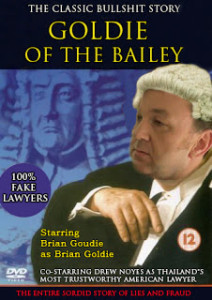 This in effect put a final end to Noyes' SLAPP cases.
Brian Goudie, born Brian Goldie, was also convicted and sentenced to three years in jail for cheating Barbara Fanelli Miller, 86, of Madison, Wisconsin, out of just over US$250,000 in legal fees. He was of course not a lawyer.
This put an end to his SLAPP cases including one over this mocked up picture of Goudie, who, whenever he had to disappear for a while, would announce that he had to return to London to represent a client 'pro bono' in the High Court.
David Hanks, went back to Australia.
Now Noyes says he is analysing land in coastal southeastern North Carolina and negotiating with the NC Coastal Area Management Authority (COMA?) and the North Carolina Department of Transportation, for approvals. 'This is quite time consuming, difficult and even laborious' he reports.
I'm guessing it would get a lot more laborious if these agencies are reminded who he is.
'However,' he says 'it has yielded major successes.
Now he claims the successes include 'buying the land with investors and redeveloping the south end of Carolina Beach N.C. Boardwalk by buying 8 condemned buildings, two parking lots and creating a site which is now a Courtyard by Marriott.
He also makes claims of 'purchasing 12 acres of land with investors on the Intra Coastal Waterway and turning it into a 180 town house development called 'Harbour Point Townhouses' – and obtaining a Marina construction permit, dredging the Intra Coastal Waterway, and selling a 180 boat slip marina called 'Harbour Point Marina'.
One has to go back many years to find out when this work was done. And you'll find Noyes was not there, having vacated North Carolina in haste and by now posing as a banking expert in Thailand.
So will The Star in Wilmington NC pursue the story? Will the North Carolina Coastal Area Management Authority cotton on. Will the North Carolina Department of Transportation take him seriously?   Or are these applications figments of his mind to indicate to 'buyers' that he goes by the rule book!