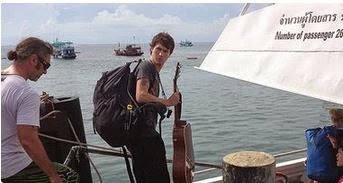 Sean McAnna leaving Koh Tao
Koh Phangan island police in Thailand have ruled there is no foul play in the suicide of a French national who apparently hanged himself in a small rented beach hut in Koh Tao district.
This may have sent a chill down the spines of people who heard the account of Sean McAnna, a friend of David Miller who was murdered together with Hannah Witheridge on Sairee Koh Tao island last year.
McAnna from Glasgow told how the manager of the AC bar and another person later identified as a policeman accused him of being involved in the murders and said they were going to take him to the top of the mountain and hang him from a tree…and presumably make it look like suicide.
Pictures on the Democracy for Burma website seem to show that the 29-year-old Frenchman had his hands tied behind his back. Koh Phangan Police however have ruled out no foul play and say there was no sign of a struggle, which I do not suppose there was, if he had his hands tied behind his back.
There was however a note left.