THAI POLICE RE-ENACT KOH TAO MURDER SCENE
'VERY SATISFIED WITH INVESTIGATION'
Two Burmese migrant labourers, who police say have confessed to the brutal murders of Hannah Witheridge and David Miller, were today ordered to take part in a reconstruction of the murder scene – comically one holding a Thai dustpan in place of the murder weapon – a garden hoe.
The two men, known as Win and Saw (or Cho,)whose DNA, police said, matches the sperm DNA taken from Hannah, were taken back to the murder spot on Sairee Beach, to-renact what they did.
They were also asked to put on helmets and flak jackets to protect them from an angry mob. There was no angry mob, but a large crowd mainly of locals applauded and clapped police after their presentation. This they all hoped would bring closure on a case which has driven media attention worldwide as much as for the confusion of the case as the barbarity of the murders.
Amazingly British media were asked to take part in the theatricals. BBC Myanmar correspondent Jonah Fisher refused. He tweeted: 'Bizarrely asked to be 'David Miller' in Thai reconstruction on Koh Tao'. Sky News lady took Hanna role.'
Sky TV's Sarah Yuen then staggeringly walked along the beach with a foreign male posing as Hannah Witheridge and David Miller. This the
'Sun
' described as a new low in the investigation.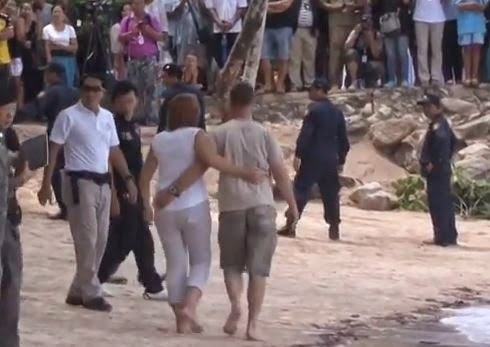 Sky-walk
However they were not ask to play the victims during the attack. Two local Burmese were told to take the parts of Win and Soe (Cho).

The Sky correspondent Sarah Yuen tweeted: 'Another get Sky attempt. The BBC guy agreed but wanted to do a stand up at the same time.'

Pol.Gen. Somyot Pumphanmuang told reports "Tests show that DNA samples of the two Burmese matched the DNA [traces] collected by the police".
Final analysis was concluded at 8 am.
Further they said they had CCTV footage which supported their case and Hannah's mobile phone was found in the woods near their room. It had been discarded because it did not work, said police.
DNA samples taken from cigarette butts of the same L&M brand, which were found near the crime scene, matched those extracted from semen retrieved from Witheridge. Win was caught on CCTV footage , said police, buying LM Red cigarettes.
The two men it was reported were drinking, playing a guitar, smoking and singing on the beach, prior to the murder of David, 24, from Jersey and the murder and rape of Hannah, 23, from Great Yarmouth.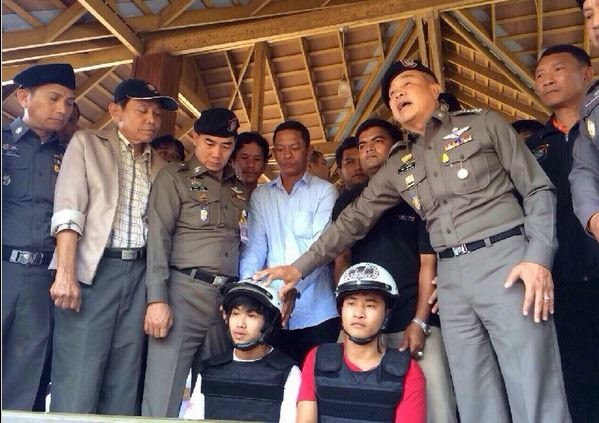 Crash helmets and flak jackets but no angry mob.
Win and Saw (Cho) had seen David and Hannah 'kissing' and were aroused (Reports yesterday stated that Win had seen the couple making love and was aroused) and they decided to rape the woman.
Its claimed that David Miller was attacked first and beaten then drowned and then Hannah was attacked and raped. Afterwards they hacked her face with the hoe.
A third man who was arrested with Win and Saw has been discounted.
Two years ago Thai Police said they would stop public reconstructions of the crimes using the alleged perpetrators as they had received complaints that they prejudiced trails. But they resumed after a few months.
In today's reconstruction it was evident that police were leading the suspects who were working to their orders.
Pol Lt General Decha Butrnamphech, commissioner of the Provincial Police Region 8, said: "I am very satisfied with the investigation."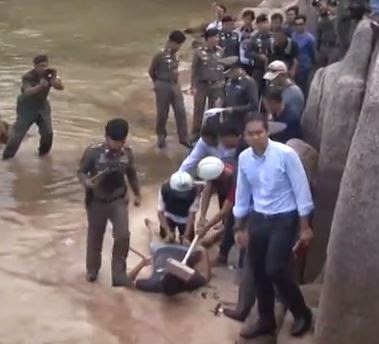 One Burmese, pushed down by officer, to simulate the assault while another attacks with the dustpan 'hoe'
Police said the investigation was conducted methodically and there was no co-ercion.
The Bangkok Post reported: "With the peak tourist season fast approaching, Thai authorities are desperate to draw a line under the incident" adding that it was hoped the reputation of the Thai Police would be restored after severe criticism, mainly from the British media.
However even as the crime re-enactment was taking place a spokesman for the Myanmar Migrant Labour Association Aung Kyaw said:
" We have asked the Myanmar Embassy to call for an independent inquiry and that the DNA testing be verified independently of the Thai police.
"There are things that have happened on that island which need to be answered including the beatings and torture of Burmese. There are suspicious circumstances"
*
Last night however Prime Minister General Prayuth Chan-Ocha congratulated the Thai Police on their investigation and said he would be rewarding those taking part.
————————————————————————————————
PERSONAL COMMENT:
There were several questions that were puzzling. If they were guilty why did they not flee the island a long time ago. Why would they keep Hannah's mobile phone when there was a worldwide hue and cry, even if it were thrown away nearby. Would they forget?

And a personal question. Yesterday Win was filmed wearing the same shirt he wore on the night of the alleged murder. It had obviously been washed but why did they not take immediately take it off him and send to forensics?
This may be a red herring- These are comments on Thaivisa.com, a herring factory, who claims to be a friend of one of Hannah's travel companions.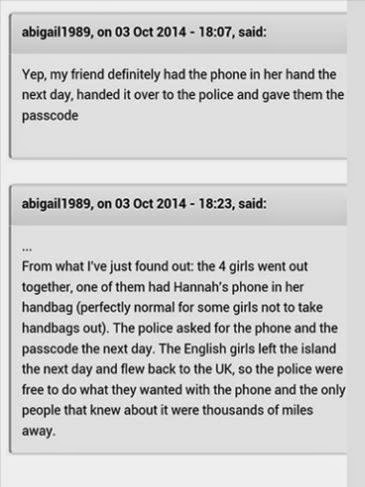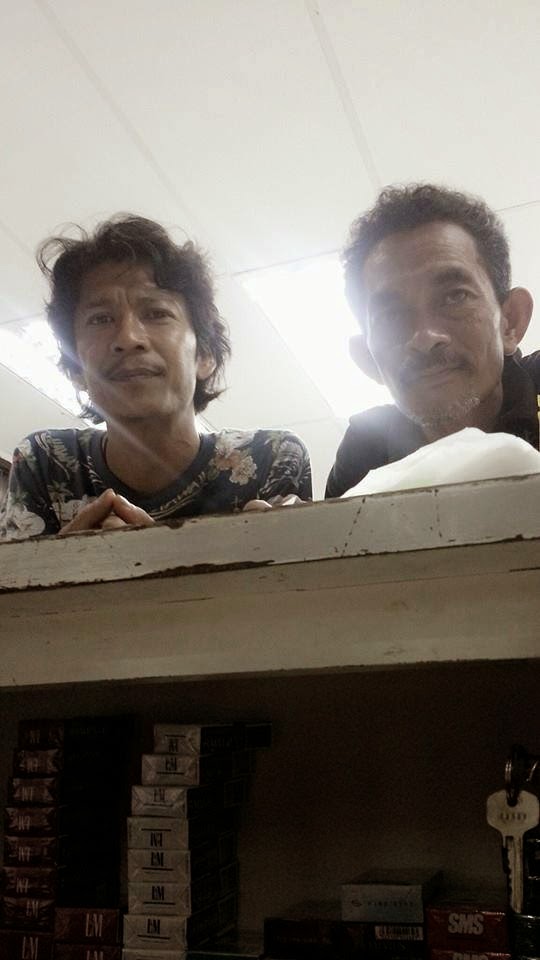 But this image by a terrified McAnna is lodged in my mind
The British media are of course being blamed for the criticism of the Thai Police. And it is true that universally in the UK the view is negative. (And if this was the first of such murder/rapes possibly British press criticism might justifiably construed as being 'over the top') Comments by posters on the Daily Mail, currently banned in Thailand, suggest that most people do not believe the Thai police and show that these 're-enactments' though they might work for Thais, are regarded at best comical and bizarre and at worst tasteless and totally uncalled for, and by their theatricality just not credible. The tiny stature of these small Burmese workers against the police ordering them to wai and seek forgiveness, speaks for itself. But criticism is not confined to foreigners in Thailand there too have been many cries of 'scapegoat'.
The mothers of two British murder victims in Thailand have been in contact with this site. They certainly do not believe.
But at the end of the day the only people whose opinion counts are the family and friends of Hannah Witheridge and David Miller.
What the manager of the AC bar told the Thai media
Truth or Fantasy or a slant of an old story doing the rounds – a poster to the Daily Mail writes:
stainless, London
2 years ago on a Thai Island, a western chap was told that the local Thai Family that controlled the island, was going to buy the successful hotel business that he and his Thai wife had built up. He refused and went missing the following day, but was found washed up on a beach, thanks to an unusual change in sea currents. The local Thai police said he had accidently drowned, and arranged to have the body cremated. The western embassy managed to stop this, and had a post-mortem carried out, which found he was beaten to death before he entered the water.
I certainly have not heard of this one but it could be variations of an old story. Its the last line I do not believe.
And from the Justice for Hannah Witheridge and David Miller Facebook Page
Phensri: "I sent some message to Uk Embassy to asked them can accept this way?????????? Why they don't help their people. Why????? What happed in Thailand If, Who have money to be mafia can change the truth????????? Please help to talk and share to help them, Please help Hanna and David. Please help me to find the way the help them. If, they can change the story and finined this way. I can not accept and so sad to can not help them. Please Please Please Please