PATTAYA COURT ACCEPTS CASE AGAINST A BRAZILIAN BASED BRIT OILMAN BY SENDING SUMMONS TO HOTEL – IN THAILAND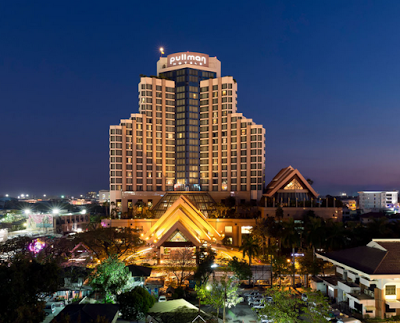 Two weeks ago we posed the question asking whether Koh Samui court could be the worst court in Thailand.


Well naturally we thought there might be a few other contenders for that title – and sure enough Pattaya Court, which has sent people to jail without even seeing them, is now right up there in the running.
The court has now accepted a case of computer crime libel and criminal libel against oilman Ally Cooper by sending a summons to the Pullman Hotel in Khon Kaen, north eastern Thailand, which the court said was accepted. Ally works in Rio de Janeiro.
He might as well be sued in a court in Bamako the capital of Mali after a writ was issued to him in a hotel in Timbuktu – and then finding himself convicted without even knowing it.
But actually in this case while the writ may have been issued it was not even delivered. How do I know? Because the hotel manager remembers the event and emphatically refused it!
A spokesman for the hotel said quite specifically: "We remember the occasion when somebody tried to deliver a court writ. The member of staff refused to accept it. Not only was Mr. Cooper not staying at our hotel, but it is not our police to accept writs on behalf of guests."
They have written a letter to confirm this.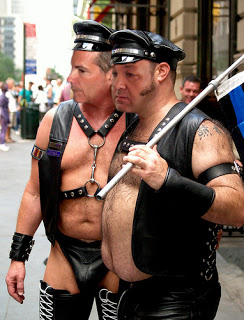 But surprise surprise – Pattaya Court say the writ was accepted – and ordered the case to go ahead.
No wonder the Thai justice system is a laughing stock. There appears to be no conception of justice or deference to honesty.
What case was it? Ally Cooper is accused of sharing on Facebook a story from this site about Drew Noyes, a man convicted of burglary and larceny in the United States, and of extortion by the Pattaya Courts but who appears to be the darling of the Pattaya Court. Or is he the darling of some corrupt official?
The story itself is at this link . I merely reported on the fact that Drew Noyes was suing the internet forum SubZeroSiam for using him in photo shopped into photographs in a gay parade together with Brian Goudie. Both these characters had claimed to be lawyers operating in Thailand, Goudie had even claimed to be a barrister and a former officer in the Royal Marines.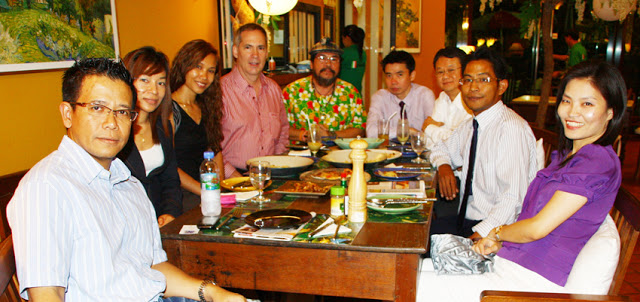 Noyes dining with judges in Pattaya
Drew Noyes is not suing over the story, which included references to them both being 'con men, crooks and liars ' but over the use of the pictures of him and Goudie which Noyes claims had grossly libeled him by suggesting he was gay. Even if we suggested he was – it's hardly a libel.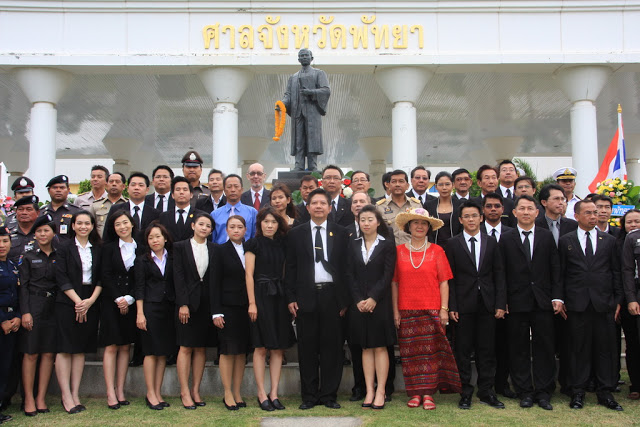 Noyes (second row peering over woman's shoulder) with judges and court staff of Pattaya Court on National Law Day!
But the story stated categorically under the picture:
'we are more than happy to confirm the fact that Mr. Noyes indeed prefers woman, although the affection is not always reciprocated, and that he has a love hate relationship with many.
His common law wife Wanrapa Boonsu has even conceded last month that he has 'four mia nois'.
"In fact Noyes has children by two women in the United States and at least three women in Thailand, plus at least one care order. His current major mia noi is Nam from the Buffalo Bar whom a year ago he took to the United States.

Fake claim by Noyes that he was a lawyer
"The restraining orders in California and North Carolina, plus the assault complaints made by women in North Carolina can be used by Noyes in testimony, not forgetting the woman in California who claimed she was fired for refusing to give him oral sex, as reported by the Wilmington Morning Star. Noyes did not hang around to contest the case.

And from the Pattaya Times claiming he was writing a law book with the Chief Judge of Chonburi which would
include Andrew Drummond and his libelous acts. Judge Visit appears to know nothing about it.
"We are also happy to report that Brian Goudie is also a hot blooded male." (Noyes did not sue over this either).
And what did Ally Cooper to. He shared it on Facebook!
Ally Cooper – wants to fly in from Rio
I am the first defendant in this case. I did not get a writ either. Despite at the time having my address registered with the immigration department, the Thai Government Public Relations Department, the Ministry of Foreign Affairs, Uncle Tom Cobley and all. Drew Noyes still apparently could not find it. And that's something to take into account if one uses his pseudo law firm 'One Stop Service Center' in Pattaya.
We all know Noyes is not gay. We know he likes very young females. I was of course lampooning this couple of fake lawyers as people with little substance; ie all fur coat and no knickers; all mouth and no trousers etc. The picture is no different to many found on the cover of 'Private Eye'
The same Pattaya judge issued a 'public summons' which means it gets published in some Thai magazine I would never read – and when I do not turn up Noyes also hopes to get a conviction.
In Britain of course, upon which Thai criminal laws are based, there is no such thing as criminal libel. And if you take a libel suit you had better be sure that you do actually have a good character which you can claim has been destroyed.
Neither Noyes nor Goudie would get past their first solicitor who would no doubt advise them they would stand to lose tens of thousands.
Thailand though has a presumption of guilt and judges you cannot criticize for plainly obvious reasons.