UNI LAW STUDENT TAKES UP THE CUDGELS FOR FAKE SCOTTISH LAWYER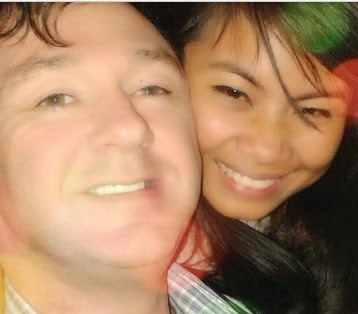 Silenced by his incarceration Brian Goudie has been unable
to reach his fan and spread the word of his innocence on the internet.
But never mind; his 27-year-old 'lawyer' girl friend has
stepped in to fill the breach. Her
BlogSpot
, which she calls travellaw41000, does not yet have enough data to get listed
on
Alexa
but her first entry is a remarkable piece of advice for her associate who was admitted to Nong Plalai jail on Monday…with some bar room Tinglish thrown in.
On her Google+ Page she shows a loving picture of her with
former Australian convict Goudie, aka Brian Goldie with the caption 'Bullshit right!'
Also under her picture with Goudie is the Isaan expression
'เฮ็ดนาเทิงหลังคนตั๋ว'
This I understand in Isaan means: 'Profiting at the expense of others'. This is so spot on. I do not think it came out quite as Mr. Goudie would have intended.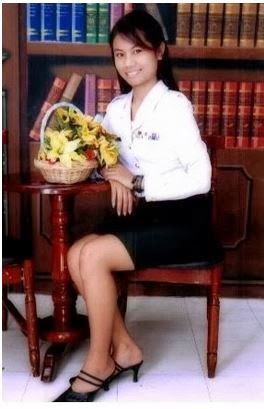 And under the heading: 'Not Bullshit' on Page One of her site
she says:
"Your country not use the law Thailand But if you do wrong
in Thailand, you have to visit jail in Thailand for sure …. I promise!"
And what excellent advice she gives and something Mr. Goudie
should take heed of. I hope to visit him soon.
To add authority to her post Phakaphan Mauklek, nicknamed
Yingmee, includes a picture of herself in a University uniform, perhaps of Khon
Kaen University's Faculty of Law, which she says she will graduate in November.
She says she has known Goudie for seven years and thus is considerably
older than his last girlfriend.
Brian Goudie is due in court in Pattaya again today to hear the judgment in a civil case brought by Barbara Fannelli Miller, who alleges he took in the region of US$300,000 off her posing fraudulently as a British barrister.
On Monday he fired his Bangkok Thai lawyer and hired a Pattaya lawyer paying cash up front. The Pattaya lawyer negotiated a settlement Tuesday in a case brought by Briton John Jepson on Wednesday. Goudie was ordered to hand back the condo he had taken in lieu of his expensive legal fees.
His assets are being blocked and ordered to be returned – but he is still believed to have considerable cash obtained from some very angry Brits involved in a property deal in Koh Samui.
From the page linked above I can't seem to access it but Yingmee's fuller Blogspot site is here. and Google+ here (Works at Brian Goudie) According to Google Translate she warns" 'Military submarines should not get into a passion'.
Finally from Brian Goudie's blogspot written on January 30th:
"The good news is that Pattaya Court is going to wipe that smug smile off his face on Monday 3rd February and I can guarantee Mr.Drummond will be sent 'doon the back stairs' long before I will.
"My two cases? Piece of piss. I am told the agreements are being written as we speak.
Dont forget your toothbrush Andrew."
Posted by Yingmee on Brian Goudie's blogspot site to a poster who suggested BG might not be good for her:
"Hello,You asked to contact me right? I'm girl of Brian . thank you for worry about me and thinking i'm good girl not good for Brian.I do not care how many people he kills the bad guys of the past. Just now he is my good man for me. I give a forgive and give a chance to everyone …..What would you say I'd say I'm already here. But I want to tell you, I do believe him very good man now that enough for me i don't care the past and futrue juse now good it ok….and I'm thai girl 27 years old not 14 years from vientiane."