'I HURT FOR DAYS' SAYS ALLEGED ASSAILANT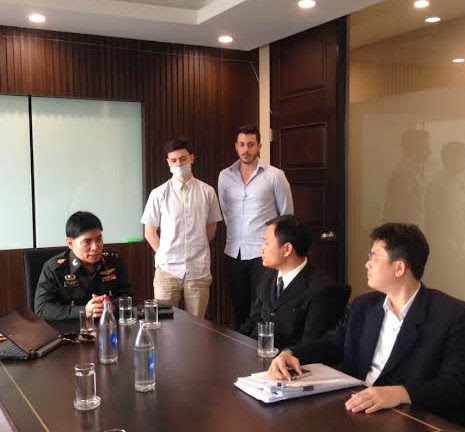 Jack and elder brother with Colonel Werachon Sukondhapatipak and
NCPO legal advisers
The National Council for Peace and Order has stepped into the row over an alleged attack on Bangkok international school former pupil at the Green Mango Club in Koh Samui last month.


Military officers and legal advisors were present last night 'to ensure that the justice system was transparent' after a Koh Samui police officer jetted to Bangkok to charge the alleged victim, Australian Jack Hansen-Bartel with assault.
The charges followed the refusal by the court in Koh Samui to return the passports of Raymond Chang and Ryan Wang, both 19, after they were remanded on bail of 120,000 baht each, charged with intent to cause grievous bodily harm, and causing grievous bodily harm to Hansen-Bartel on the dance floor of the Green Mango in June.
The two Chinese Americans have just graduated from the Shanghai American School and are due to attend #Cornell and #Purdue Universities in the United States. Jack Hansen-Bartel has just graduated from the New International School of Thailand and has applied for #Monash University in Australia.
Jack's mother Mrs. Annie Hansen said her son had to undergo expensive reconstruction surgery to his jaw and gums, which would have to continue for another 18 months, and has described the attack as unprovoked.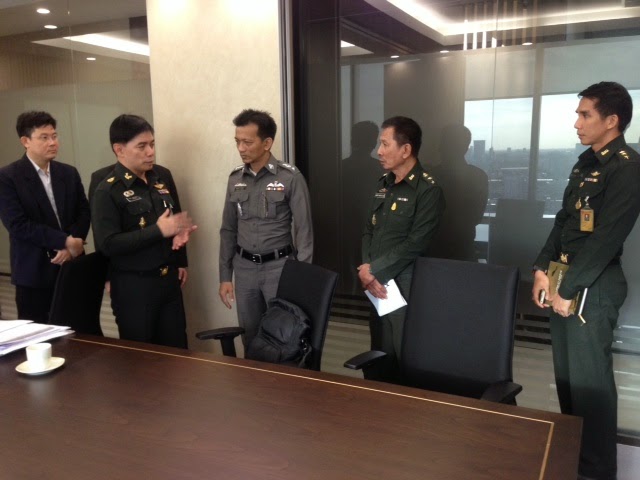 NCPO officers introducing themselves to Koh Samui police investigator
Now the two Chinese-Americans are claiming they were defending the honour of a Japanese-New Zealand former pupil of an international school in Tokyo.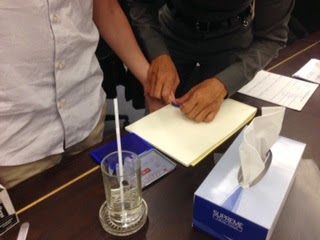 Jack being fingerprinted
The father Raymond Nobu Chang, a wealthy international executive, who told the Samui Court that he was once tipped by Fortune magazine to be one of the twenty-five Next Generation Global Leaders (wrongly as it turned out), produced witnesses to the alleged assault by Jack. Raymond Chang junior said as a result of the attack he was in pain for several days.
Annie Hansen said she was dumbfounded by the counter charges and concerned about calls from Raymond Chang's lawyers in Koh Samui but she said: "I am happy for them to do their worst. I am satisfied that my son is a totally innocent party in this affair and I have the evidence to show this attack was unprovoked."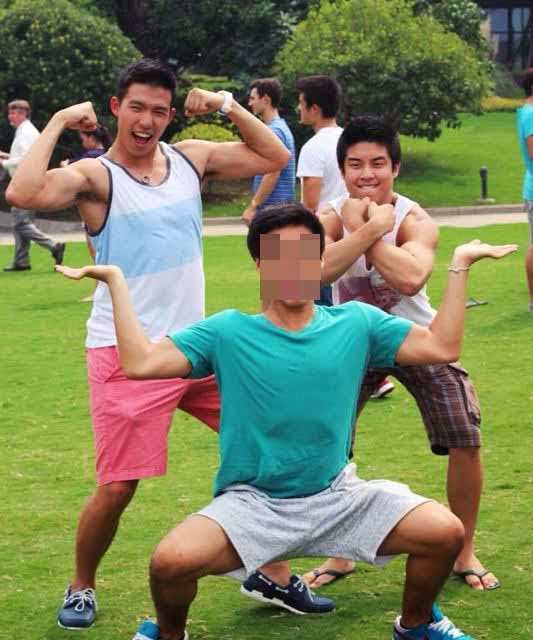 Chang and Wang
Jack who rarely goes out, and when he does, does with a face mask, was fingerprinted by the Koh Samui Police officer. The cases against Raymond Chang and Ryan Wang are due to start on September 28 in Koh Samui and are set to continue well into their first year at Uni.
Colonel Werachon Sukondhapatipak of the NCPO said:
"We are concerned that justice is seen to be transparent. We attended to show that concern and ease the worries of Mrs. Hansen."
Mrs. Hansen thanked both the NCPO and Koh Samui police for their courtesy.
#RaymondNobuChang, #RyanWang, #JackHansenBartel, #ShanghaiAmericanSchool, #NIST, #CornellUniversity, #HarvardKennedySchool
THE INTERNATIONAL SCHOOL TRUTH TEST
PROSPECTIVE IVY LEAGUE PUPIL BANNED FROM LEAVING THAILAND
SCHOOL HONOUR AT STAKE ON THAI ISLAND