Flying Sporran's Weekend Diary
I have always been a bit wary of senior sergeants and sergeant majors in the Thai Police force. They are not like the classic British Army Sergeant Majors, who in days of old, actually ran the British army, and may still do.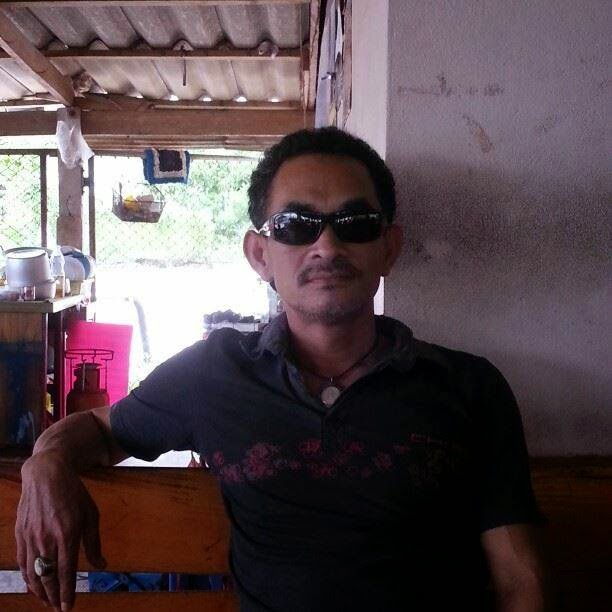 Anuthep
No, Thai Police senior sergeants and sergeant majors can be in a class of their own. Quite often they are lone wolves out there wheeling and dealing.
Sometimes they appear to have more power than others considerably outranking them.
Two such senior sergeant were of course Sergeant Somchai Wisetsingh – who was jailed for the murders of Vanessa Arscott in Kanchanaburi, and Sergeant Uthai Dechachiwit, who was jailed for killing Canadian Leo del Pinto in Pai, Mae Hong son.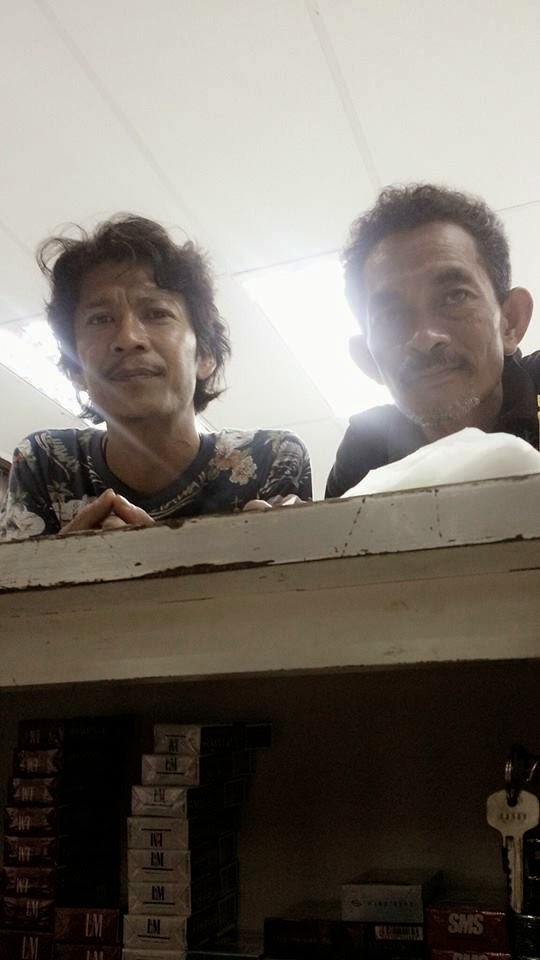 Anuthep looking over the
counter at McAnna
CSI LA the Thai sleuth page, based in the US, has been giving prominence to a couple of police sergeants in Koh Tao, where Scotland Yard officers have been recently on an 'observational tour' relating to the murders of Britons Hannah Witheridge and David Miller.
The first one is Anuthep Intachart. He's the guy who together with the manager of the AC bar in Sairee Beach Koh Tao, chased terrified Scots busker Sean McAnna into a 7/11 after, claimed McAnna, they threatened to hang him from a tree in the jungle on top of the island.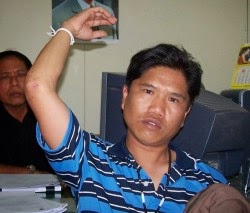 Uthai
More recently CSI LA have been focusing on another called Senior Police Sergeant Major 'Chet' Apichet – seen with peaked baseball cap pictured behind the Scotland Yard 'Scenes of Crime' officer on Sairee Beach below.
The links between police and the island 'families' seem almost incestuous if one follows CSI LA or even Manager magazine.
Apparently there have been a few attempts to lead CSI LA up the garden path and Chet's sister appears to be part of it but I am not following that very closely.
Trouble is nowadays with all these moustaches it really is difficult to tell the good guys from the bad guys, so I am not going to try.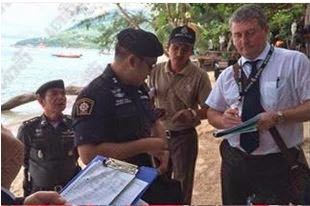 Sergeant Somchai seen below planting a kiss on the cheek of Vanessa Arscott before he executed her – well he ran her over then shot her three times in the head, face, and neck, is not one of the good guys.
But he was Policeman of the Year in Kanchanaburi at the height of Thaksin Shinawatra's war on drugs, so we can't be right all of the time.
Somchai had claimed he did not know Vanessa. This picture was produced to prove the lie.
Today (Monday) – lots of these police will be up before the National Human Rights Commission.
Postscript: Well they were due to go up – but they never bothered. The TNHRC has rather been stripped of its powers by the new military government.