WHO IS WATCHING THAILAND'S 'MEDICAL HUB' CLINICS?
The death of 24-year-old Joy Williams while under anaesthetic at the SP Clinic in Lard Prao, Bangkok, continues to get a lot of space in the British Press – not least because a lot of Britons come to Bangkok and other parts of Thailand as part of 'medical tourism' deals – which have been heavily promoted abroad.



Joy herself, born in Nigeria, had come to Thailand before , and she died during the second operation during the current visit.
The clinic itself had been subject to widespread attacks on social media, including ripoffreport – and a wordpress website, now disfunctional, had been dedicated to Sompob Sansiri himself, the director of the clinic, and also apparently a surgeon.
The Ministry of Health should of course check on each clinic which offers cosmetic surgery on the cheap, or at least cheaper that foreigners can get in their homelands.
For a start all clinics and hospitals should be fully insured against disasters like this.
The Daily Mail is reporting that of 26.5 million people who visited Thailand in 2013, some 2.5 million visited purely for medical reasons and to put this in context that is a lot of people who did not die. But of course others have.
And plastic surgeries in the UK report a drastic increase in surgery cases needed to correct hatchet jobs overseas. One clinic the Cadogan in Chelsea, reports the Mail, has seen an increase in these cases of 125 per cent. A lot of this however is attributed to clinics in Eastern Europe.
Sompob is currently charged with recklessly causing the death of Ms. Williams, who was having some buttock enhancement operation.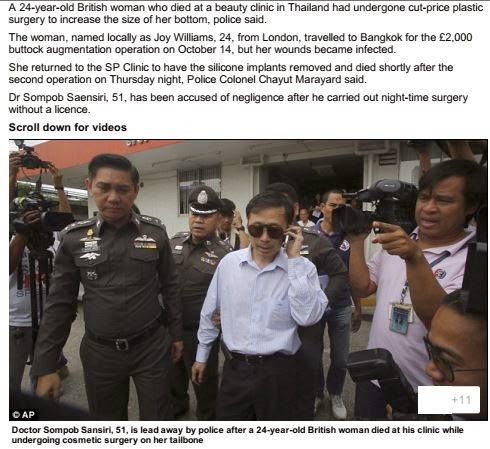 From the Daily Mail
The Ministry of Health and police might want to check further. There is no such company as the SP Clinic or Cosmetic Surgery run by Mr. Sompob.
However the phone number of SP Clinic's (02-9304450) and also the address match the phone number and address in Lardprao 41/1 belonging to a company called Medical Service International Co Ltd (Reg No:0105554092208.
But this company went out of business last year. Sompob Sansiri ([นายสมภพ แสนศิริ) was one of three directors.
The SP company website is www.sp-cosmeticsurgery.com – but don't go there it might start ringing virus alarm bells on your computer.
MSI also never appears to have filed any tax returns – so who gains? Not Thailand for sure. Some clinics can destroy what could be a regulated business with advantages for all.