A GUEST OF KOH SAMUI –
Flying Sporran's Weekend Diary –
NOT A MARK – NOT A MEDICAL REPORT – BUT INJURED YOUNG AUSSIE ORDERED TO SURRENDER TO BAIL FOR 'ASSAULTING' RICH KID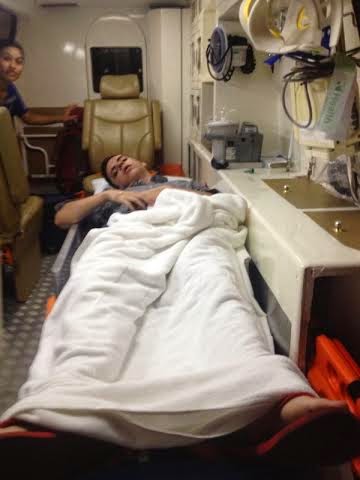 The energy which is being put in by Koh Samui police to prosecute a young Australian student who was badly beaten up on Koh Samui is sending alarm bells through the foreign community – if not the student's mother Annie Hansen.


Koh Samui police are charging Jack Hansen-Bartel, a former scholarship student at the New International School of Thailand, with a misdemeanor and with (common) assault.
This follows a long presence on the island of Raymond Nobu Chang, the father of Raymond Chang (junior) who together with Ryan Wang, are accused of a brutal attack on Hansen-Bartel in a club on island in June.
Raymond Nobu Chang, an extremely wealthy Chinese businessman is due to attend the John F Kennedy School of Government in Harvard.
While asking the Koh Samui court for the return of the passports of his son and that of Wang, both of whom had just graduated the 'Shanghai American School' Mr. Chang (senior) said he had been tipped by Fortune Magazine in 2000 as one of the twenty-five Next Generation Global Leaders under 40.
Having not yet achieved this status, this may be why he is attending the Harvard Kennedy School.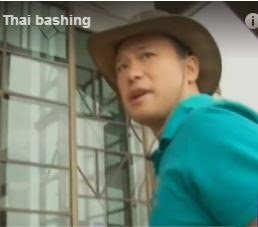 Raymond Chang (senior)
He further added: "We are willing to meet any further additional which you may deem necessary to grant the removal his travel restriction."
Jack Hansen-Bartel, from Mentone, Melbourne, Victoria, was knocked unconscious in the attack and said his mother in her letter to a Shanghai American school pupil, who called on the two Chinese-American students to own up apologise and compensate, had to undergo facial surgery which will continue for another year.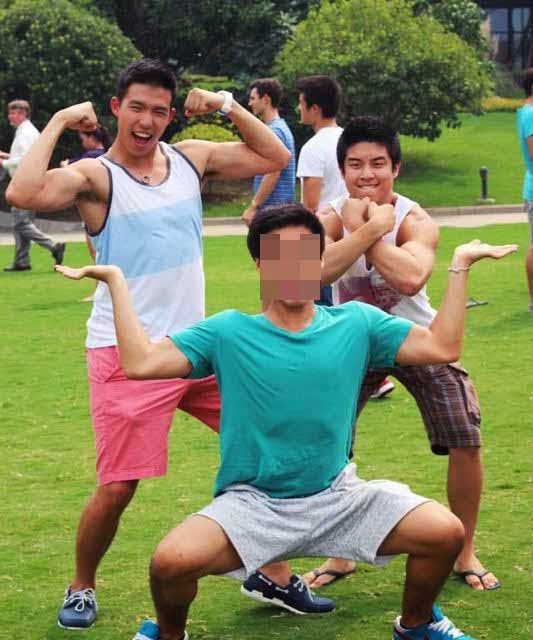 Chang (jun) and Wang
Raymond Nobu Chang has so far had no luck with the courts, but has been more successful with the police, who flew to Bangkok to investigate Jack, albeit in the presence of army officials of the National Council for Peace and Order, who said they wished to re-assure the mother that everything would be 'transparent'.
So actually policemen, or maybe some others, are putting a lot more into the prosecution of Jack – a 'model student' at NIST, than into the investigation of the two wealthy American-Chinese, who now we are being asked to believe went to the aid of a supposed damsel in distress.
This half New Zealand half Japanese girl will feature prominently in all the trials if she returns to give evidence, but she is now attending Fordham University in the United States.
The costs of prosecuting Jack have already far exceeded the penalties he is likely to receive even if he is convicted. Misdemeanour fine 500 baht – 1000 baht, assault causing no physical harm, maybe 1000-2000 fine. The Thai tax payer has to pay that…perhaps. But that may not be the point. Koh Samui police could say that they are being even handed.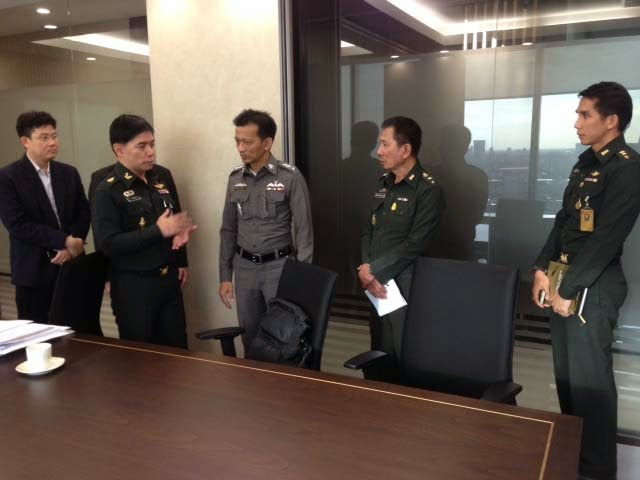 NCPO officers with Koh Samui policeman in Bangkok
The fear is that of course that somebody might be trying the well tested theory that the more money you throw at a case the more likely you are to win. This seems to work quite well in Thailand. But Mrs Hansen has confidence that she can prove her son was totally innocent.
.
Now Annie has to pay lawyers and fly them and her son down to this holiday island to face cases against her son which were not pressed until a full month after the alleged attack – the day the two American-Chinese were refused their passports.
They had told the court in letters that they loved Thailand so much that they were renting a villa in Koh Samui for 12 months as 'this address'. This address turned out to be a lawyer's office and belonging to one of Koh Samui's more famous ones.
Below is the comment on this story (republished) from Luke Kao a student at the Shanghai American School and promising film maker, who tells his classmates to own up and apologies and the reply from Anne Hansen. The families of the two American Chinese boys have not commented publicly.
From Luke Kao
As a Shanghai American School alumnus of the same graduating class as Ryan Wang and Raymond Tony Chang, I would like to apologize for the actions of my peers. Please know that their actions are in no way representations of the average Shanghai American School student or the average Chinese-American youth; we really are better than this (although it might be hard to believe now). I don't know how or why the altercation happened, but I do know that the right thing for Raymond and Ryan to do right now is to owe up to their actions, apologize, and compensate. The moronic behaviors and bad choices of two boys and one of their fathers does not reflect us, and I hope I have salvaged Shanghai American School's reputation, even if by a marginal amount. So once again, sorry for the mindless and brutal actions of the two individuals I shamefully call my peers.
Dear Luke,
My name is Annie Hansen and I am Jacks mother. 9 weeks ago now my son was attacked by two SAS students.
Since that time my sons' days have been filled with medical examinations, treatment, tears, pain and visits to the lawyers office. His speech is affected- as it turns out that one requires front teeth to verbally communicate clearly, he is unable to sleep through a night as he has nightmares and experiences pain and must get up to take pain relief normally once a night, sometimes twice. This pain intensifies if his head is not elevated for any length of time.
Jack was an avid sports player and has been his entire life. All Jack has known since the age of 2 was sport. To roll or kick around a ball- be it football basketball or an Australian Rules football. Any birthday was usually an arranged sports day with friends any spare time was either out at the football field, local basketball court or the fitness centre. I always encouraged this side of Jack as living a healthy and active life meant that he was completely adverse to drugs and he had stayed away from alcohol until recently as well. Jack now lives in a world that is unable to accommodate these active outside hobby's anymore. So frankly he is lost.
Jack modeled part time since around the age of 8. He took various jobs that were fairly high paying for someone that did not look to this world as a serious full time career path. It gave him pocket money to save for the special times in his life such as the two trips he took to Samui in early June. He valued this money very much and was always reluctant to spend what he had earned. I used to tell Jack he was a bit "tight".
In May, Jack advised me that the best time of his life was about to come up. I asked him what this meant. He replied that that period of time between graduation and between starting university all of his friends in Bangkok were getting together, without the shackles of study and exams; just to simply enjoy each others company and strengthen life long bonds before each one departed for their own charted course.
Jack sits at home or in specialists' offices these days (and nights) knowing each day what his friends are doing – often only sois away from where he is. He knows that this "best " time of his life has been taken away.
Jack is faced with the inevitable, unavoidable fact that he faces a year to a year and a half of surgeries to reconstruct his mouth. These surgeries will be very painful for him and there is a recovery period between each one. He is advised that he can only ever expect an 80% recovery.
Jack has lived in Bangkok 15 years. Since he was a blonde haired, skinny, happy, kind hearted boy playing with all the Thai kids in the soi and speaking fluent Thai in 6 months of arriving in the country. Life here was, as a Buddhist, quite easy for Jack to navigate and, whereas many foreigners live a superimposed life as an expat in Bangkok, Jack was completely immersed in Thai life and had never had any trouble in 15 years.
My friends often commented on how incredibly lucky I was to have such a good and decent kid. This sense of decency is what earned him a part scholarship at NIST International School
Jacks Facebook isnt about starting business and becoming an entrepreneur or luxurious holidays in Turkey or South Africa.
It has always been about friends, what sports team is playing, what last nights scores were, anything he had volunteered for recently with Operation Smile etc. Very basic stuff for a really salt of the earth, genuine young man .
You can imagine how unexpected the phone call from a hospital was on the morning of the 10th of June at 3am. You can imagine how when both attackers were identified, located and brought to the station by police, our surprise that they had not one scratch or mark on them. You can imagine our surprise when 6 weeks aft er my sons attack and with nowhere else left to go, two charges were laid against HIM by his attackers.
The charges arose approx 2 hours after the judge had declared that the attackers had breached their bail conditions and were informed their passports were to be "surrendered" to the court. This occurred around 11 45 am on the 24th of July and the charges were drawn up that day at 1pm. And police are now also feeling forced into charging my son with assault while admitting they have absolutely no medical evidence of such an act.
Imagine our surprise when in the statement of charges against Jack that Jack was ALSO now found to be molesting a woman that he had been relaxing and drinking with at a bar earlier in the evening. On witnessing this apparent molestation, these two courageous and brave attackers advised that they went to her defence.
Jack being half their size though but so incredibly intoxicated that he would not let go of Tiffany and simultaneouly hit one in the chest who fell over and the other he hit in the head. All would be extremely laughable only I know from the police staff that the father representing both boys is there at the station each day demanding Jacks head on a platter. We receive regular reports.
Jack has a wonderful family in Australia and they have been our rock throughout his time of need. We have wonderful friends who assist us at every twist and turn and there are many, Colonel Satit has been wonderful and happy to meet or talk at a moments notice and the Militarys NCPO and their military lawyers have spent hours pouring over evidence. So we are fortunate in some ways and we know this and are very grateful. Even through all this Jack and I still try to remember those things we are grateful for.
Luke you and some of your peers who came forward early on, and some since, I call courageous. You however are the first from #Shanghai American School to publicly say to us that you are "sorry".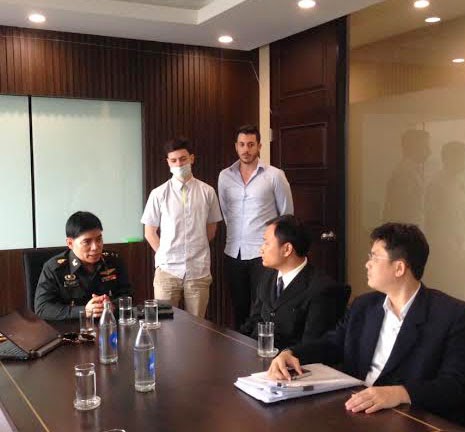 Jack and his elder brother with army colonel and legal executives of the NCPO
Your comments made me cry.
For the sincerity that went into them and for the kindness it illustrated. When we are dealing with very tough people like this, to see this kindness from a stranger that I know risks a lot to come out against fellow classmates – that is a big ask! I hope that in the same situation I would have the courage to write to someone in the manner you did.
You seem like a very thoughtful and kind gentleman and remind me of Jack a lot actually.
So I just wanted to say thank you from both my son and from me. Your kindness and courage did reach from the US to Bangkok loud and clear!
#RaymondNobuChang #RyanWang @JackHansenBartel #AnnieHansen #GreenMango #KohSamui