CHARMING THAI COMMERCIAL GETS MIXED REVIEWS


"O wad some Power the giftie gie us To see oursels as ithers see us!" – Rabbie Burns
The video short 'I hate Thailand' commissioned by the Tourist Authority of Thailand to counter the recent negative publicity the country has been receiving, has also garnered a lot of attention over the last few days both critical and supportive.




The video is narrated by a young British expat called Oliver Smith, who plays a young expat called James, who has been here for two years.
I'm guessing he's now a long stayer.
The Coconuts online website tracked him down and he is reported as saying:
"Sure it's scripted, but it is unlikely that one could film all their misfortunes themselves. I personally have had experiences similar to that of 'James' and felt that the movie, although a little cheesy, was a nice 'feel good' film."
I have no argument with that. The film made me chuckle. James' story is that he came on holiday and hated Thailand after someone stole his bag seemingly at some Full Moon Party with all his money passports etc. "How can I trust Thai people?" James asks himself.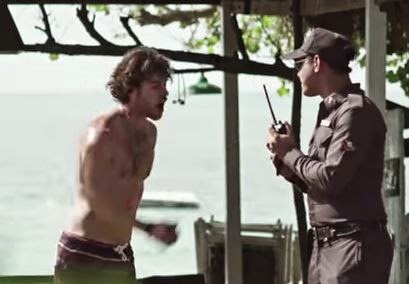 James as 'angry foreigner' ranting off at police. 'No I won't calm down!'
He shows his 'foreign' attitude by getting angry with a policeman who is not helping (a racing certainty) and throws a stone at an island pick-up bus which nearly runs him off the road, while the driver casually drives on (certainly no racing certainty here. The word machete springs to mind).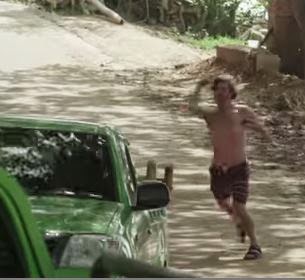 James throws stone at car . Driver ignores. If this really happened in Thailand James could be facing the sharp end of a machete.
But James is then accosted by a 'lovely dark skinned Thai girl with bleached hair (not white from Thai Chinese family who would not dream of accosting a stranger let alone a foreigner) who stops her motorcycle buys him a drink finds him a charger for his iPhone4 and helps him look for his bag.
That's service.
I am only surprised she has not manicured his finger nails.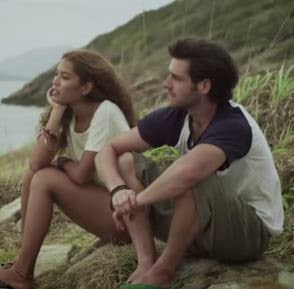 Miraculously she manages to get twenty local people with torches to scour the beach at night (and this is local logic at work here), and he is then offered free accommodation (but not by the girl of course) who has found a better alternative to rice farming).
Once there he look like he has never been beaten by a mosquito before and his handed the Thai invention the tennis racket electric mossie whacker and he look like he has been given his first set of beads.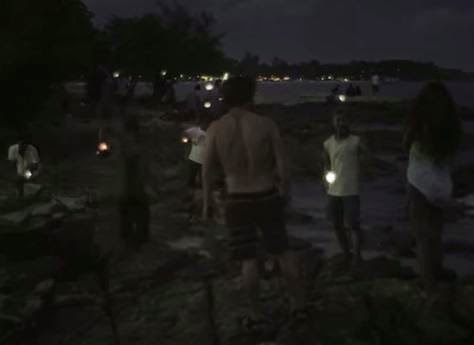 In the morning being an oafish foreigner he tries to climb into a water jar to have a shower and then drops his towel in front of the girl. Well that's fine for the farce and a few laughs as she shrieks and retreats, but it's a generous version of how foreigners are portrayed generally on television in Thailand.
James comes out with the line: "I once said 'I hated Thailand' because that was when I did not know Thailand well enough."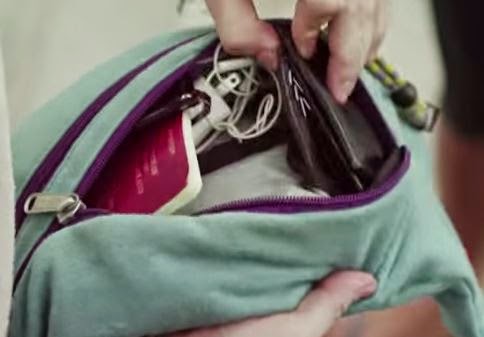 And then he finally he gets his bag back. It was not stolen at all. It was taken by MONKEYS.. and honest ones at that.
They have had it a night, a day and a night. They have not gone straight to an ATM machine with his bank cards. They haven't even opened it. With one pull of the zip all the contents are intact inside, including his passport, wallet, and phone charger.
Again this can be very true in Thailand (not the monkey bit, no, getting his belongings back!) but when it happens, such as in the case of a taxi driver returning a wallet found on the back seat of his car, it's a major news event. (Google Thailand taxi driver returns cash).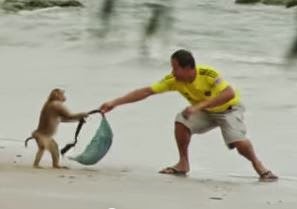 'After you sir" – 'No, no, after you?'
One line I did not get was when James stared lovingly at his British passport as he contemplates his adventure. (Prop: supplied by the Foreign and Commonwealth Office).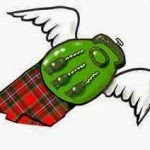 Flying Sporran's Weekend
Diary
Actually like many people this is very much a summary of the first experiences of Thailand I once had, though on not such a grandiose scale. If this video were true, we'd all throw our wallets away on the first day.
But I had an ugly first experience too. Like being in a hired Jeep which rolled when the brakes failed and being held to ransom with a film crew by Koh Samui police and a local businessman.
The comments all over the net indicate that while Thais love this video – even David from CSI LA – and so do many foreigners, the foreigners who do not, who seem to be in a majority, have probably all had bad experiences.
One went so far as to tell me this morning: "I started watching, but I switched off. I was going to retch."
I suspect one could also make another film with Oliver Smith in a few years' time with a more grizzled James coming out with the tag line: "I once said I loved Thailand – but that was before I got to know it well enough."
But he may be at RADA already. He should not hang around too long but rather go home and get a decent job rather than making bucks on this sort of stuff.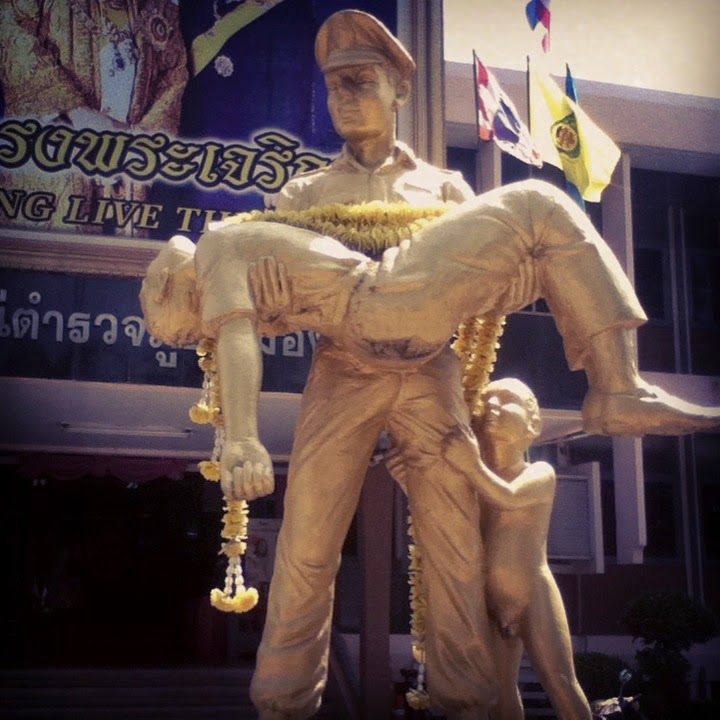 I have covered enough murders here of a horrific nature to have, I hope, a more rounded picture. I have seen the police in action, and can confirm that all those statues outside police stations give a somewhat romantic view of what the main occupation of the Thai police is.
And as for having your bag stolen by a monkey at a Full Moon Party I almost fell out of my rocking chair seeing that scenario.
If I did lose my bag and was offered it back a day later I would want to make sure there were witnesses present and it was searched for drugs before I even admitted it was mine!
Drugs arrests at Full Moon parties are a source of police income which we rarely see reported in the Thai press.
In brief: Yes it's a great country. People will be absolutely charming. But enjoy and be careful. Unlike James, who lost only his bag, people can lose their minds and their lives. Don't be stupid. There are people waiting for you to be.
The film is on YouTube and it looks like it was put there to run it up the flagpole and see what reaction it would get. It may not be a good idea to exhibit in the UK at the moment.
One only has to look at the reviews on tripadvisor for the AC Resort in Koh Tao, which has been featuring heavily in reports on the murders of Hannah Witheridge and David Miller to see there are other views.
And finally – as the video (filmed on Koh Samed) was based on a foreigner enjoying 'island life' in Thailand here is a timely reminder of the British Foreign and Commonwealth Office's Travel Advisory on Crime in Thailand.
Western tourists including British nationals have been victims of vicious, unprovoked attacks by individuals and gangs in Koh Samui, Koh Phangan and Koh Tao (the Samui archipelago). In January 2013 a British national was killed in a shooting incident while at a beach party in Haad Rin on Koh Phanang and in September 2014, 2 British nationals were killed in Tao.

Violent sexual assaults and robberies against both men and women are reported regularly in the Koh Samui archipelago and Krabi province. These are particularly common during the monthly Full Moon parties and generally occur late at night near bars.

Tourists have also been robbed after bringing visitors to their hotel rooms. In some cases their drinks were drugged. Be careful about taking drinks from strangers and at clubs and parties, particularly in Koh Samui, Pattaya and at the Full Moon party on Koh Phangan, where date rapes have been reported.
Attacks have also occurred in other tourist districts in Thailand including Chiang Mai, Pattaya and Krabi. In light of the risk of unprovoked attacks you should be cautious and take care, especially at night.

Alcohol and drugs can lead to you being less alert, less in control and less aware of your environment resulting in accidents, injuries, robbery, assaults and lost travel documents. If you drink, know your limit. Drinks served in bars overseas are often stronger than those in the UK. Some British nationals in Thailand have suffered severe psychiatric problems because of drug use, resulting in some suicides.

Be aware of the possibility of credit card fraud. Don't lose sight of your card during transactions. There have been incidents of ATM skimming in Thailand. Where possible use an ATM within a bank and always protect your PIN.

Be careful to observe demarcation lines between shops and stalls, particularly in market areas and at Suvarnabhumi Airport. Taking items from one shop's area to another may be treated as suspected theft.

Be on your guard against pickpockets and bag snatchers. Foreigners have had items snatched by thieves on motorbikes when walking along busy streets or travelling in open transport like tuk tuks. If you travel by bus, make sure cash and valuables you have are kept securely. There have been incidents where passengers have had items taken from bags while asleep.

Gem scams are common. There have been reports of visitors buying gems for inflated prices from seemingly respectable establishments then later finding out the stones are worth a tiny fraction of the purchase price.

You should report any incidents of crime to the Thai police before leaving the country.