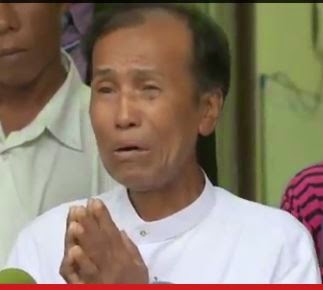 'We'll tie you to burning tyres!' – 'We'll cut off your limbs and put them in plastic bags'


As the Koh Tao murder case rumbles on, despite Thai Police putting a lid on the affair and stating the case was now closed, the father of one of the accused has given an interview to the Democratic Voice of Burma giving more details of threats by Thai police
Htun Htun Htike, the father of Win Zaw Htun, said, "My son and his friend [Zaw Lin] told me that they were subjected to physical torture by the Thai police and their translator.
"The interrogators told them to confess to the crime, and threatened to cut off their limbs, put them in a bag, and dump them in a river if they did not."
He added: "The police also threatened to tie the two boys to a tire, pour petrol on it, and set it alight," he told DVB's Aye Nai.
"My son said they were terrified and confessed. But now that we [their parents and Burmese officials] are present, they can speak the truth – that they did not commit the murder.
"My son also told me that the police threatened to use tasers on them." – DVB


Now together with calls for a completely new investigation headed by Thailand's Chief Forensic Pathologist Dr. Pornthip Rojananasun and some tip-toeing by British detectives the Thai investigation into the murder of David Miller and Hannah Witheridge is looking more and more unprofessional.
It has the potential of damaging Thailand's relations not only Britain but also Burma (Myanmar).
Manager magazine has suggested that British police 'know' that the two Burmese were not involved in the killing and that David Miller's friend Christopher Ware has provided valuable testimony – but if that is the case that can only have come from a Thai police leak – as the British detectives will make absolutely no comment before they return to the UK with their report.