CHARTS SHOW RECKLESS ABANDON
-They cold call you at your office or home and they give the impression they are the 'bees knees' in the financial business and will even warn you against rogue traders.


But Bangkok's 'Independent Financial Advisors' are giving international finance, well, a bad name, and expats – and it is expats they are targeting – should beware.
In documents obtained by this site Barclay Spencer International for instance in 2008-9 put the best part of US$6 million of client funds into two funds run by London Nominees, the company behind the failed 'Football Fund'.

The London Nominees Funds promoted by Barclay Spencer International
London Nominees, as we have pointed out not only had offices in the same building, Pacific Place, in Sukhumvit Road, but was formed by Andrew Leppard – the founder of Barclay Spencer.
These funds spectacularly crashed the London Nominees CTA by a staggering 80 per cent, and the London Nominees Index Option Fund by about 50 per cent. It takes some doing to lose so much so quickly.
I can find no evidence that clients were told by Barclay Spencer International, or Barclay Spencer Int (Bangkok) that these funds were new and untested, or that they were the brainchild of their former boss, and current shareholders in BSI, Thailand.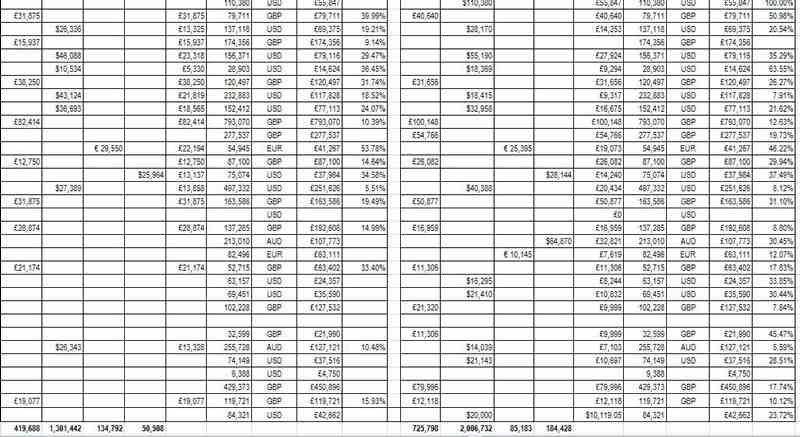 The bottom line – to the left cash invested in sterling, US dollars Euros and Aussie dollars
in London Nominees CTA Fund – to the right in the London Nominees Index Option Fund
They were diverting pounds, US and Aussie dollars, and Euros into London Nominees willy nilly and complaining clients were told when they crashed: ''Well you know this is a risk business".
At least one, as we have reported, was insulted, and described as having 'smallmanitus' when he questioned the conflict of interest.
The company chief Mark Kirkham, now boss of Platinum Financial Services, explained to the punter who had asked for a 'cautious medium risk investment strategy' and lost US$60,000.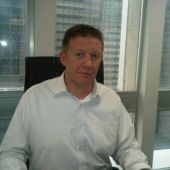 Kirkham
"I agree that in isolation the CTA fund would lie outside the risk classification of Balanced, which is how you have previously identified yourself, but as part of an overall portfolio it doesn't. I understand from Andrew that he has explained the process of portfolio construction and why a fund with a higher than balanced risk rating would find its way into an overall Balanced Portfolio".
The 'Andrew' by the way Kirkham is talking about is Andrew Wood who advises expats on financial matters every week in the Bangkok Post with a column called 'Networth'. Kirkham, meanwhile says he himself worked in the UK as a brewery dray man but its not on his usual CV which appears to show long history in the financial business.
Andrew Wood has been in Thailand 30 years and done all sorts of things. His career has not been as an IFA though. Both seem to be clubbable though.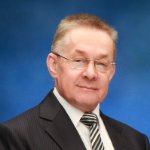 Andrew Wood
And I am assured by money men that putting clients' money into not one untried and untested fund but two run by a former boss who was still a shareholder in Barclay Spencer (Thailand) is bordering on the 'f…g criminal.'
Still that's all a bit irrelevant. There is nobody around to police Thailand's Independent Financial Advisors, at least not those administering to expats investing in funds overseas.
Actually I am advised that the Ministry of Finance do need to approve these IFA's through the Securities Exchange Commission.
But policing is a different matter. If they cannot police the boiler rooms how can they police the IFAs and most of the salesmens appear to be on commission only and thus not documented up.

Part of Wood's spiel. But no prior experience in the financial services industry
Try getting your millions back from a punter straight off the plane who has come here for Soi Cowboy or try getting the cash back from his boss.
"We are endeavoring to work with clients who have encountered losses in CTA with a view to getting their portfolios back on track, we hope very much that you will be one of those clients and I would like to come to some sort of arrangement on management fees where we can do this over time on a results basis but I will not be offering to refund any money sustained from poor performance as we are not liable for such. We have executed our duty of care in terms of selecting funds for our clients that we genuinely believed suited their risk profile and portfolio objectives. Unfortunately in the case of CTA we got it wrong". – Kirkham
'Endeavoring to get their portfolios back'? – 'Genuinely suited their suited their risk profile?'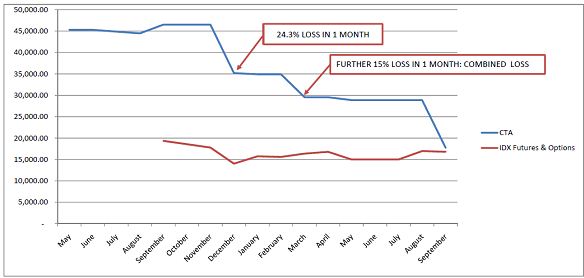 They got it wrong- not just a little. This client's graph of losses is standing on the skyscraper window ledge stuff
So once again:
Trust only people who can show a good track record with a particular IFA before taking their recommendation.
Keep asking questions. Some of these guys have only learned what they are doing in a few days. Once they have exhausted their pre-rehearsed spiel they tend to dry up.
Don't believe any references by people who do not have a surname.