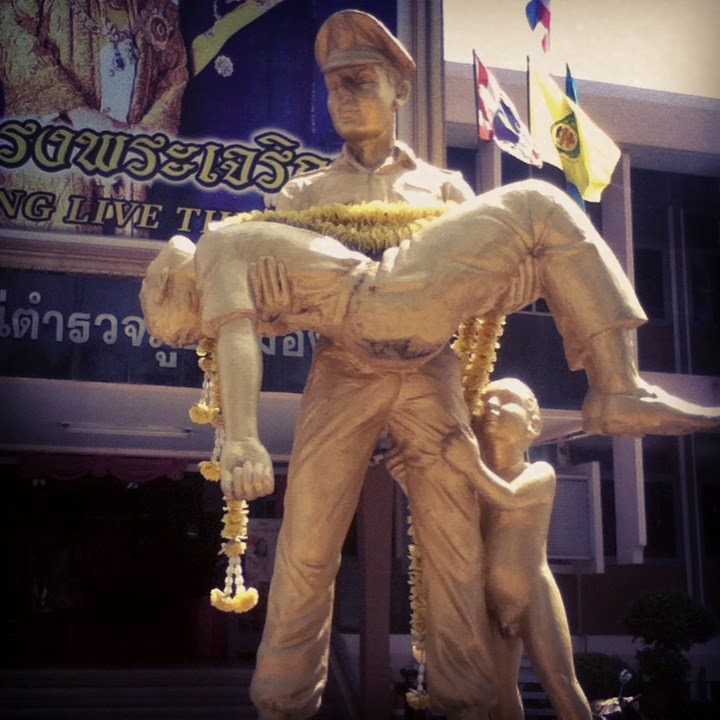 British Consul Sounds Off –
Sharky Sounds Off –
Verapat Sounds Off
AS THAI POLICE APPEAR TO PROTECT CRIMINALS AND PROSECUTE THE INNOCENT
This week was again not a good week for the Thai Police and the country's justice system with several people sounding off both at home and abroad.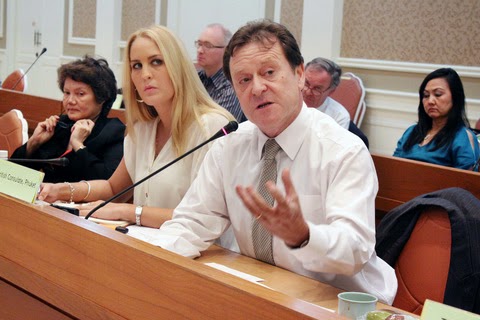 Carpenter
In Phuket British Consul Martin Carpenter, now ignoring the official channels of meetings with the local governor, has given cause to discredit the belief that the army has stepped in to end scams against tourists.
This was a week in which the local Phuketwan reports an Australian tourist paid 600 baht plus service plus VAT for hiring two sun loungers while one resort is reported to charge 1,200 for just one.
Carpenter talking about Thailand's infamous jet ski scams at an American Chamber of Commerce forum at the Outrigger Laguna Phuket said:
"There is no current evidence that anybody in the government sector here really is taking this issue as seriously as many people want them to take it."
"He said that he had sat in meetings between honorary consuls and provincial governors for six years and the problems of jet-ski rip-offs, extortion and dangerous behaviour had been discussed many times, but that nothing significant had been done.
"I do hope that somebody makes notes, and I'm quite happy for you to write what I'm saying now."
Meanwhile in Phuket at the Asean Beach Games there have been widespread reports of continuing rip-offs by Phuket's taxi drivers who think they have struck gold.
Meanwhile Patong Beach looks like a natural beach again without the deck chairs.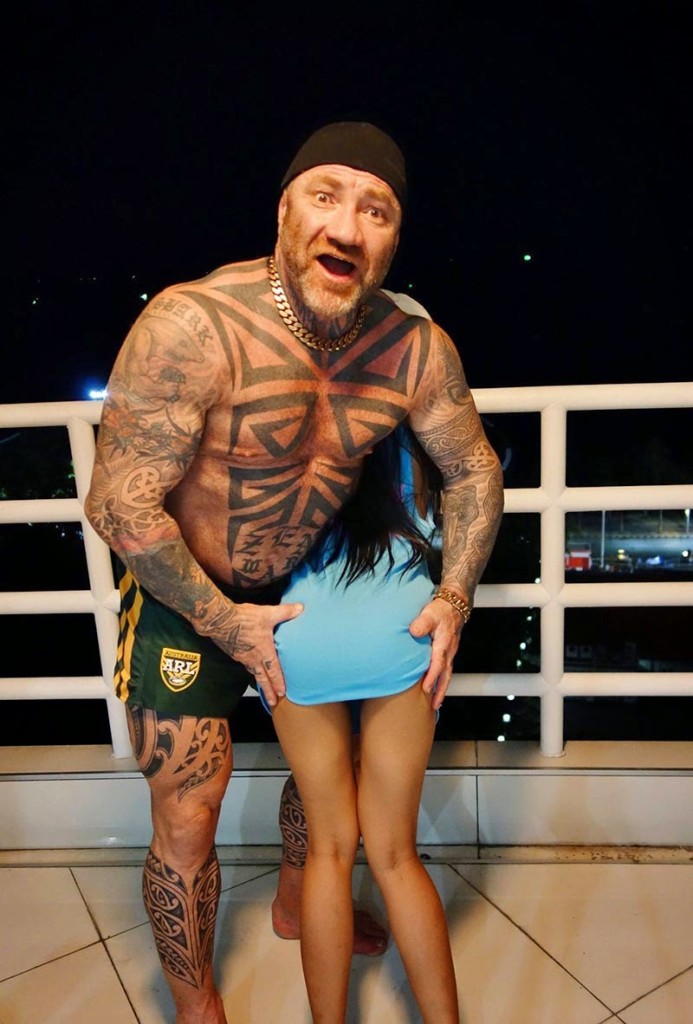 Sharky
Back in Pattaya Tim 'Sharky' Ward, who has made a pragmatic peace pact with the police for his own safety after accusing them of stealing his gold and trying to fit him up with drugs charges, also made it clear that his views had little changed.
"I was in the police station recently when I met a Chinese family who were being forced to pay 60,000 Thai baht (£1,200) for jet-ski damage.
"The mother spoke perfect English. She said she was never coming back to Thailand again and would publicise as much as she could why. But the police did not care. All they cared about with was the cash."
So much for scams.
Then we had Thailand's 'I hate Thailand' video, which is about a young Brit, who says he hates Thailand after his bag was stolen at a Full Moon party, but suddenly has a conversion as police and seemingly scores of Thais come to his aid.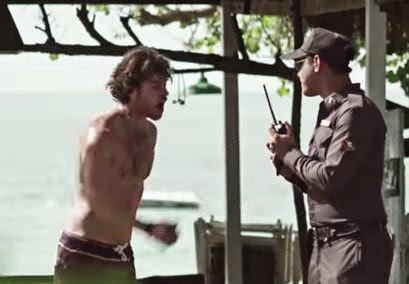 The video went viral – to widespread condemnation from the foreign community.
And today in the Guardian newspaper in Britain Verapat Pariyawong former special counsel to a former deputy prime minister* slags off not only the military junta but also Thailand's legal system.
After commenting on the murders of Hannah Witheridge and David Miller in Koh Tao he said:
"What has happened in the case of Witheridge and Miller is not exclusive to foreigners. Thais struggle every day to find access to justice and their plight gets little publicity. The recent military coup and the imposition of martial law, however, has heightened concern over the Thai experience of military jurisdiction…..
"Thailand has entered dangerous waters not merely because of its failure to prevent murder, but by its apparent disregard of fundamental rights, especially around access to justice.
"Tourists from Britain and around the world count on our justice system to be fair and transparent. Now, we Thais must count on the international community to demand the return of Thai democracy and to restore the rule of law. That must include reforming the Thai justice system and systematically rooting out the injustices it has been used to perpetuate."
Injustices? Can anyone think of any examples? Well here are two topical ones. The first I have already covered.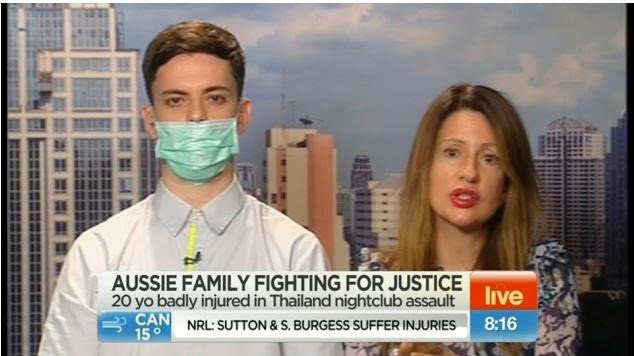 Down on Koh Samui Annie Hansen will bring her son to court tomorrow to face a charge of assault not occasioning any actual bodily harm. Her son Jack Hansen-Bartel requires nearly two years of corrective surgery and two Chinese Americans have been charged with the attack on him.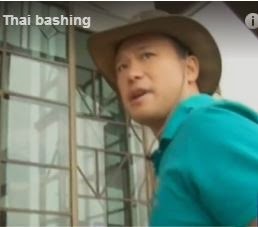 The prosecution against Hansen-Bartel came after the arrival on Koh Samui of Raymond Nobu Chang the millionaire father of one of the two Chinese Americans, and six weeks after the two Chinese Americans were charged.
This sort of charge does not normally get near a court. At best it's a 1000 baht fine in a police station, or whatever police think they can charge. Raymond Nobu Chang is attending the John F Kennedy School of Government at Harvard.
And from Pattaya, a city, where police taking up the cases of foreigners who have been cheated is virtually unknown, comes this.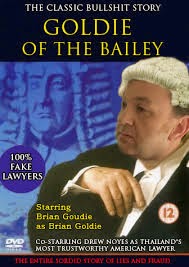 Police Colonel Chalermkiat of Dongtan Police station, which has as many colonels as rooms, has taken a case up on behalf of phony lawyer Brian Goudie, aka, Goldie, former convict E0000247 in Hakea Prison, West Australia, against his former girlfriend Nang, whom he made managing director of Jimmy International, the company he stole from Ulster drugs runner Jimmy 'Doc' Halliday on his death bed.
It would appear Dongtan Police station prefers to take the side of criminals – I played them the documentary 'Brian Goldie -Scot Swindler' – and they seemed impressed with his technique.
He is accusing Nang of theft from the premises of the Jaggie Thistle.
This is interesting. As Nang was MD how can she steal from the company. Well the major shareholder is suing. That is Brian Goudie through the company Ramidin Holdings, and his Thai female sidekick. There's nothing legit about Ramadin Holdings, or Jimmy International for that matter – but as its Thai police – who cares?
Pattaya Police have failed to move on a complaint from the Technical Crime Suppression Division to investigate how pornographic pictures and video from his smart phone, is now appearing all over internet sex sites. (Such a charmer)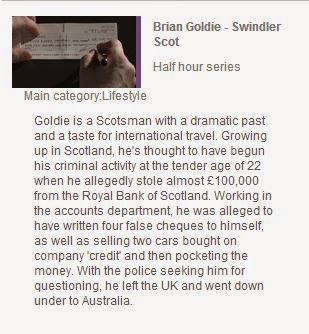 They also failed to move on two other cases, that of swindling clients of his phony Alba Laws legal company; and switching directorships to make Nang take the fall for running Jimmy International's 'Jaggy Thistle' pub.
Meanwhile in Bangkok 12 policeman including the Commissioner of the CIB Police Lt.General Pongpat Chaiyaphan and his deputy Police Major General Kowit Wongrungroj and members of the Economic Crime Division are under arrest for various offences and a senior former CSD officer Colonel Akarawut Limrat has literally gone up in smoke.
He died and was cremated within a matter of days and nobody knows how and why.
Meanwhile this reporter anxiously awaits his own prosecution by Brian Goudie for publishing pictures, among others, of Brian Goudie/Goldie as a barrister (above) and officer in the Royal Marines, which this former grunt has claimed to be.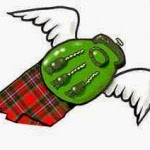 Flying Sporran's Weekend
Diary
Brian Goudie is now back up on his Facebook page, Brian Boru, with his latest love in Hua Hin.
*It is accepted here that Veerapat was also making political points. His government was not exactly clean.
UPDATE: 24/11/14
Its now being reported that 'billions of baht' in cash dollars and gold has been found at the home of Lt.Colonel Pongpat – and that Colonel Akarawut died of spinal injuries. He took his own life, it is alleged, after assisting police with enquiries. He had been transferred from a good position.
PICK OF THE DAY: From today's Observer. 'Foreign Office Condemned for Failing Britons in Need Of Help'.