COURT CROWDED WITH LAWYERS – AS RICH KIDS JET IN FOR ADJOURNMENT
Thai Justice – Judge Admits Simple Case Could Take Years
Jack on his own Bangkok Airways bus
Lawyers for two American Chinese rich kids, who allegedly made a severe and unprovoked attack on a graduating pupil from the New International School of Thailand in Koh Samui last June, yesterday were granted an adjournment of the cases as they had difficulty finding witnesses.


Raymond Chang and Ryan Wang, both 19, two former pupils of the Shanghai American School were represented by four lawyers and two Chinese-Thai translators at the hearing at Koh Samui Provincial Court.
The case was adjourned until June – a year after the alleged attack in the Green Mango Nightclub at Chawaeng Beach, Koh Samui, in which the prosecution alleged that the Ryan and Wang attacked Australian Jack Hansen-Bartel causing him severe injuries.
Those injuries have involved extensive and ongoing surgery to Jack's face, says Annie Hansen, Jack's mother who is supporting Jack in a co-prosecution.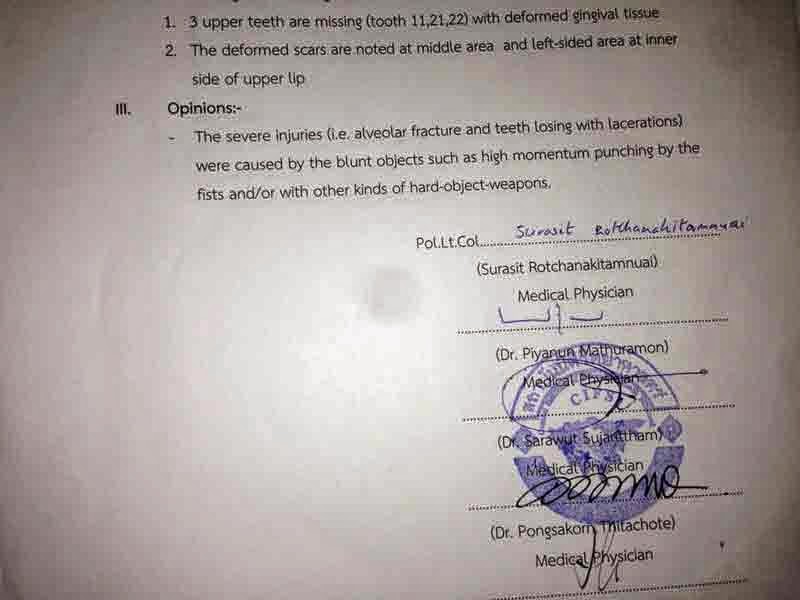 Ryan Wang's father Raymond Nobu Chang, wealthy company executive, is now studying at the John F Kennedy School of Government at Harvard University in Cambridge, Massachusetts.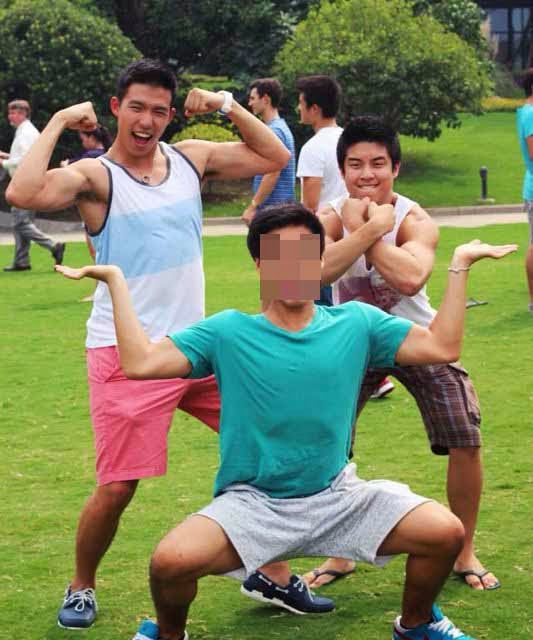 Raymond Chang and Ryan Wang flexing their muscles
Ryan Wang and Raymond Wang (junior) flew to Koh Samui on the same Bangkok Airways flight as Jack Hansen-Bartel and his mother Annie Hansen. Bangkok Airways provided a separate electric passenger transfer vehicle for Hansen-Bartel so he did not need to sit with his alleged attackers.
Lawyers for Ryan Wang also complained that their client had lost his place at Purdue University due to articles and comments placed on 'social media'. However it is understood that he lost his place after failing to satisfy a University Disciplinary Committee. He was now being educated elsewhere.
"Do not forsake me oh my Darling'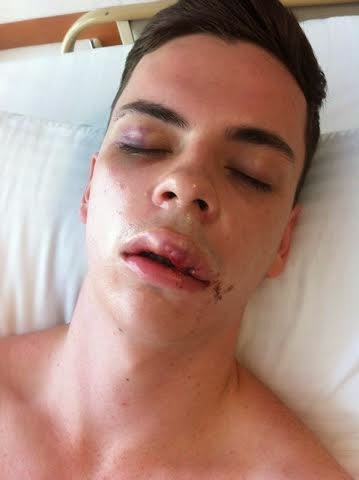 Jack Hansen-Bartel after the attack
Raymond Chang, it is understood, has started studying at Purdue Purdue University.
The defence has so far only cited three witnesses. One is Tiffany Mariko Turner a former student at the International School of the Sacred Heart in Tokyo who was Wang's girlfriend during the Koh Samui holiday.
Turner, a half Japanese New Zealander had made a statement that Jack Hansen-Bartel was molesting her and Wang and Chang had come to her rescue.
CCTV footage seen by 'The Flying Sporran' however does not appear to support that story; rather it shows the opposite – and nows her New Zealand father has stated that she will not be giving evidence for either of the defendants.
Granting the adjournment the judge remarked that if the defendants carried on in this fashion then they would graduate (or not) from University before judgment.
The Hansen-Bartel case is just one of many public relations disasters to have hit Thailand's popular Samui Archipelago in the last year.
When Hansen-Bartel was attacked and after the arrival of millionaire Raymond Nobu Chang local police sent an officer to Bangkok purely for the purposes of charging Jack Hansen-Bartel with common assault – an offence which had he even admitted to would merit no more than a 1000 baht fine at the local police station.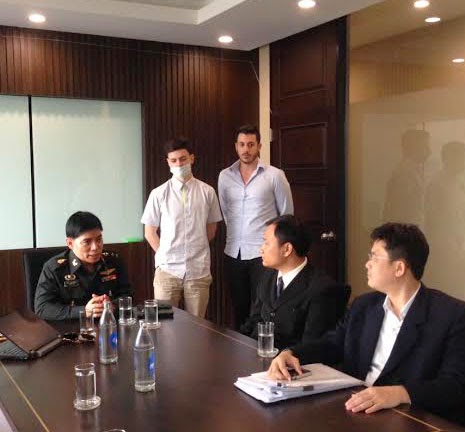 Jack and his brother Jess with army team allegedly ensuring transparency
Army officers of the military government were present to ensure transparency. This appears to have worked. They have been transparent or invisible ever since.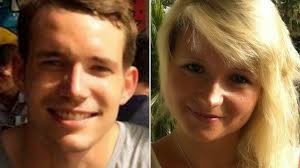 Then in September British backpackers Hannah Gordon and David Miller were brutally murdered on the nearby island of Koh Tao and after what can only be described as a public 'shambolic' investigation, with several people announced as suspects before local police charged Burmese two 21-year-old Burmese migrant workers on highly suspect(in the way they were gathered) DNA results.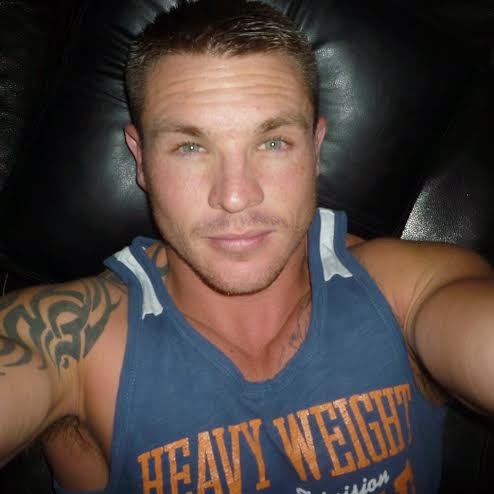 Brodie
Then we revealed on this site how police on Koh Phangan covered up a statement which detailed how 33-year-old Australian Brodie Noel Smith was undergoing an unofficial detox programme and being administered the West African tribal hallucinogenic drug Ibogaine in an unregistered medical programme, claiming instead that he died after he injected himself with drugs.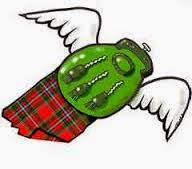 A Flying Sporran Report
In fact the islands, it's claimed, are run by several major families, some of whom are described as mafia, who control everything – even the Royal Thai Police.