ANGER OF PUBLISHER SENTENCED TO TWO YEARS IN JAIL-
American Drew Noyes, the fake lawyer, who was this week together with his 'common law wife' Wanrapa Boonsu was sentenced to two years jail for the extortion of the Thonglor Clinic Jomtien, has taken the blow very seriously and renewed a campaign of hate against the excellent clinic on the internet.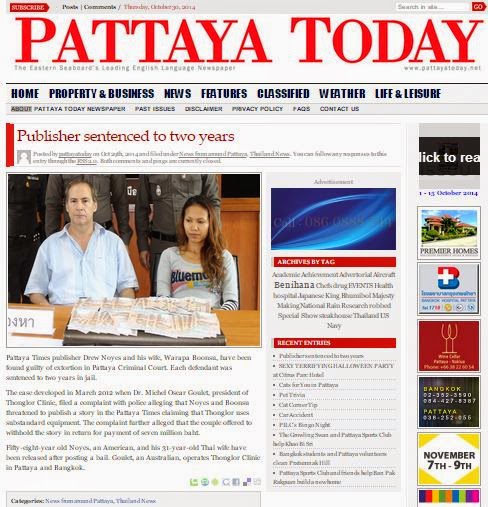 The 59-year-old former publisher of the ridiculous 'Pattaya Times' newspaper has taken to bad mouthing the Thonglor 'Forever Young' Clinic on his Google+ account and on another website, which we will not publicise here.
Noyes in the past has denied statements attributed to him on his Gmail account, claiming other people had access to it, and must have put out bad messages to spite him – so we can expect him to do that with his Google+ account too.
But what he can't get away with is what he put up on the Pattaya Times website describing how a 'local businessman' was somehow damaged when he went to the clinic for facial treatment.
The local businessman was in fact David Hanks, 66, known to the staff as 'Baby face'. Hanks is of course known to readers here as the former owner of Masquerades Brothel in Keysborough, Victoria, Australia, who featured prominently during Noyes' extortion trial. And he is also known as a lackey to both Drew Noyes and Brian Goudie.
Drew Noyes right on Google + and there's ginger baby face Hanks on the left suffering from his op – so Noyes
'attends the Ministry of Interior' we are led to believe – just more drivel
The court had heard that Hanks had checked into the clinic for treatment and had approached Michael Goulet telling him that Drew Noyes would like to see him 'to discuss the protection he could offer so his business could smoothly.'
Goulet found that the protection would cost him seven million baht, later discounted to 2.3 million. That was the price he would have to pay to stop a police raid on his premises and subsequent bad publicity in the Pattaya Times. Police duly set up a sting operation and Hanks, Goulet and Noyes were all together at the News Restaurant in Pattaya waiting to receive the cash when police pounced.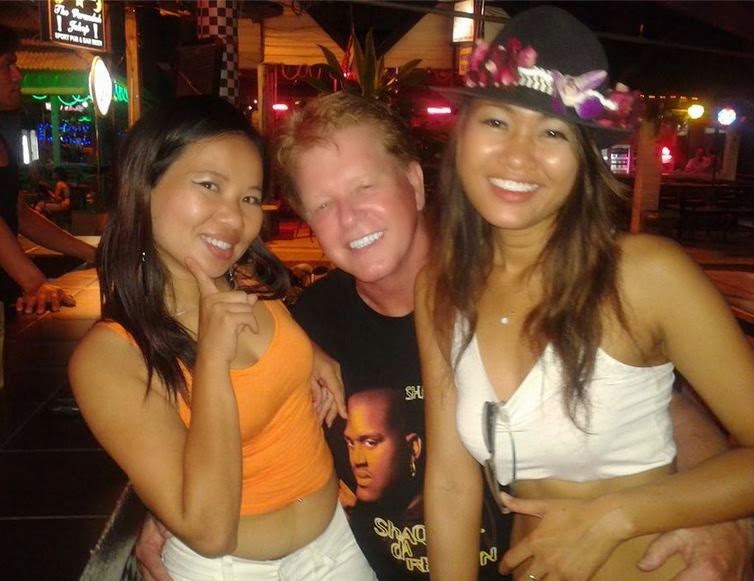 Baby fave Hanks on Samui after his operation
Quite clearly the judges in Pattaya have no idea what is happening in the next court – and a case has been accepted against Goulet and his Thai partner. Goulet and his partner are of course now taking cases against Noyes.
And as for Hanks. Well he is no businessman though he has registered some sort of furniture repair business at Noyes' office. He is on a retirement visa and is living on his ill-gotten gains from Masquerades and the sale of his house in Australia. But he does odd jobs according to the DSI.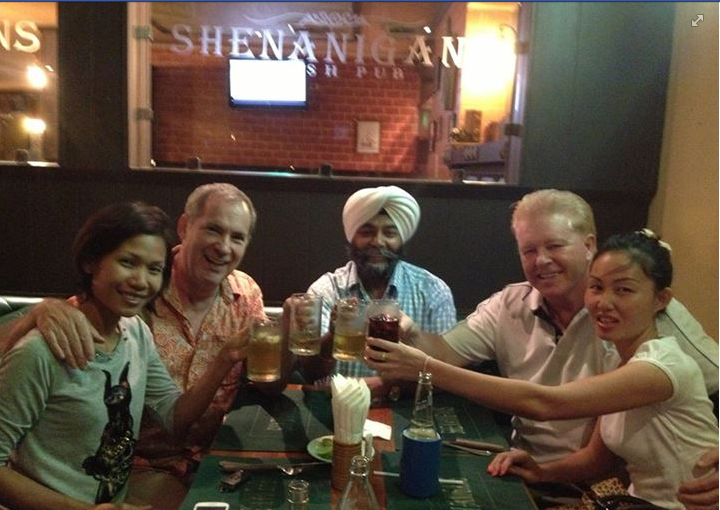 Drew Noyes and Hanks at Shenanigans – Pattaya
Clearly the situation is getting quite ridiculous. But the problem with police in Pattaya is that they do not appear to have any training in recognizing who the bad foreigners are – unless its the ones with little money.
And all the Embassies, the US, British, and Australian will not tell anyone about their villains, unless there is a request for an arrest from home base. That is because it is in breach of Privacy of Data Protection Acts – and to be quite frank, who do you tell anyway?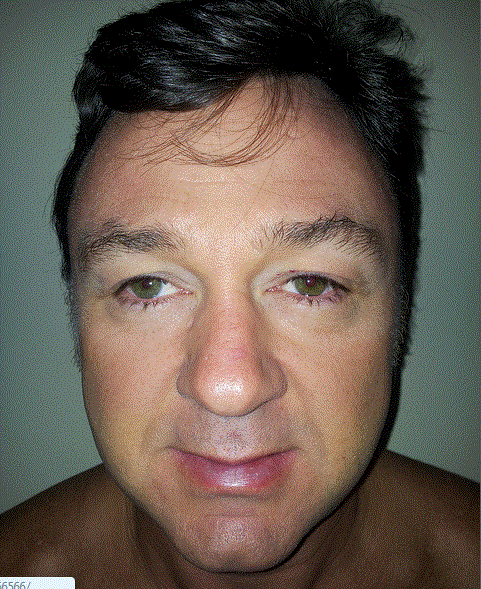 Goudie – Porn aficionado
Cases have been sent to Pattaya Police by the Department of Special Investigations against Hanks for alleged racketeering – lending cash to Russians at 60 per cent per month; by the Crime Suppression Division against Brian Goudie (aka Goldie) – another fake lawyer and friend and colleague to Hanks and Noyes – for cheating clients; and by the Technical Crime Suppression against Goudie for putting up the personal internet porn he had taken of a young woman he put in as managing director of one of his companies – with whom he had fallen out.
Goudie is no braver than Noyes and claimed on the internet that someone got hold of the password of his DropBox in which were the porno files.
Pattaya Police of course have done nothing – so a private criminal prosecution has been brought against Goudie, to kick in with the trial he is undergoing for cheating a 76-year-old American woman out of 7.9 million baht.
Noyes has however publicly announced that the racketeering case against Hanks has been dismissed; something which might annoy the DSI. Not only that, he boasts that his friend Brian Wright, has been cleared of child sex abuse charges.
His friends might not be too keen on the fires he has been lighting underneath them.
Expect the courts to be filled up for years to come with sleazy foreigners trying to defend their good reputations.
#DrewNoyes #WanrapaBoonsu #DavidHanks #Msquerades