FOREIGN PIMPS AND FRAUDSTERS RULE THE WAVES – CLAIM.
(Scroll down for video)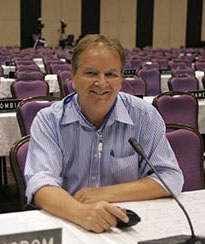 A British investigative journalist based in Thailand claimed today that foreigners with backgrounds of crime and fraud had succeeded in courting regional local police and city officials and used their supposed acquired 'influence' to threaten and cheat foreigners in Thailand.

The eastern seaboard resort city of Pattaya was particularly badly affected, claimed journalist Andrew Drummond, but these characters are mirrored in resort areas throughout Thailand.
"Some start newspapers pretending to be journalists. Some pretend to be lawyers. They publish glowing and flattering accounts of their particular resort and flatter local officials.
"But their aim is to get as much cash out of foreigners as they can and however they can. And when angry foreigners cry 'Thief' they can find themselves in court and victims under Thailand's criminal libel, and defamation laws and/or the Thai Computer Crime Acts.
"Just as boiler room boys (illegal tele-sales share traders) have been able to operate with impunity in Bangkok and are now dominating the foreign oriented nightlife scene some of these people have been adopted by 'influential friends'. Others of course claim friendships with 'influential people' that they do not really have, but it is the public perception that counts.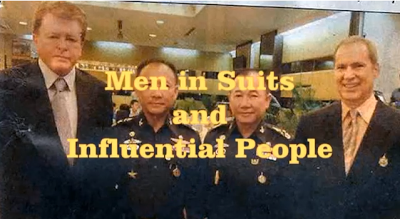 In a video titled 'Men in Suits and Influential People' Drummond, who has been correspondent in Thailand for the London Observer, Times, and Evening Standard, for over 20 years, singles out three in particular.
He names them as: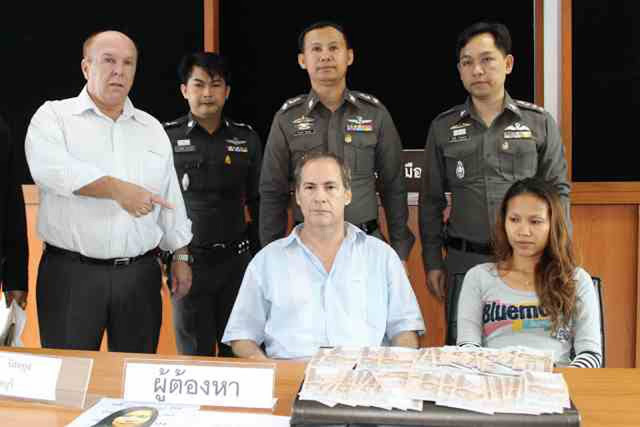 Drew Walter Noyes- and common-law wife Wanrapa Boonsu – at their arrest for extortion
1. Drew Walter Noyes, 57, an American whom he says has a fraud judgement against him in Santa Ana, California, and other cases filed of assault on women in North Carolina.
"Noyes claimed he came to Thailand by royal proclamation to work with the Bank of Thailand to dig the country out of the Asian financial crisis 15 years ago. He also claimed he was a lawyer.

Left: Noyes and Colov with , centre, the Mayor of Pattaya and CSD officials
"The reality is that he was no lawyer and he came and opened beer bars not to work, as he claims, for the Bank of Thailand. But miraculously morphed into a lawyer, started a newspaper 'The Pattaya Times' and courted local officials and police.
"In his newspaper he planted bogus stories suggesting that the government would confiscate homes brought by foreigners in an attempt to take over those properties himself..persuading foreigners to put them in the name of his wife for 'security'.

A typical Pattaya Times headline
"He rips off foreigners at every opportunity and is currently in the Pattaya Courts on charges of extortion and fraud. But this only happened because a foreigner finally stood up to his threats. It is believed Noyes was being aided and abetted by a rogue policeman. Noyes' claims of Royal Honors rarely given to foreigners are beyond belief.
2.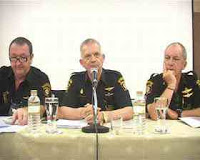 Niels Colov – centre – as leader of
Pattaya's Police volunteers
Niels Martens Storm Colov, 65, a Dane, who has convictions for pimping, coercion, handling stolen goods, and vandalism and served time in jail in Denmark before arriving in Thailand.
"Niels Colov has attained the giddy rank of leader of the Pattaya Foreign Police Volunteers and has courted police and civic leaders for years. He recently was the recipient of a UNESCO Cross in a ceremony in Bangkok. But the medal was fake; as was the ceremony.
"He has a heavy handed way of getting advertising for his newspaper and media business Pattaya People Media and dealing with people who pull out of advertising deals, and at least one person is some 3 million baht down after going to him for advice."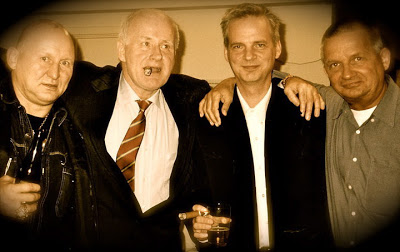 Colov (right) with, on the left, Danish career criminals Lone Fristrup Jensen (drugs
trafficking, pimping, who was arrested and deported from
Thailand and Leo Owild, trafficking
Complaints against him and his 'wife' have not been acted on by local police which is not surprising because he has a police sub-office on his premises.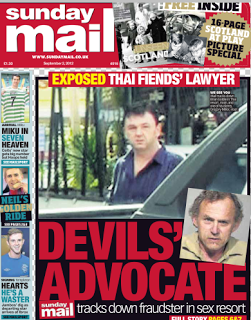 How a Scottish newspaper exposed Goudie
3. Brian Goudie, 46, a Scot, who claims to be a barrister and former Captain in Britain's Royal Marines.
"Goudie was actually born Brian Goldie in October 1967. But there is a good reason why he changed his name.
"He was sentenced to jail in Australia for two years each on three counts of fraud, (two running consecutively) after successfully evading a warrant of arrest issued by police in Scotland for alleged frauds there.
"In Thailand he has been charging up to 50,000 baht a day for his legal services, while he pays his Thai lawyer less than a fifth of that. His law degree is fake, as is his record with the Royal Marines.
"He is currently facing a charge of defrauding an American woman of US$300,000 promising to get her son out of jail in Pattaya where he was facing child sexual abuse charges, and is currently promoting a resort in Bang Kao Bay, Koh Samui, which has yet to be built."
Drummond himself faces charges of libel under both the criminal libel laws and Computer Crime Act in cases being brought by Drew Noyes, and an aide to Drew Noyes, called David Hanks; Wanrapa Boonsu, Drew Noyes' common law wife and Brian Goudie.
"I am not concerned about any of the cases. They are without merit. They have merely been set up to bankrupt me if they can. Drew Noyes has admitted as such on the internet. They are abusing Thailand's laws.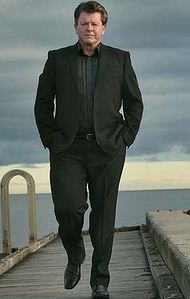 David Hanks
"David Hanks is suing me for calling him a former pimp. That is a matter of fact and in the public interest. Wanrapa Boonsu is suing me in an identical case earlier brought by her husband which was dismissed. She was essentially forced to bring the case by her husband.
"And Goudie, well he should not be in Thailand at all. He certainly would not have got a visa if he had declared his criminal background or that he had been refused residency of Australia and asked to leave after serving his jail time..
"Goudie has successfully used the criminal defamation law to have another foreigner given a conviction and suspended sentence at Pattaya Provincial Court. The other foreigner, a Briton called Andy Mathews, used some choice language when he demanded the return of over 400,000 baht he had lent Goudie, after finding out the truth about his 'lawyer'."
"Goudie claims high contacts in government and the land office and has been linked to a deal involving a politician abroad and protected forest land sales in Koh Samui. He also claims to be close to billionaire drugs trafficker Walter 'Whacky' Douglas from Glasgow, currently wanted by Scottish and Dutch police and believed to be living in Thailand under a false passport, or rather a real passport issued in someone else's name. But that relationship may be over due to his indiscretions.
"Noyes floods the internet with pictures of himself with senior Thai police officials, civic dignitaries, and even Thailand's Prime Minister Yingluck Shinawatra. But most probably hardly know him."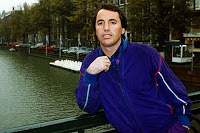 Walter 'Whacky' Douglas
Drummond says he has spoken at length to senior officers at the Crime Suppression Division about these problem foreigners who deal in property, and offer legal services and visas.
"They are slowly becoming aware. But there is ample evidence that police and city officials have been repeatedly warned about the troublemakers in their midst. The stories of the frauds on foreigners in Thailand travel well and are giving the country a very bad name. "
Statement from Shawn Crispin, Senior Southeast Asia Representative of the New York based Committee to Protect Journalists.
"CPJ has long condemned the use of criminal libel and defamation laws to stifle
media criticism in Thailand. These laws, including the associated Computer Crime Act, outrageously allow for imprisonment for mere news reporting and have engendered a climate of fear and self-censorship across Thailand's media.


"We stand beside reporter Andrew Drummond, whose investigative journalism is renowned for shining uncomfortable light in some of Thailand's darkest places. We strongly support his right to report without fear of reprisal and categorically condemn the threat of imprisonment he now faces."


COMMENTS ESPECIALLY WELCOMED HERE ON THIS STORY AS WELL AS YouTube BUT KEEP THEM LEGAL PLEASE.