AUSSIE SCHOLARSHIP STUDENT WAS ATTACKED – BUT NOW HE FACES CHARGES BROUGHT BY 'RICH' KIDS.
IT'S THE SAMUI 'HUNGER GAMES' SAYS MUM.
The Thai National Human Rights Commission is to investigate a plea for justice by a young Australian student, who claims he is being framed by police in Thailand's Samui Archipelago – the scene of the brutal murders of Britons David Miller and Hannah Witheridge.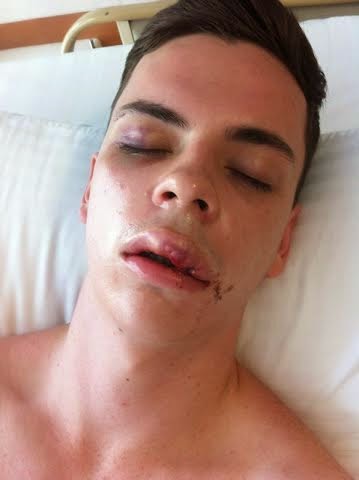 The investigation will center around claims police suspiciously switched their investigation from an unprovoked attack on Jack Hansen-Bartel, who graduated from the New International School of Thailand last year, to an alleged drunken attack by Jack, from Mentone, Victoria, on two Chinese Americans, who were allegedly going to the aid of a 'damsel in distress".
'Almost beyond belief'
This follows high profile visits to police by the Chinese-American millionaire father of one of the attackers. The efforts being made 'to turn lies into truth', he says, are 'almost beyond belief'.
Now Jack Hansen-Bartel, who had to undergo extensive facial surgery after the attack, has claimed that 'external forces' are being used to frame him and completely reverse the case.
"These two cowards are unfortunately very wealthy. Their ability to circumvent the Thai law is unparalleled to anything our advisers have seen. There is a history of submitting fraudulent documents to the court and they have been found guilty of doing so."
And Thailand's Human Rights Commission, which has already taken evidence from Hansen-Bartel has sent letters out summoning Thai police and prosecution officials to Bangkok.
The turnaround in the investigation, making Jack, 20, from Mentone, Victoria, the villain of the piece, happened, it's claimed, after Chinese Raymond Nobu Chang's visits to Koh Samui after the incident in June last year.
Not the American Way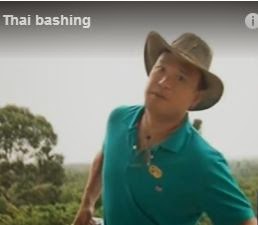 Chang senior going for a Channel 7 (Aus) cameraman
Raymond Nobu Chang, a millionaire company executive, now at the John F Kennedy School of Government at Harvard University, is the father of Raymond Anthony Chang, who with Ryan Wang, has been charged with causing grievous bodily harm to Jack at the Green Mango Club in Samui last June.
Jack Hansen-Bartel had planned to go to Monash University, Melbourne, and Chang and Wang had graduated from the Shanghai American School and had been accepted for Cornell and Purdue universities in the United States.
Raymond Chang (Senior) met with the Bophut Police Chief Satit Promuthi, and with the prosecutor, both of whom have been handling the affairs of Zaw Lin and Win Zaw Htun, the two 21-year-old Burmese accused of the Koh Tao murders.
The two migrant workers have withdrawn confessions they say were made under Thai police torture.
Colonel Satit also handled a witness Ko Maung Maung, who has testified he saw nothing and does not believe his friends could have killed the two Britons.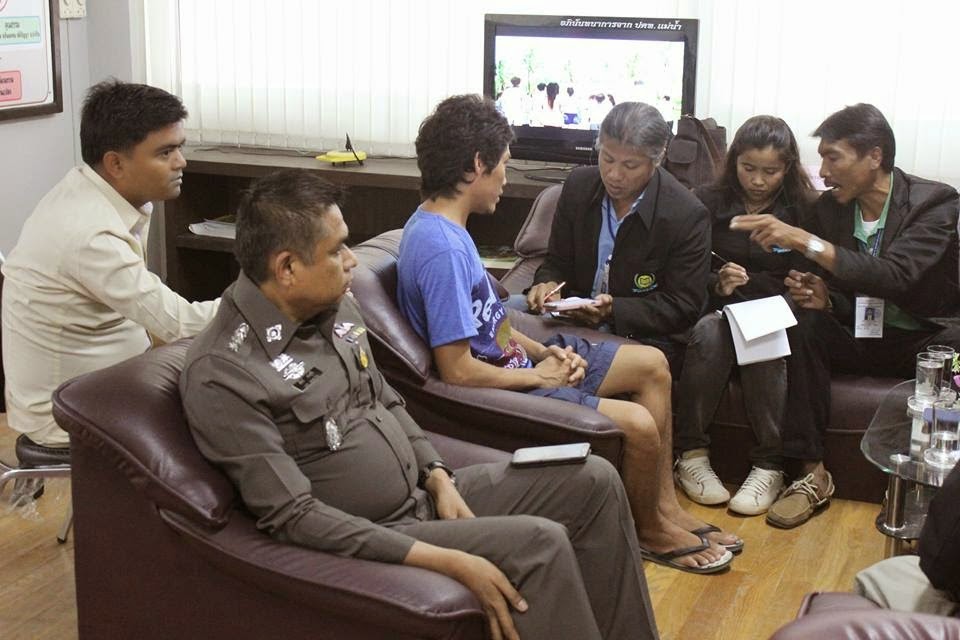 Colonel Satit looks on as Myanmar Embassy officials question 'Ko Maun Maung' over his treatment by
Thai police when being questioned over the Koh Tao murders
And now Jack faces being sent to the same prison as the two Burmese because he will not accept a deal to plead guilty to assault charges, which he says police have pulled out of a hat. He has to turn himself in on November 24th.
"I did not assault anyone. I did not even raise a hand."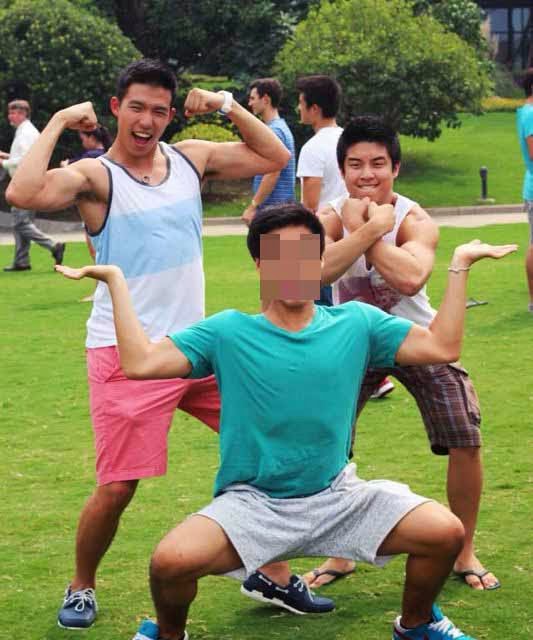 Chang (left) Wang (right)
Chang claimed his son and Ryan Wang were going to the help of Japanese New Zealander #TiffanyTurnerTurner and six weeks after the two Chinese Americans were tracked down and charged, new witnesses were produced to back up their claims that he was drunk and molesting her.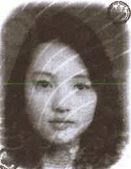 An expensive investigation
Colonel Satit even sent an officer by plane to investigate an allegation of common assault against Jack.
The return affair and hotel alone would cost 22 times the normal penalty for common assault – a 500 baht or £10 fine – normally payable at a police station.
And then there is a matter of scouring for witnesses in the Green Mango Club, partially owned by police.
Concoction
But now it's alleged that the first statement Thai police took to assist the two Chinese-Americans, who are currently on bail until January, was a complete concoction.
Tiffany Turner's statement was the original basis for the defence of Raymond Chang and Ryan Wang, former students of the Shanghai American School, for an attack on Jack.
But the CCTV file, which has been shown to Thailand's Human Rights Commission, completely contradicts her story.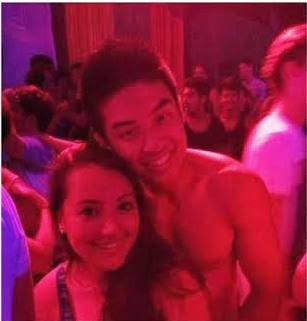 Tiffany Turner with Wang
And now Tiffany, who graduated from the International School of the Sacred Heart in Tokyo, who was in fact Ryan's 'holiday girlfriend' will no longer even be called as a witness.

Her father John Turner said from Tokyo today: "As far as I am concerned Tiffany no longer has anything to do with this case. She will not be giving evidence."
Asked about the discrepancies between her evidence and the CCTV footage he repeated: 'As far as I am concerned she has nothing to do with this case anymore."
Mr. Turner said Tiffany , who is now at Fordham University, New York, would not be available for comment.
Tiffany Turner claimed in her statement that she met Jack in Chawaeng Beach in Koh Samui and he was 'very drunk and fighting with my friends'.
She said she fled into the Green Mango and Jack 'grabbed my hand and kept trying to talk to me and buy my drinks.
'I was persistently trying to push him away'
"Jack kept persistently trying to put his hands around me and I was persistently trying to push him away'.
She said she asked her friends to protect her from Jack and she went to sit with Ryan.
Wang in many poses on 'Facebook'.

"Jack came to me and put his finger to my lips. Ryan asked who Jack was and I told him who he was and Ryan pushed Jack's hand away from me.
"Suddenly Jack came and assaulted Ryan by pushing him really hard. So Raymond came from behind to prevent them fighting.
"But Jack did not back down and he pushed Raymond.
"Raymond fell on the ground and when I turned round I saw Jack unconscious on the ground.
"After that I left the Green Mango to go back to the hotel.
"After that I heard that Jack was injured and that he had pressed charges against Ryan and Raymond so I felt that I had to give my statement.
" I didn't see the punches. I had turned my back. I will come back to Samui Court if needed."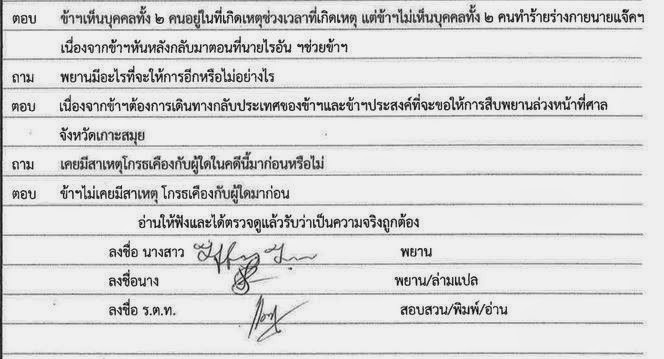 Tiffany's signature on her statement
She will not be returning because CCTV footage shows her walking happily arm in arm into the Green Mango Club with Jack Hansen-Bartel. Raymond Chang in a red tank top is seen following them from behind.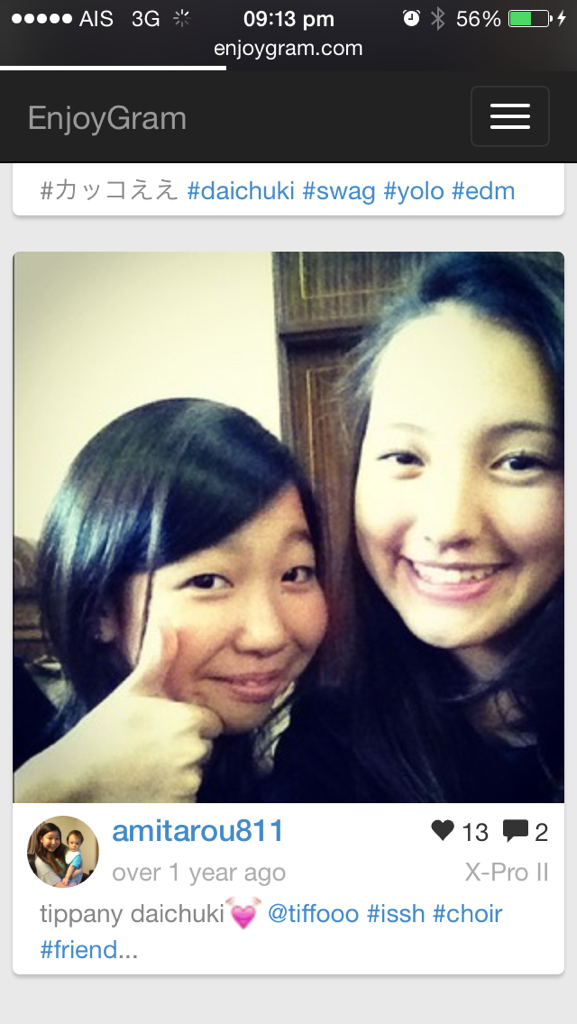 Tiffany Turner right on Faceboook
He pulls Tiffany away from Jack and she is separated by Ryan Wang. Raymond shoves Jack Hansen-Bartel. There appears to be a conversation and Jack walks off greeting someone as he leaves the club.
The actual assault incident occurs an hour later when Jack is dancing on the stage with friends. And Tiffany is shown leaving the club, not with her three friends, but with Ryan.
'I was knocked unconscious with several blows'
Said Jack: 'The conversation was short. The person I now know as Raymond came up to me, pushed me and told me Tiffany was his friend's girlfriend.
"I asked Tiffany if she wanted to stay with these people and she said "Yes".
So I left and went back to my friends.
"The attack came much later. There was no warning, no lead up, no conversation, nothing. I was knocked unconscious with several blows. A medical report indicates a weapon was used."
Raymond Nobu Chang had produced false documents claiming he had rented a villa on Koh Samui to obtain bail.
His passport was later withdrawn but returned after a plea by his father describing him as a well behaved member of his local church.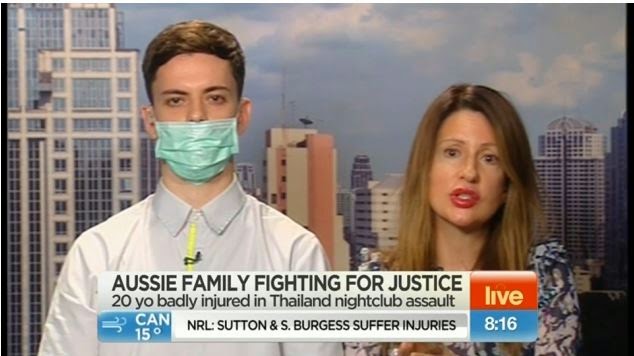 Jack's mother Annie Hansen said: "Jack wants truth and justice and we have all the evidence and he's being fitted up. This is becoming the Samui hunger games.
"We look forward to truth and justice coming through whilst we try to get jack the care he needs. We are grateful for Dr. Nirun's examination of the evidence at the National Human Rights Commission."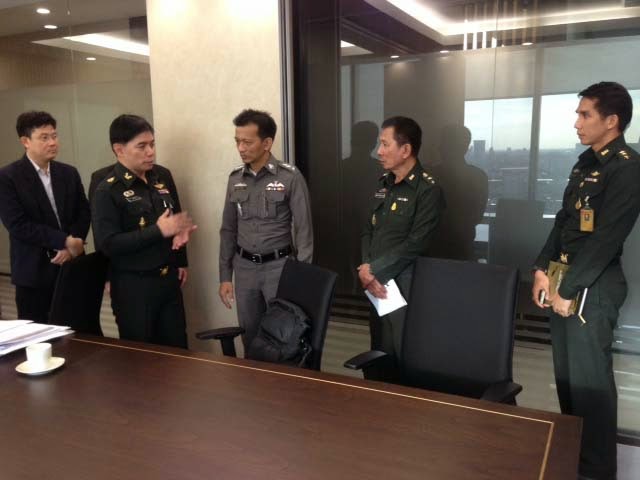 Koh Samui Police sent flew an officer to Bangkok to interview Jack in connection with common assault and even
Thailand's military run National Peace and Order Committee sent officers to 'ensure transparency' – although they
have done little since.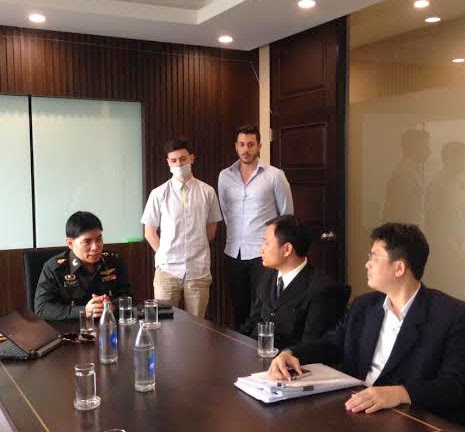 Jack and elder brother Jesse with NCPO officials in Bangkok
Jack's complaint has been listed as Complaint No.527-2557 "Plea for Justice and Transparency' and has been assigned to the NHRC Sub-Committee on Investigation of Rights in Judicial Process, chaired by Police General Wanchai Srinuannad (former Deputy Commissioner-General of the Royal Thai Police).
Mr. Raymond Nobu Chang was not available for comment. There is no suggestion that he had paid cash to Thai Police. That would be in breach of the U.S. Foreign Corrupt Practices Act of 1977.
Last year the US government collected US$613 million from people and companies which breached the Act.

Naruenart Khumpaiboon of the National Human Rights Commission of Thailand said: "My director has seen the video and we have sent out letters requesting the co-operation of police and public prosecutor."



#TiffanyTurner #JackHansen-Bartel #RaymondNobuChang #RyanWang #Fordham University