WIFE OF SHEFFIELD GANGLAND FIGURE SENTENCED TO LIFE FOR COMMISSIONING MURDER IN THAILAND
The Thai wife of an accused former Sheffield drugs dealer
was sentenced to life imprisonment in Thailand today for organising 'hits' on a house-buyer in the royal resort city of Hua Hin.
Janpen Oxley, 38, nicknamed Sarah, the wife of Darren Oxley, who
fled to Thailand while on drugs charges in Sheffield with cash to start a
property business, had commissioned the attacks on a retired former U.S. Marine
Donald Whiting, 70 – who was left crippled for life, paralysed from the neck
down.
The hits took place in the Thai resort of Hua Hin, 120
miles south west of Bangkok, where Whiting had bought a retirement home from
Darren Oxley's company, Oxley Homes.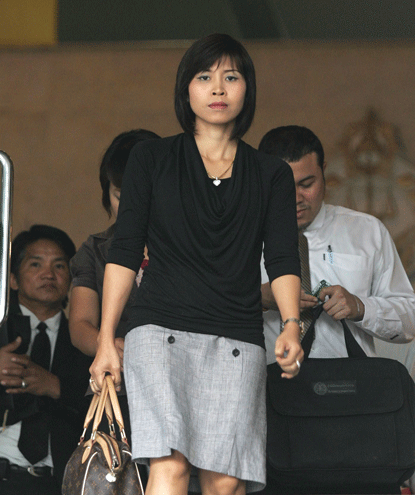 Janpen Oxley (Sarah). She changed her name to Natsaporn while on trial
Whiting, 70, had complained Oxley had cheated him over water
charges and was taking him to court.
Hit No 1: Whiting's car was firebombed after he complained to Darren Oxley. A molotov cocktail was thrown into his front yard.
Hit No 2: Just one day before
he was due to face Darren Oxley in court, Whiting from Hawaii, was gunned down
at his front door.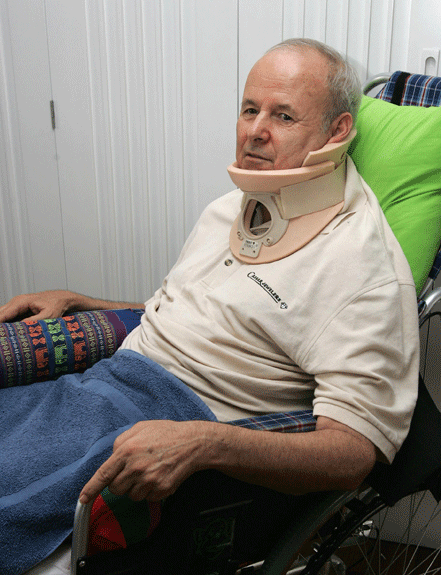 Donald 'Biff' Whiting paralysed
Donald 'Biff' Whiting took took six bullets. Four pierced his lungs and exited,
one was removed from his stomach, and one is still embedded in his spine.
At the time Prime Minister Abhisit Vejjajiva demanded a
speedy resolution to the case . Shortly after the 'hit' Janpen Oxley was
arrested on the Cambodian border.
Police
traced financial transactions from her to the mother of hit man, Yuthana
Areesawat, 40.
Yuthana was also handed a life sentence together with Ek-anand Jitmahima, at Prachuap Khiri
Khan Provincial Court. Yuthana's driver his cousin Samart Areesawat, 41, was acquitted.
Janpen Oxley has remained on bail ever since the incident.
She spent her life with Darren Oxley commuting between the family mansion in
Hua Hin and an apartment in Bangkok.
She is expected to appeal and be given
bail.
Darren Oxley continues to live the high life in Thailand and
holds regular parties for police and civic officials.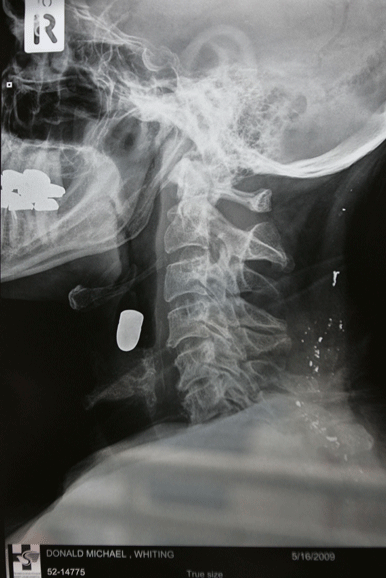 Bullet embedded
In 2001 nine of his associates were jailed for a total of 60
years at Sheffield Crown Court for
dealing drugs in clubs like the town's 'Republic'.
In the court it was claimed Oxley was the ringleader of the
operation and his crew had "lived in fear" of him. He was described
as "violent" and "not a man you mess with" who had made
considerable amounts of money.
But Oxley, now 46, who stood in the dock with them, was now nowhere
to be seen when it came to sentencing.
He never bothered to hang around.
After skipping bail he settled in the Thai resort of Hua Hin
where he built a mansion, bought a Lamborghini, Bentley and Range Rover and married
Janpen, known as Sarah, whose brothers were policemen.
A bench warrant issued by the court was never acted on.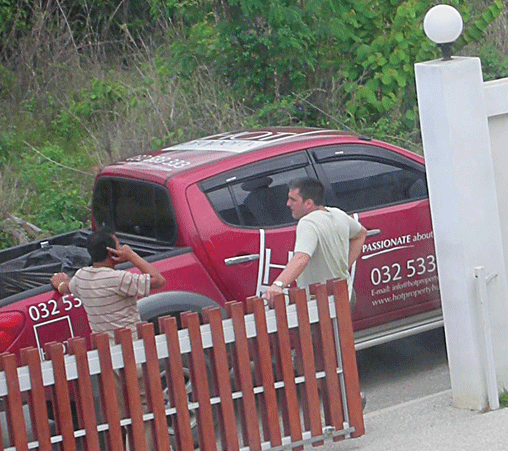 Oxley (right)
Dolly Samson, 66, Donald Whiting's wife and Rector of
Stamford University in Thailand said today:
'It's a relief after all this time
that justice has been done. We would like her to serve the full sentence".
Donald Whiting was in hospital in Bangkok having radiation
treatment for throat cancer. Dolly said he was pleased with the verdict.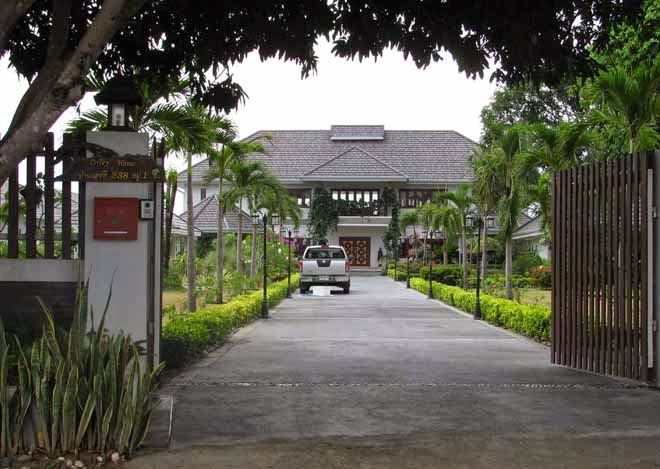 Oxley House, Hua Hin.
Earlier Donald had angrily stated:
"The only person I had a
row with was Darren Oxley. He was
threatening me. He told me some harm could come to me. I could prove he was
cheating me and was due in court the day after the shooting to testify against
him.
"Sure his wife is guilty but I am sure she would never
have ordered my shooting without her husband's say so. Foreign builders and estate agents have been
holding expatriates to ransom in Hua Hin.
Many have lost their live savings because of scams.
"How can this Briton Darren Oxley even be allowed to live in
Thailand? I have written to the Crown Prosecution Service and police and get
nothing from them. The British Embassy will tell me nothing."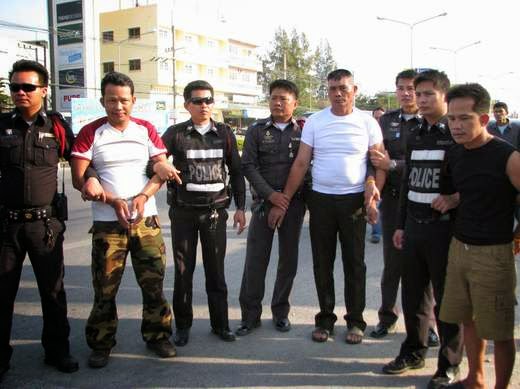 Yuthana (second from left) being held with his partners after his arrest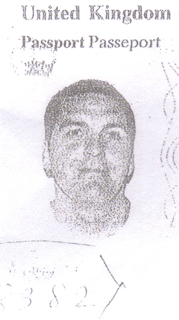 Questions put to the South Yorks Police about Oxley's
presence in Thailand drew a 'No comment' at the time.
And questions later put
under the Freedom of Information Act drew a reply that no comment could be made
because the matter was an 'ongoing operational matter'.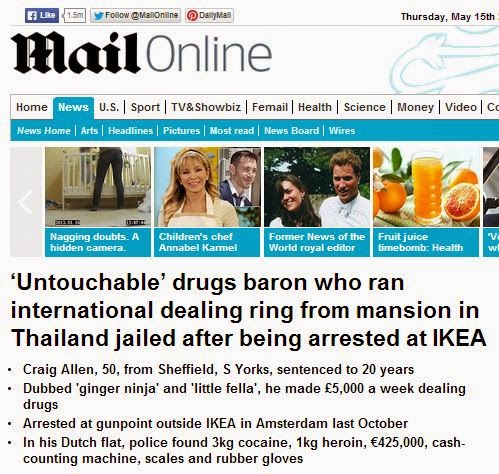 Thailand has a significant community from Sheffield. This man Craig Allen was jailed this year for 20 years. The court heard he ran an international drugs dealing ring from Thailand.
COMMENT: Darren Oxley was never implicated in these hits – only by Donald Whiting and Dolly Samson who knew that they had never had problems with Sarah, but only with Oxley himself. The petrol bombing also coincidentally followed a critical thread on Oxley on a web forum called 'Monsters and Critics' to which Don Whiting had contributed.
The investigation and trial have ruled that 'Sarah' acted totally on her own bat. But many foreigners down in Hua Hin, where another community of dubious Brits have set up some 'nice little earners' are not feeling totally comfortable with the changing face of the community. Many have arrived to get away from Pattaya.
Hua Hin in one of Thailands most peaceful resort cities which also hosts the King of Thailand's summer palace called: 'Far from Worries'. But worryingly for a price just about anybody can live there. Meanwhile Donald Whiting still wants to know why Briton did not extradite Oxley back to face trial and sentencing. It seems if dubious deals are done in Thailand, they are done in the UK too. That's certainly the view of at least one of his cohorts who went down.