THERE WILL BE BLOOD IN BANGKOK!




What happens when you put a Bangkok financial advisor together with the foreign managing director of a typical foreign controlled local law firm in Thailand and put them into the Thai property business?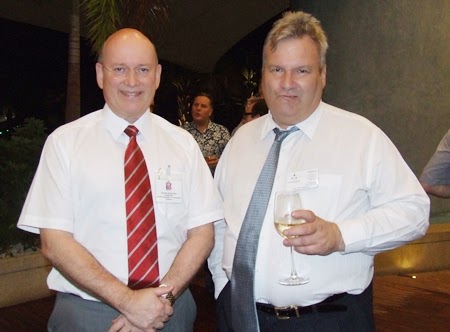 Graham Macdonald MBE and Greg Pitt
Well almost certainly it seems a lot of very unhappy investors and potential suicides.
But the second answer is that they both are going to fall out over cash – and when they do they will create anonymous sites on the internet, often through Google blogger, and go at each other hammer and tongs.
Such is the case with Gregory John Pitt, Managing Director of Mackenzie Smith Law firm and a Canadian financial advisor Richard Cayne, a Canadian from Montreal and boss of Meyer Asset Management, formerly of Tokyo.
Both were involved in a project with a company called 'Royal Siam Trust' based in St. Lucia. They were allegedly investing in land in Koh Chang in Thailand's Trat Province hoping to make a killing on the rise of land prices. 'The Royal Siam Trust' website has been down for some time.
The Mackenzie Smith Law site has got a virus and Greg Pitt a former stalwart of the British Chamber of Commerce in Thailand seems to have dropped out of the social circuit in Pattaya where he appears to spend most of his time.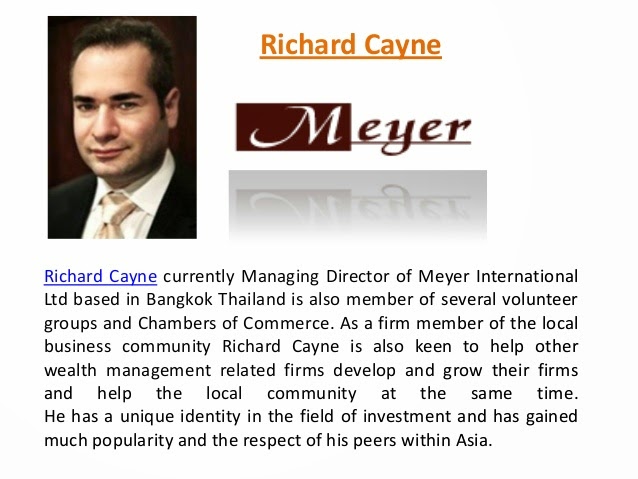 That maybe because there are claims on the internet that he has been jailed for 18 years.
I do not believe for a second that he is in jail. Nobody with cash goes straight to jail in Thailand. They go to appeal and the Supreme Court first – which can take at least a decade.
Nevertheless there is a long narrative headed 'A Gavel Falls In Paradise' written by a 'journalist' called Elliott Rosenthal on Pitt's trial. Rosenthal claims to be the Asia Correspondent At Large for a publication called Money and Investing Weekly – but there is no internet footprint for either him or the magazine – so I guess it won't be out next week.
The article is on a website called whitesandsbeach.com perusal of the site shows it has been set up to attack Pitt.
Richard Cayne is all over the net (articles in his favour) and he has a Drew Noyesque flavor about himself. Once you have read all the sun shine's out of his posterior stuff and get to the nitty gritty you get a totally different picture.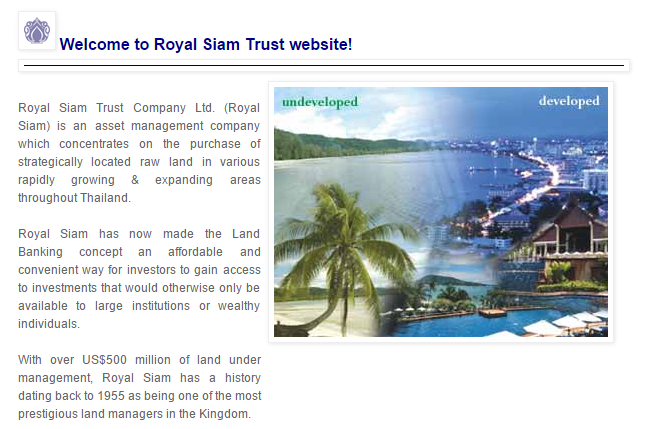 'Royal Siam Trust' was supposedly investing in White Sands Beach on the island of Koh Chang, down in Trat. Pitt , a former pupil of Millfield School, was the CEO of the Royal Siam Trust while I understand Cayne was also a director and who put his clients' funds in it (or not as the case may be).
A former marketing manager for Mackenzie Law is a man called Richard Prouse.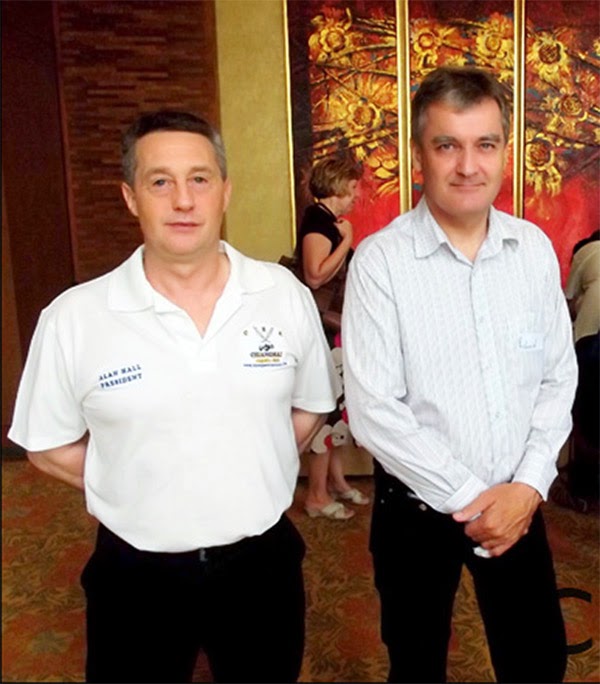 Alan Hall and Richard Prouse
Could this be the same Richard Prouse who deputized for #AlanHall the former Chiang Mai Expats Club founding member and boss of PFM International, an IFA, who skipped Thailand last year leaving a lot of aggrieved clients?
Yes it is. Here they are together.
#RichardProuse, a former pupil of Norwood School, South London, famously gave an interview to the Chiang Mai City News in northern Thailand, claiming the whole world was against him – including his wife – showing the reporter his scars.
Now anyone who knows anything about White Sands Beach also knows that little happens on the island of Koh Chang, once designated in the era of Thaksin Shinawatra as a place of development for more well off tourists, knows also that little happens on the island without the involvement of a major island family – just like Koh Tao, Koh Phangan and Koh Samui in the south.
Most of the initial clients were from Tokyo which both men vacated to come to Thailand – #RichardCayne leaving with some very bad blood.
As for #GregPitt – I'm guessing that being an IFA and also the MD of a law firm in Thailand is the ultimate ticket. You can sue your investors under the Computer Crime Act if they insult you for losing their money.
Footnote: #AlanHall formerly of PFM International, which sold the now crashed LM Managed Performance Fund to Clients among others is now up and running with a company called Aztec Gas Limited not to be confused with Aztec Oil and Gas of Huston, Texas. He does gas central heating now having, he says been in the trade for 35 years.
Anyway the links are out there. Enjoy or weep.
COMMENT


Yep. I'm definitely outta here. Gone are the receptions for Foreign Correspondents. There's a whole breed of Brits and others out there – all in Chambers of Commerce, Rotary Clubs, Volunteer Police, Masonic Lodges, Lions Cubs, whom I just don't want to share a glass of Chardonnay with.


COMING SOON ON ANDREW-DRUMMOND.COM
CSD OFFICER FALLS FROM A HIGH POINT TO HIS DEATH AND IS CREMATED WITH 14 HOURS – THE BRITISH JOURNALIST CONNECTION