BANGKOK AIRPORT! COMING SOON ON BBC – WITH THE OBLIGATORY LADYBOY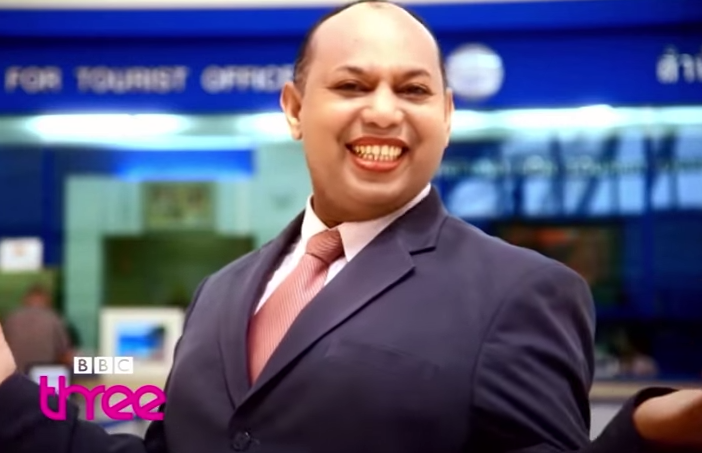 It had to happen, There's been a documentary by British television of the major airports in Britain.


Then there have been documentary series on places like Dubai and more….


How does this translate in Thailand? Just wait.
As the military asks citizens to parade on the streets on 'We Are Thai' day the BBC is broadcasting a fly on the wall doc on Suvarnabhumi airport.
Its BBC 3, so thankfully this is going to be a tad downmarket version of 'Thainess' but that's fair enough – the upmarket version is worth skipping on an assignment like this.
And why not start with the inevitable ladyboy?
Crivens, one punter appears to say:
'There is no civilisation here. I will never come here again!'.
Ouch!
I think this is going to be fun.
Bangkok airport, the gateway to South-East Asia, is a thriving, bustling hub of excitement and anticipation, of pale arrivals to tanned departures and everything in between. BBC Three has gained unparalleled access to all aspects of the airport in this thrilling six-part series which sees young Brits passing through to embark on adventures of a lifetime. Each episode follows some of the thousands of youth British travellers checking in and checking out, run-ins with the tourist police, incidents in immigration, customs, treatment at the on-site medical centre, missed flights, expired passports and emergencies abroad. The action takes place inside and occasionally outside the airport – at island trouble spots and the British Embassy in downtown Bangkok. And in a unique twist, contributors' UGC (user generated content) will be used alongside fly-on-the-wall docusoap content. Bangkok Airport is made by Keo Films. It is series produced by Fiona Inskip and executive produced by Paula Trafford