GOUDIE'S PIPE DREAM MARINA-
A bunch of wild dogs which have taken up residence at the office of the Bang Kao Bay Holding Company of fake British barrister Brian Goudie yesterday failed to deter a British journalist who arrived to inspect construction of a new marina and supposed classy residential estate on the island of Koh Samui.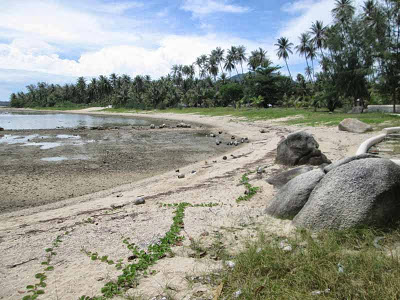 Journalist Andrew Drummond made it past the dogs to find alas there was nobody at home at 4/24 Mu 3 Na Muang, Koh Samui, described as the hub of action for Goudie's operations in Koh Samui.
The letter box for the companies mail was discarded on the ground.
A basket full of empty cans and bottles of Leo beer awaited disposal by the sanitary authorities.
Not a pick up or shovel, let alone back hoe in site. Some mistake surely?
The spiel for Bang Kao Bay residences states:
Bang Kao Bay Holding Co. Ltd is the Project Manager and Developer of the Bang Kao Bay Residences Project.
On 28th December 2011, Bang Kao Bay Holding Co. Ltd acquired a 99.9% controlling interest in two subsidiary land holding companies, Jemro Developments Ltd and Pilawan Developments Ltd and immediately restructured both companies and commenced work on a new overal master plan for the project.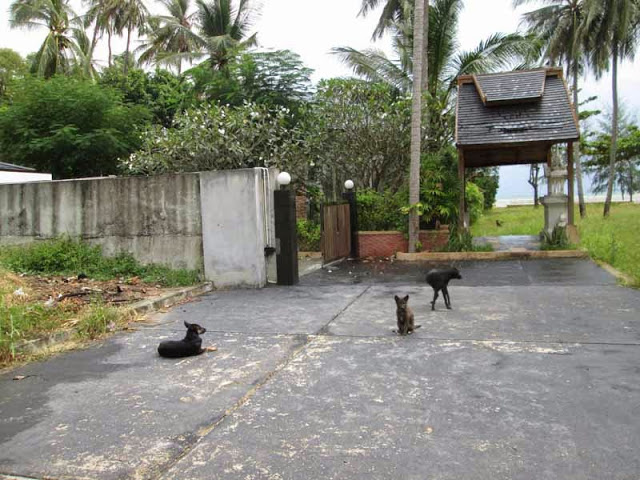 Bang Kao Bay Holding Co. Ltd is now authorised to plan, develop and construct Bang Kao Bay Residences on behalf of it's subsidiaries.
The project land is wholly owned and unencumbered, registered to the developers, and the master title deed has been sub-divided ready to commence the second phase of construction.
A large beachfront villa was completed and handed over in 2007, and it is now intended to redevelop this villa into two smaller villas and a Club House to provide a better fit with the new project master development plan.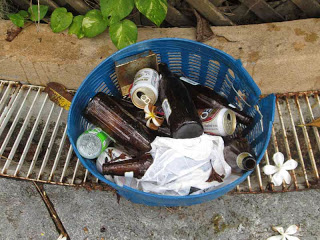 The project infrastructure is complete, with the land plots for the first phase of townhouses and condominiums already filled to level, and the project is serviced by a six metre wide concrete road, concrete box drains, town water and 11kva underground power. Service ducts for all main services are complete.
Post construction the project will be a serviced development with 24 hour security, on site maintenance and optional services such as maids and laundry will be offered, with the potential for investors to purchase condominiums for investment purposes to be included in a rental pool.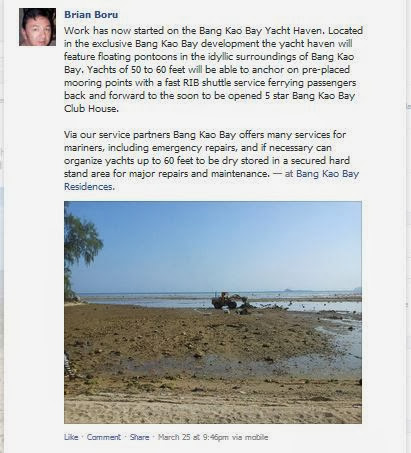 More of Goudie's spiel from Facebook
Phooey! There has not been a first stage of construction, let alone a second. If a beach front villa was indeed completed on this land in 2007 then it's the one occupied by the mangy dogs! And the outside stairs are crumbling. Its understanable they would want to tear it down and replace with something more substantial. It needs considerable cash investment before it is inhabitable.
Land plots are filled to level?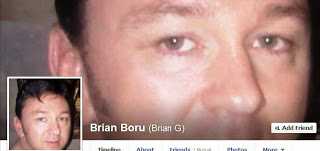 Goudie as Brian Boru on Facebook
In short Brian Goudie has done nothing – so forget about those artists impressions on http://www.facebook.com/ and hang on to your cash!
And in the event work does get started it might be best to wait out the results of two court cases in Pattaya.
Mr. Goudie has been accused of falsely claiming to be a barrister to obtain US$300,000 from a Mrs. Barbara Fanelli Miller, of Madison, Wisconsin, to get her son out of jail on child sexual abuse charges,
The court has also accepted a case that he also fraudulently posed as a barrister to solicit business from a Koh Samui estate agent Briton John Jepson.