The wild and whacky world of another one time fugitive from justice who re-invented himself as a Thai legal expert
A FLYING SPORRAN INVESTIGATION
(The subject of this investigation Brian Goudie, formerly Brian Goldie, fled to the UK in 2015 while appealing a conviction for fraud while posing as a lawyer. Goudie had been sentenced to three years for the fraud but had secured bail to appeal. The Appeal court upheld his conviction. He was last heard of after his jetsetting life of crime in the Sandylands caravan park in Saltcoats, Ayrshire. Both his 'legal attempts to sue the author were dismissed in Pattaya).
 September 3 2012
He claims he is a former advocate in the High Courts of Scotland and was once a Captain in the Royal Marines. Brian Goudie is a man about town in the Thai sun, sea and sex resort of Pattaya with connections, he says, right into the office of the country's Prime Minister Yingluck Shinawatra and at the top of the Thai police.




With his 'influential' law firm Alba Law which boasts law offices in Bangkok, Pattaya and on the Thai tropical island of Koh Samui, the 44-year-old Scot from Falkirk looks like he is made for life giving legal advice to Brits and other westerners in the Orient at a price.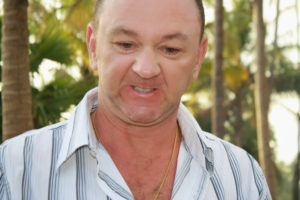 But today I can reveal it's all a sham and that Brian Goudie, 46, born in Falkirk on October 3 1967, is in fact the former Brian James Gerald Goldie, a convicted fraudster. who fled Scotland 20 years ago with a warrant out for his arrest for defrauding the Royal Bank of Scotland.
Flesh eating
And his law firm's local address is nothing more than a Pattaya bar called 'The Jaggy Thistle'.
It is from here that he makes a living in Thailand selling his legal services to foreigners.
His clients include prisoners with a fatal flesh eating disease and foreigners arrested for paedophile offences.
He lucked in in the case of one prisoner with the flesh eating disease.
But in the other cases we looked at his billing seems larger than his legal prowess. His get out of jail card…. is of course definitely not for free.
While he started at the age of 22 with his Royal Bank of Scotland fraud accusation, as late as last year lawyers for a concrete company in Brisbane were claiming that he was trying to scam them out of millions of dollars on pain of exposing them in the press for presenting forged and inflated bills to a construction company who had given them a multi-million dollar contract.  That fight is still going on in courts in Thailand and Perth. W.A.


Cross firing
In November 1994 the first warrant of arrest was issued for Goldie for his part in defrauding the Royal Bangkok of Scotland of £93,375 by transferring cash from the bank to a company he had set up called Oil Tech Pumps. He called this type of operation 'cross firing ' according to his former wife Jill Weiss.  He had a grudge against the bank, she said, where he worked as a trainee, rising to supervisor. The real figure was considerably higher.
Oil Tech Pumps never traded but Goldie and his cohorts are alleged to have invented massive order books which they could take to the bank and seek a loan.
He also faced further charges of defrauding a Scottish auto sales company Peoples Cars of Edinburgh of £24,000 through Oil Tech Pumps.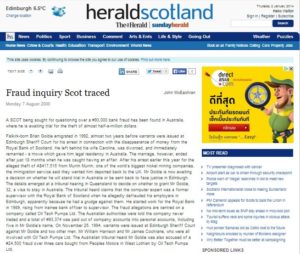 Anaconda Mine
Goldie fled to Australia where amazingly he secured a job as Finance Manager with multi-national Fluor Daniel Pty Ltd.
The nickel cobalt mining project in Leonora, Western Australia
The company were building the Anaconda nickel-cobalt mine in remote Leonora, WA. Goldie then proceeded to milk the company out of over AUS$400,000, part of which, a court heard, he used to buy a launch on Australia's Gold Coast.
He was jailed in Australia for six years after being arrested in New South Wales and at the time the Home Office said he could be re-arrested after he had served his sentence and was deported back to the U.K.
Most of that was 'time spent' and he returned to Britain not long after he was sentenced and far from being arrested he applied for a new passport.
He was not deported but the Australian authorities preferred it this way. He was given a choice of deportation or to buy his own ticket. The moment he became eligible for parole he was told to leave at his own expense or be deported. He chose the former. Australia did not want to carry the burden of feeding him in jail.
That no such arrest took place is not surprising after a 14 year break. His alleged co conspirators were not around. Witnesses had moved on.
Goldie changed his name and has been operating for years in Thailand with at least two passports, the second in his new name Brian Goudie, though his name appears on Thai companies as Goldie and Goudie.
Just how Goldie could start up a law company with such a dubious past in Thailand may sound incredible. Foreigners who have spent time in jail for serious offences are not even entitled to live in the country under Thailand's Immigration laws.
But few checks are made and with a British passport he is not obliged to show a clean bill of health from Australia. And no legal knowledge is needed  to own a law firm so it is not uncommon.
These so called legal firm managers make their money liaising between real Thai lawyers and foreigners in trouble over everything from crime to property deals which have gone wrong.
Necrotising Fasciitis and child abuse
Some charge exorbitant prices and then threaten their clients with the law if they do not pay up. Goldie has recently made a living offering his expert legal services to British prisoners struck down by the crippling flesh eating disease necrotizing fasciitis – and other services to get foreigners bail and off paedophile charges in the steamy seamy resort.
Last week Thai police said they found a wanted child abuser hiding in a room below Goldie's in the 'Jaggy Thistle' – the registered office of Goldie's firm Alba Law.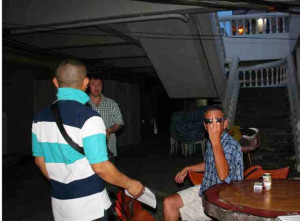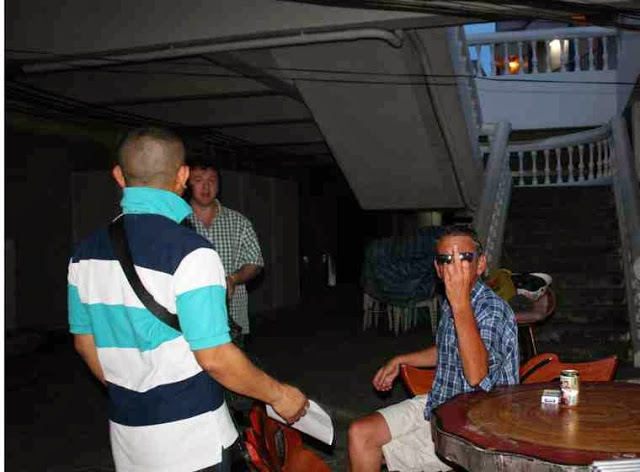 Tracy (seated)  outside the 'Jaggy Thistle' Brian Goldie (Goudie) second from left
Tracy, 47, said police,  had been on the run on for nearly a year on charges of abusing two boys aged 10 and 12, in Pattaya. Not only was Tracy living on the same premises as Goldie  but witnesses say he had actually helped Goldie acquire the bar in the first place.


Steak and kidney pies
In fact Tracy had been 'set up' on child abuse charges, and had taken Goldie as his 'lawyer'.But he also had a voluntary role visiting foreigners in the local prison at Nong Plalai just outside Pattaya and reported back to Consulates – including the British one – on their condition and complaints.  He was useful to Goudie because he was able to find him 'clients' in jail.
Tracy was eventually acquitted of all charges, but in fact he had been shopped by Goudie to the  police after he warned an American woman that she was being swindled by Goudie who had taken the case to defend her son.
Goldie could not get into the prison to conduct legal interviews. That required a formal letter from the British or other Embassy, but he could inmates if they were admitted to hospital especially if he was billed as the man paying the accounts.
Two such people who took up his offer were Briton Stephen Sneddon, also known as Stefan Attwood and Ulsterman Jimmy 'Doc' Halliday.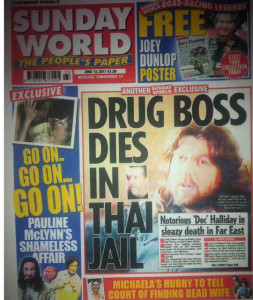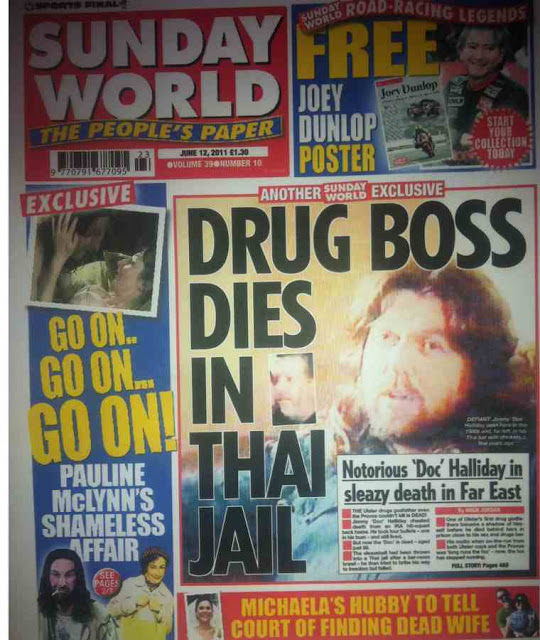 Both had fled to Thailand on the run from their home countries.
Both had been jailed and both had contracted the flesh eating disease necrotising fasciitis .
With poor medical facilities in the jail it was a race against time against the disease, which unchecked is fatal.
Halliday, a former Belfast drugs dealer was serving 18 months apparently for the beating up of a man he had taken exception to at a disco in the resort called 'Lucifers'.
Once jailed and having contracted the disease, possibly through wounds caused by wearing shackles, both men knew that without outside help they would die.
Amputation
Life came at a price. Halliday barely hanging on to life handed over not only his bar to Goldie, but also an apartment. He signed over his power of attorney and control of his company called 'Jimmi'. .. everything he had.  And he did this with a thumb print on documents Goudie had taken along to the Bangkok-Pattaya hospital.
But even hospital doctors could not save Halliday and today 'The Blarney Stone' is the 'Jaggy Thistle'.
Jimmy 'Doc' Halliday of course took his own version of what happened to the grave, or rather crematorium.
Goldie's view is that he was on a mission of mercy. It's not a view shared by all. But contacts of Jimmy were being told that after his hospital treatment he would be back home.
'One in his bum'
Jimmy's parting was not greeted with much sorrow by the Irish Sunday World (above) which reported:

The Ulster godfather even the Provos could not kill is DEAD! Jimmy 'Doc' Halliday cheated death from an IRA hit squad back home. He took four bullets, one in his bum, and  still lived. The sleazeball had been thrown into a Thai jail after a bar room brawl. He then tried to bribe his way to freedom, but failed.

 Long runs the fox

One of Ulster's first drugs godfather's became a shadow of his former self before he died behind bars in prison close to his sex and drugs bar. His motto when on the run from both the Ulster police and IRA was 'long runs the fox'.

Now the fox has stopped running.
Halliday's leg
Sneddon, or Attwood on the other hand was arrested smoking methamphetamine with a group of ladyboys and being in Thailand on a false passport and was serving a 12 month sentence.
A man with a long criminal record facing possible death he also signed over his power of attorney and told Goldie that he had an apartment in a condo known as View Talay 5 in Pattaya.
Drugs and attempted murder
But he successfully recovered and when he completed his sentence he was quickly deported back to Britain.
Once back home he was however then extradited to Spain on a Europol arrest warrant where he is in custody awaiting trial on drugs and attempted murder charges. (Update 2017. Attwood is now a free man and claims Goudie owes him the equivalent of US$50,000)
Briton Andy Mathews, from Wolverhampton, an estate agent in Pattaya was another person who was represented by Goldie's law firm Alba Law.
"Goudie, as I knew him, told me he was a former Captain in the Royal Marine commandos, a black belt in judo, an advocate in Scotland and a barrister in England.
"He represented me in a case in which I was accused of assaulting a German who had insulted me.
"We were mates, I thought, and I went to his bar all the time and even helped him renovate it for free. When he asked me for a short term loan I willingly gave him 500,000 baht (£10,000) without even a written agreement. I trusted him completely.
"I even went to visit Steve (Sneddon) whom I knew in the Bangkok-Pattaya hospital when Ian (Tracy) tipped Goldie off when he was being admitted and I contributed just under £1,000 for his hospital bills.
"I actually thought he cared for the prisoners. But I got worried when Goudie's bar manager, a fellow Scot from Glasgow and a local Foreign Police Volunteer let slip about Goudie's past particularly when he became late paying and after he had only returned a portion of the money.
"He had promised in emails and sms messages that he was getting the money but it never came.
"It would be fair to say our relationship deteriorated rapidly.
"He eventually told me to take a civil case out against me and sing for my money.
"He said he was sneaky and cunning,  and had connections at the top of the Thai police and even with a retired advisor to the Prime Minister and with his connections he would win.
"He scared me about the influence he said he had."
"He ignored my requests and I went to the bar to remonstrate.
"I used some bad language and now he has charged me with criminal libel and trespass after he ran into  the local police substation in Jomtien".
Mathews said he was concerned because he had been fined the equivalent of £40 and given a two month suspended sentence in Pattaya after the incident with the German, who is reported to have lost two front teeth.
"Actually Goudie told me to deny it and plead not guilty. My legal bills on a guilty plea where I was fined forty quid were £4,000.  I am glad I did not take his advice. There were so many witnesses they would have thrown the book at me.

"It's not serious. It was a very light sentence but if they impose the suspended sentence I will go to jail and be deported. That's what he is telling people he is going to do to me."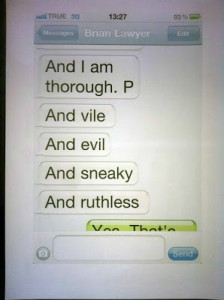 Mathews showed an sms message Goldie sent from 'Brian lawyer'. The message read: "I am thorough, and vile, and evil and sneaky and ruthless."
Goldie's pretence of having offices in Bangkok, Pattaya and Koh Samui is just that.
He actually just operates from above his bar and from accommodation in Bangkok and the use of a serviced office he rarely visits. He does not have any staff lawyers, just hires his 'legal partner' or associates when the occasion arises.
"You're trespassing!"
When I contacted Goldie by phone after staking out his bar, which had been closed due to a licensing problem he said:
"You're one of the guys photographing me earlier! Come down to the police station and I am immediately going to charge you with trespass."
That seems to have scared other people off  but I willingly obliged.
At the police station he demanded to see my passport and work permit and ordered his Thai girlfriend to call the Lt. Colonel in charge to hear his complaint of trespass.
I asked for his passport too. He sent his girlfriend off to get it from the car. She came back empty handed. It was all as expected a charade.
What business was it of mine whether he was Goudie or Goldie, he said.
"It's for you to find out."
The arrest warrant issued by Edinburgh Sheriff Court had been dismissed by the Procurator Fiscal, he said.
Who am I? Its for you to find out.
Having confirmed his identity and with Goldie/Goudie refusing to answer questions I left.
Police were uninterested it seems in bringing charges. In fact the Lt. Colonel did not even get out of his chair. This was not unexpected as the girlfriend had only gone up to his glass door and looked in..
Later Goldie called to say:
 "As far as I am concerned I have no criminal record in Britain and the Procurator Fiscal who dismissed the case against me will confirm that. He is sending me a letter to say just that.

"I am in Thailand on a legal British passport and I have built up a good and reputable business".

He admitted that he had taken the 'Jaggie Thistle' and an apartment from Jimmy 'Doc' Halliday before he died.

"But I paid for him to get out of prison and into hospital to save his life. He was a man who did not have a reputation for paying his bills. You would do the same."

As for Ian Tracy he said: "I had absolutely no idea that man was on charges of sexual abuse of minors. If I had known he would not be allowed near my place".
He admitted however that Alba Law are now representing Tracy and an American school teacher Greg Miller, 48, from Illinois, who stands accused of abusing a ten year old boy and four others under the ages of 15.
There was evidence, he said, that he had been set up by police.
"I'll be happy to show it to you".* (See footnote)
Goldie neither admitted nor denied owing Andy Matthews money.
"Do you have evidence I owe him money. That man is a thug. He is a man associated with knuckle dusters, knives, drugs, and violence.

"Andy Ronald Mathews runs the rackets in the area with his police friends demanding protection money. I will be producing uncontestable evidence against him in court.

"The reason why my bar is closed down at the moment is Mathews. He complained to his police friends who tried to lay false charges against my staff.

 "Over time, people have owed me money for work done, including Andy Mathews, but that does not give me the right to be a violent thug and threaten and extort people. He still hasn't paid the legal bills for my lawyers."

"The case is about being threatened and bullied, not about money. All recorded on video"
He said the press were being manipulated by Mathews and it is certainly true that Mr. Mathews has an £8000 grudge.
But lawyer Peter Russo said from Brisbane, Australia:
"If anyone knows how to manipulate it's Goudie.
"He is a piece of work. He threatened a company I represent and demanded AUS$5 million or he would expose a fraud he said this company had committed.
"When the company refused he went to the Gold Coast Bulletin with the story.
"Fortunately we were able to put our side of the case, but the matter is still  in the courts in Thailand and Western Australia.
"We heard all his claims of being in the Royal Marines and a lawyer in the United Kingdom.
"I went to his swanky offices in Bangkok but they did not even have a name-plate. It was a serviced office."
"He certainly has the gift of talk. Pity he cannot find a better use for it."
On  Goldie/Gaudie's behalf his former bar manager John Macdonald from Glasgow, a former Glasgow publican, said:
"The behaviour of Andy Mathews was totally improper. If you have a money dispute here you go through the courts. I have been swindled out of over 1 million baht by someone in Pattaya and I am taking that person through the courts.

"As for Jimmy I was there.  I know 100 per cent that Jimmy left everything to Brian. He was determined that nobody back home should get anything.  And Steve (Sneddon) was Andy's friend. Andy should have paid his hospital bills".
John Macdonald is a member of the Pattaya Police volunteers. He also was present with Goudie when Halliday signed over an illegal power of attorney to Goudie in the Bangkok Pattaya Hospital.
Disclaimer: Andy Mathews has no criminal record in the U.K. and emphatically denies he is involved in any rackets, nor does he run around with knives and knuckledusters.
 A MAN 'LACKING IN HONESTY AND INTEGRITY'  – AAT
While Brian Goudie may obtain a letter from a procurator fiscal showing he has no criminal record in Britain he certainly will not be getting one from the Australian Government which had ruled twice that he is not a person of good character and 'lacks honesty and integrity'.
And Australia's Appeals Administrative Court made these rulings without taking into consideration the allegations,  now dropped,  of fraud in Scotland. In fact they specifically dismissed these allegations from their ruling because the British authorities had not served the warrant or sought extradition.
The first ruling was made despite the fact that a Donald Mackenzie Grant at the mining company Fluor Daniel Pty which he was shortly to defraud of over AU$400,000 gave evidence as to his good character.
"I have concluded that Mr. Goldie is not of good character. The lack of honesty and integrity which he has displayed in his dealings with the Department and his lack of integrity (in the sense of wholeness, soundness and uprightness) in not confronting the allegations of fraud in Scotland are not outweighed by the good reports he has received from some of his past employers or Mr. Grant's personal commendation of him.

"I accept that he has, over years and except in relation to one position, displayed diligence and efficiency in his workplace. That is not enough to overcome the personal qualities he has displayed" – S.A.Forgie, Deputy President.
Lengthy reports in the files of the AAT to which Goldie appealed after being refused leave to stay in Australia showed how he and two other Scotsmen Jim Cochrane** and William Harrison from the company Oil Tech Pumps turned up in Australia in the early 90's while under investigation for the Scottish fraud.
Goudie was cash rich and soon took an Australian student in Townsville, Queensland, as his wife.
That was a stormy marriage in which the woman Jill Weiss reported many beatings.
The marriage ended when she arrived home and found him in bed with another woman, Christina Spence.
Jill Weiss said:
 "On Saturday 8 October 1994 I went to our house to see Brian Goldie who answered the door dressed only in a towel.


"He refused to allow me into our house. I realised at that point that I had been deceived by Brian Goldie.


"I pushed past him into the house and found Christina Spence in our bed. She was wearing a gold chain which belonged to me. I was very upset and angry and attempted to force Christina Spence out of the house.


"Brian Goldie then assaulted me, pulling out part of my hair and leaving me with bruises and cuts. I was forced out of the house, and immediately went to the police".

She did not state as Goldie claimed that she had kneed  him in the crutch.
Goldie had confessed to her about he and his friends' scam at the bank and said the real figure was much higher than £93, 000, she told the AAT.
She had met Cochrane and Harrison and considered that they were not smart enough to have carried out the fraud. That was the beauty of the deal, said Goldie.
He was just an employee of  Oil Tech Pumps but his colleagues were directors. If anything came crashing down they would take the rap.
(Goldie has removed his name from Jimmi Co. Ltd the holding company for the 'Jaggy Thistle)
Towards the end of their marriage they were both living off her 'Austudy ' Grant. The problem for Goldie was that Jill was his ticket to stay in Australia. With the marriage over he faced being kicked out.
So he took out a 'Protection Order' against her claiming HE was the abused partner in the marriage.
Using that loop-hole he could stay. He went to live with Christina Spence but that relationship turned sour too.
She told the AAT she could not live with his dishonesty. "One of the reasons for the dissolution of the relationship was Brian's admission to myself and others, of his guilt in relation to the accusations of company fraud which he had allegedly committed in Scotland prior to his arrival in Australia in 1992.
"When Brian told me the details and admitted responsibility for the offences, I was deeply shocked. Due to this admission and others that arose at that time, I found I had no further desire to be involved with him in any capacity."
She later withdrew that statement but in any case she wanted nothing more to do with Goldie, who had taken up with a Ms. Valerie Finnis in Western Australia, who also gave evidence to the AAT. She said:
"Mr. Goldie as a very loving and extremely giving person. He tends to give and it is easy to take advantage of him. Mr. Goldie is very committed".

"Ms. Finnis could not imagine Mr. Goldie being violent at all. Nor could she imagine his being involved in any fraud. He had always been extremely professional in his work," reported the tribunal president.
However Ms. Finnis  was given the boot by Goldie shortly afterwards, perhaps because his days with the mining company were coming to an end.
For years between the decisions of the AAT, Goldie was affectively on the run. He was given permission to stay for a while providing he did not work.
When he realised that Fluor Daniel Co. had cottoned on to the fact that he was forging company cheques while acting as their Finance Manager, he fled to New South Wales assuming the name Malcolm Anderson and was arrested with another woman, Jennifer Taylor,  who knew nothing at all about his past. Goldie was arrested and extradited to Western Australia in 2000 and remained in custody until sentencing.
The Australian authorities had finally had enough.
** Jim Cochrane was given Australian citizenship in the finest old Australian tradition.

GOLDIE AND GOUDIE'S CAREER HISTORY BUT THERE'S MORE THAN A FEW WHOPPERS HERE!
This is his c.v.
"My career has spanned a diverse range of projects on near every major continent, concentrating mainly on project work on major construction projects, and development of mining and mining related projects, as well as examining potential for upstream and downstream integration.
My most recent experience is primarily in the base and precious metals sector, focussed mainly on the development of small to medium mining operations in South East Asia. This work has involved exploring the potential for joint ventures, trade partnerships or capital investment.
With over a decade of working on mining and mining related projects, as well as product sales and marketing I have gained a solid knowledge base which now permits me to work on complex development projects at the most senior levels.
My career has spanned projects with development budgets from USD 10 million to USD 1.6 billion, ranging from projects for the extraction of Alluvial Copper and Gold deposits, Nickel and Cobalt deposits and Iron Ore deposits, and military related projects.
I have worked on mining and related projects at all stages of development and operation, from feasibility and financing, to pre-construction, construction and production, in addition to being exposed to the end sale of finished and semi-finished products.
In addition to my mining experience, I have several years experience of product development with a US based start up company involved in the defence industry. The primary focus of this company involved the development and patenting of proprietary technology for the removal of firing debris from grooved gun barrels.
I continue to be involved in the product development, product testing and in the establishment of a sales and marketing framework. One of the range of products was recently given US Government Federal Procurement Approval.
Most recently, I have been involved in assisting companies, primarily in Thailand, seeking international investment partners, and thus have been exposed to the legal, regulatory and compliance issues facing foreign investors, including foreign ownership restrictions and interfacing with the Thai Board of Investment (BOI).






On the opposite side, I have a strong appreciation of the regulatory barriers and  issues faced by Thai producers and manufacturers imposed by government regulations, as well as assisting in implementing quality controls mechanisms and procedures to ensure product compliance with international standards.

EDUCATION

Year                             Award                                      Academic Institution

1985-1990        Bachelor of Commerce                              University of Edinburgh

1985-1990        Bachelor of Laws with Honours                University of Edinburgh

1994                 Master of Business Administration            Herriot Watt International School of Management

TECHNICAL SKILLS AND EXPERTISE

Software Knowledge:

§         Microsoft Excel

§         Microsoft Word

§         MINCOM (Integrated Mining and Logistics Software)

§         JD Edwards (Mine Management and Equipment Management Integrated Software, integrated to MINCOM)

§         TST and GIS (ore body management and interpretation software)

Foreign Languages:

§         Thai (working knowledge)

§         French (working knowledge)

Core Competencies:

§         Analysis of complex development projects to establish feasibility

§         Preparation of documentation for investment partners

§         Advising on compliance with international quality standards

§         Overseeing legal, regulatory and compliance issues in major jurisdictions

§         High level communications skills that facilitate the briefing of all project stakeholders at all stages of project development

§         Detailed knowledge of corporate laws, regulatory frameworks and foreign ownership restrictions in Thailand

§         Detailed knowledge of project regulatory requirements in Thailand

§         Experience with the management and acceptance of  Thai Board of Investment applications

§         Strong analytical skills

§         Experience in managing cultural and management issues in Thailand

§         Preparation of detailed investor briefs and project summaries

§         Development of project plans, strategic plans and relevant implementation strategies

§         Development, interpretation and integration of international product standards and specifications including integration and implementation of ISO9001:2000 QA standards

§         Detailed knowledge of  the legal process in Thailand

CAREER SUMMARY

2005-2007                   Kelhead International Management                      UK

Position : Partner

Kelhead International Management works with potential investors and strategic partners to develop viable business either from startup or assisting with restructuring existing businesses.

Kelhead is based in the UK, but has recent experience in projects in the UK, Thailand and Singapore.

Project 1

2005-2007       Samprasitchaipaisal Co. Ltd                       Thailand (Bangkok and Loei)

Approximate project value – USD 10 million (ongoing)

Samprasitchaipaisal  is a Thai based company that operates Iron Ore mines in Northern Thailand.

Samprasitchaipaisal  is currently refinancing and seeking investment finance.

Primary Tasks:

§         Prepare investor brief

§         Pre qualify potential investors

§         Prepare relevant legal documentation

§         Develop documentation for compliance with international standards

§         Introduce trade partner for product take off and shipping of raw ore

§         Coordinate sales to Chinese Steel Mill (Rizhao Steel) and prepare and administrate commodity sales contract

§         Coordinate ore body investigation including reserve estimation, mining plan and logisitics plan

Project 2

2006-2007       Sahamitr Steel Co. Ltd                                 Thailand ( Rayong)

Approximate project value – USD 40 million (ongoing)

Sahamitr Steel is a Thai based company that operates a steel rolling mill in Thailand.

Sahamitr Steel is currently refinancing and seeking investment finance.

Primary Tasks:

§         Prepare investor brief

§         Pre qualify potential investors

§         Prepare relevant legal documentation

§         Develop documentation for compliance with international standards

§         Develop export procedures

§         Introduce trade partner for product take off and prepare draft sales contract

§         Work with local banks to resolve distressed loan status

1999-2007                   Cleenbore USA                                  UK, USA and Thailand

Position: Director – Business Development

Cleenbore is involved in the development of patented technology for debris removal from the barrels of firearms. The civilian version of the product was introduced in 2004 to the US market.

Primary patent applications were made in 2001, 2003 and 2004.

The civilian technology was modified during 2003 and 2005 to apply to large bore military weapons in partnership with United Defence and the Research and Development Centre of the United States Navy Naval Surface Warfare Command ( NAVSEA).

The technology is expected to be deployed to the fleet in late 2009.

Cleenbore intends to manufacture in Thailand, and received Board of Investment (BOI) approval for manufacturing in Thailand in late 2005.

Investment to date approximately USD 2 million (ongoing)

Primary Tasks:

§ Coordinate product development and testing

§ Coordinate patent and IP applications

§ Liase with NAVSEA for budget preparation for fleet deployment

§ Coordinate planning of company and factory start up in Thailand including examining legal and regulatory issues

§ Prepare and submit Board of Investment application, including business plans and project brief

§ Establish procedures for integration of US and Thai production

1998-1999                    UB Roche Mining                Canada

Position: Consultant

UB Roche is a mining start up venture seeking investment capital in the order of

USD 800 million to develop a large iron ore mine at Roche Bay, Canada. The project

is ongoing with large reserves of haematite. I was primarily engaged to seek external financing. This project is ongoing.

1995 -1998       Placer Dome ( Now Barrick Gold) USA, Canada, PNG

Position : Business Development Manager (pre-construction and construction)

Placer Dome previously was a Vancouver, B.C. based mining company, mining primarily gold and copper.

Placer formerly had mine sites at locations in the USA, Chile, Papua New Guinea and Australia.

Placer Dome was taken over by Barrick Gold in 2006.

Projects worked on:

Lihir JV, Papua New Guinea (Gold) Project Value USD 300 million

Porgera JV, Phase IV Construction (Gold) Project Value USD 96 million

Osborne Mine (Copper and Gold) Project value USD 150 million

1992 -1993       Messrs Fleming Reid                                   Glasgow, Scotland

Position : Pupil (Trainee Advicate)

On  completion of military service I spent one year training as an advocate.

1985-1993        HM Royal Marines                           UK and Overseas Active Service

I completed eight years military service as a Royal Marines Commando Officer.

Serving both in the UK and overseas, I commanded a company of approximately 128 men, plus support personnel.

REFERENCES

Referees available on request.