PLUS – WHY BRIAN GOUDIE TOOK UP LAW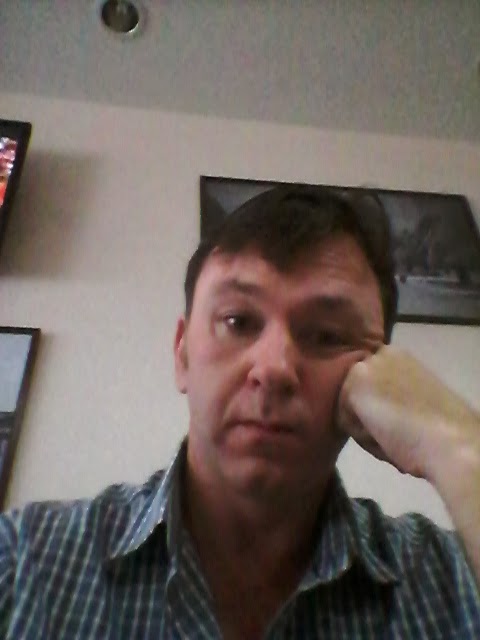 Lawyers for British journalist Andrew Drummond are meeting to discuss bringing contempt of court charges against two fake lawyers who touted their services in Pattaya.
They relate to false claims by both Drew Walter Noyes, boss of One Stop Service Center and Brian Goudie boss of a company called Alba Laws.
Among the false claims are that (1) Drummond was recently sent to jail for libel and was convicted under the Computer Crime Act (2) Drummond had been convicted of writing a libelous statement (3) Drummond was convicted of a libel ten years ago and was appealing against conviction to the Supreme Court (4) that the Bangkok Post gave evidence against Andrew Drummond.
In fact Andrew Drummond has been acquitted of all libel claims made against him including the one ten years ago by a British businessman in the commercial sex trade in Pattaya. He has never been convicted under the Computer Crime Act.
The only judgment which is being appealed is one that he allowed a poster on the site www.andrew-drummond.com to post what a judge considered libels. The Bangkok Post has never given evidence against Andrew Drummond. It paid for the defence of Andrew Drummond.
Goudie and Hanks between them have lost 12 cases they brought against Andrew Drummond and Ally Cooper, a supporter of this site.
All the above demonstrate deliberate misreporting and distortion of cases in the Thai courts.
Goudie claimed to be a British barrister and former officer in the Royal Marines. Drew Noyes claimed to be an American lawyer. He later withdrew the claim when he was exposed on this site.
Malicious letter to Evening Standard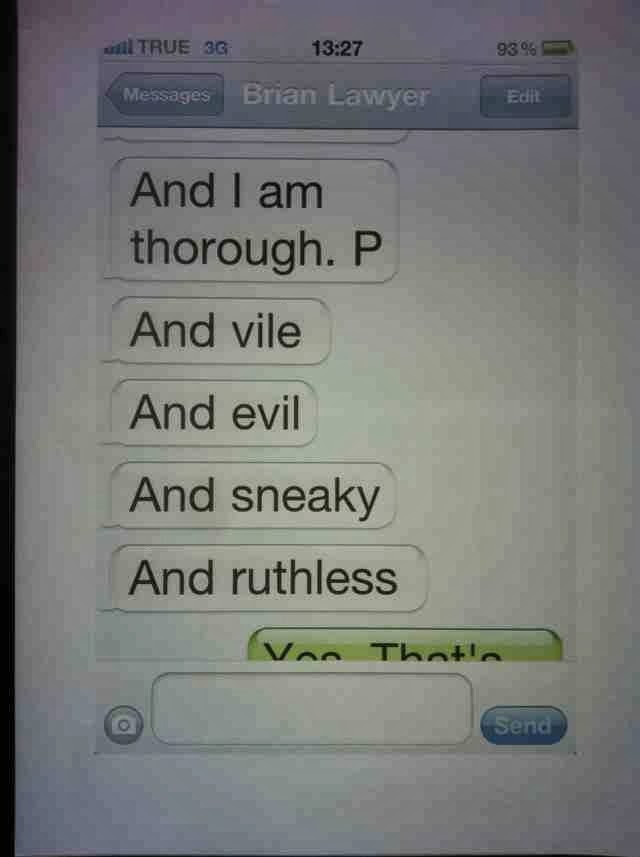 Goldie's text to a former client
Legal action is also being considered against Brian Goudie in regard to libelous emails sent to the Managing Editor of the London Evening Standard and impersonating a former lawyer who had previously worked for his company Alba Laws.
Drew Noyes is currently on trial for extortion in Pattaya. Brian Goudie, aka Goldie, a former convict in Australia, is on criminal trial for cheating an American woman out of 7.9 million baht. He already has a civil judgment against him.
Drummond said: "The decision will depend on costs and strategy. Things are kicking in which may make this action superfluous."
Goudie meanwhile has emailed his friends claiming to be much maligned. He said he did do time in Australia, but only when he was wrongfully arrested. At the time the Scottish Sunday Mail described Goudie, then known as Goldie, as 'A Scot branded Australia's most wanted illegal immigrant'.
'I have no criminal record! The real story is I have no criminal record, and I am getting a copy of it, and I am going to stick that copy right up a few people's arses, starting with Andrew Drummond.'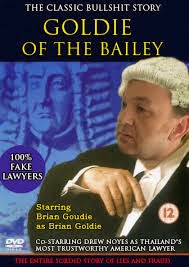 "Dear , (redacted)


I am tired of all the muck raking.
I have kept all this to myself for 10 years, to be honest I had tried to put it behind me. However, it seems I cant. Now I have to defend myself all over again,


Yes, I got locked up in Australia, it was a fucking nightmare. Now it has started all over again, muck raking about 20 year old shite. I was not locked up for six years in 2002, in fact from 2002 to 2005 I was living in Shawlands.
(Not that surprising as he was released from Hakea Prison WA in 2002 after serving his sentence with remission)
The real story is I have no criminal record, and I am getting a copy of it, and I am going to stick that copy right up a few people's arses, starting with Andrew Drummond.


When I got arrested, my ex took the lot, the house, the cars, the bank
book, the fucking lot.


I had no money left, she got it all, easy when the partner is locked
up. I had to go in front of the Federal Court, and the Federal Court
of Appeal by myself.


(Actually he had to hand back his ill gotten gains after he was arrested for stealing AUS$400,000 plus from his employers)


I took nine police and immigration officers to Court, and in 2002 a
Full Bench of the Federal Court of Australia found: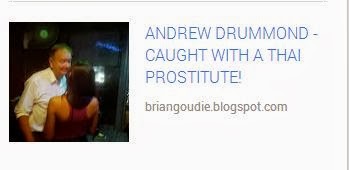 Goudie wrote a story headed Drummond caught with prostitute
and sent it to the Evening Standard. They enjoyed the story. But
it was fiction as usual.
" Mr Cain's action in arresting the appellant was precipitate and not
justified. It was not based on knowledge or reasonable suspicion on the part of Mr Cain. It was not suggested that any other ground
justified the arrest and detention of the appellant. That arrest and
detention was therefore unlawful and gives rise to a right to damages on the part of the appellant."
In other words, I was wrongfully arrested and locked up for nothing.
And beat them. It was a horror story, and I lost a lot of money, which is why I then took up the law, because I saw how people who had got fucked by the police or government and did not have a huge bank book could do virtually nothing.




Now you know why I detest the police and immigration".



—————————————————————-
GOUDIE'S HOME GOAL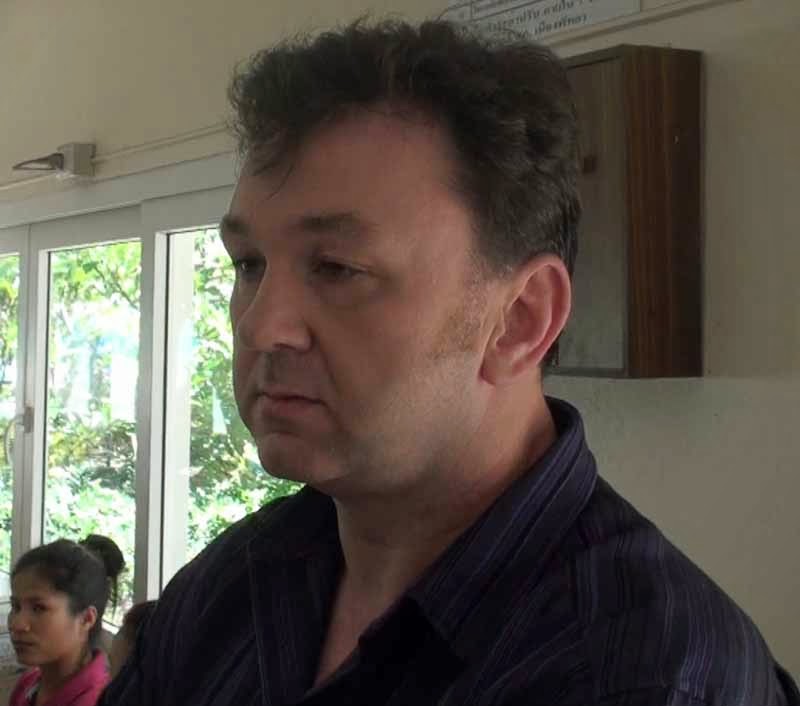 "And then there was the fraudster. He was mortified to be grabbed by the back of his pants outside his workplace in full view of Perth's business community, his mobile phone and briefcase confiscated before he was tossed by officers into a waiting van".
Goudie included in his email some carefully edited text from the Sydney Morning Herald newspaper. He deleted unflattering references to himself including the quote above. But the startling thing is that he admits that he is the man in this article. Yet he denies he has been convicted of stealing as an employee in Western Australia and claims the court records I have shown are 'forgeries'.
This is his version:
"Headed 'QUEING FOR
JUSTICE" (sic)

And then there was Brian Goldie. Goldie, a British citizen, spent most
of the 1990s in Australia on a series of different visas.
(HE HAS MISSED OUT SOMETHING VITAL HERE)

He remained in Australia on bridging visas, but in 1998, gaps in the
department's computer records – since horribly exposed by the
investigation by former AFP head Mick Palmer into the Rau case – led
officials to believe he did not have a visa, and should be detained.
On the day, security guards marched him from his office to the foyer
of his company's Perth building, where two officers were waiting to
take him into immigration detention.
(HE HAS MISSED OUT SOMETHING VITAL HERE TOO)

One officer told him that if he resisted he would be handcuffed, while
the other made him hand over his mobile phone and briefcase. Telling
Goldie he had no choice, one of the pair walked behind him, holding
his belt, until they got into a waiting van. At the detention centre,
Goldie was searched, made to remove his tie and shoelaces and
photographed.

The belief that he did not have a visa was wrong, so when he was taken
into detention in February 1998, in April 2002 the Federal Court of
Appeal found he was falsely imprisoned.

While his period in detention was far shorter than in the other cases,
what upset Goldie was his arrest "in full view of the public in the
business area of Perth", being held by the back of the pants while he
was moved into a waiting van and being searched on arrival at the
detention centre.

NOW THE FULL ARTICLE BELOW AND AT THIS LINK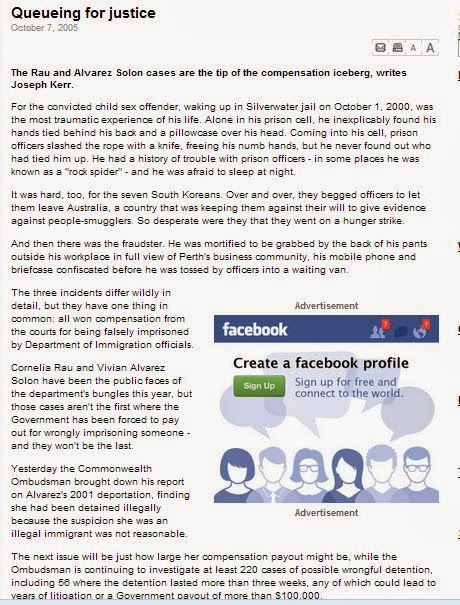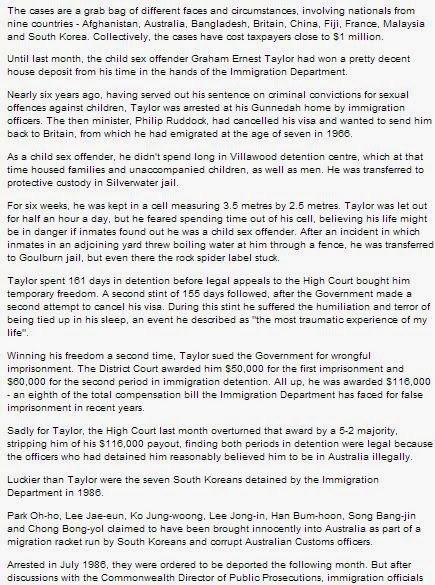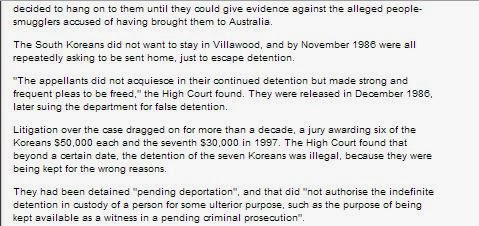 SO NOW TAKE A SECOND LOOK AT THIS BELOW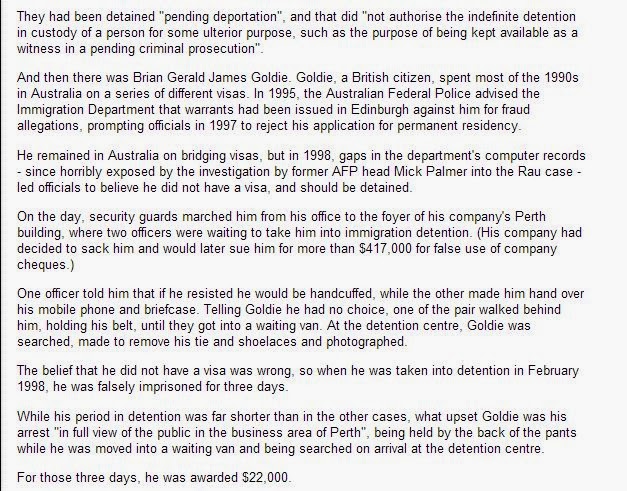 AND FINALLY MORE GOUDIE CLAIMS EXPOSED
Dear Mr Drummond,
Thank you for your email to the Ambassador below, he has asked me to reply on his behalf.
We are unaware of the story you refer to suggesting that you are under investigation by authorities in Australia and have no record of receiving a complaint against you or of any documents of any kind being passed to you through the Australian embassy. We are also not aware if you are under investigation in Australia for any reason. If you wish to confirm this you will need to approach the Australian Federal Police and each State and Territory police force in Australia to seek their advice. Visitors, with a legitimate reason to visit the Embassy, may do so. Visitors are not banned from coming to the Embassy unless there is a security reason to do so. If you wish to make an affirmation at the Embassy, you can do this during normal working hours at the consular section of the embassy. Fees for witnessing an affirmation will apply.
Best regards
Trudy McGowan
Acting Consul General and SAO
Australian Embassy Bangkok
From: Andrew Drummond [mailto:andrew@andrew-drummond.com] Sent: Wednesday, December 18, 2013 10:49 AM
To: 'james.wise@dfat.com.au'
Subject: FW: H E James Wise and Andrew Drummond
Your Excellency,
My attention has been drawn to the following weblink referring to both yourself and myself in the same story.(see below)
The story almost certainly written by Brian Goudie, better known in Australia as Brian James Goldie, suggests that I am under investigation by State and Commonwealth Authorities in Australia and that I could face jail time.
Could you please inform me of the offences of which I am accused, if any? I do have many documents relating to Mr. Goudie, as Mr. Goldie, and all those documents have been obtained by lawyers and thus I assume legally.
Further Mr. Goudie has claimed that documents I provided which showed that he had been sentenced to three periods of 2 years by Judge Fenbury DCJ at Perth District Court on March 11 2001, and that a warrant of arrest issued by Scottish police, were forgeries. He further stated that he had been to the Australian Embassy which had launched an investigation into the forgeries.
He also stated, as in the article below, that I was 'persona non grata' at the Australian Embassy in Bangkok. This is all news to me – And the sentencing documents are a matter of public record.
I would be grateful if you would clarify these issues and confirm that the Australian authorities have indeed found that the documents were real.
In the meantime I would like to go to the Australian Embassy and make an affirmation to that affect. Can that be arranged?
As this matter is in the Thai courts I would be grateful of an early clarification. Please note I am not asking you to provide personal consular information about any third party and there is no need even to mention Mr. Goudie in your reply to me. I would however seek clarification that I am not under investigation for any criminal matter.
While the court judgment and judges summing up are clearly public records – if it is an offence to disseminate his release record from Nakea Prison WA, please let me know. It is not important in the scheme of things and there is no need for me to do so.
Please see attachments.
Yours Sincerely
Andrew Drummond
Correspondent London Evening Standard
http://andrew-drummond-watch.blogspot.com/2013/05/andrew-drummond-now-under-investigation.html (now deleted)
What Goudie wrote:



Andrew Drummond now under investigation by Australian Authorities
About Andrew Drummond UK journalist turned Bangkok Thailand blogger:
This blogger has been advised that Andrew Drummond is now under investigation by State and Commonwealth Authorities in Australia., that could see the journalist facing jail time if convicted.
A source inside the Australian Embassy in Bangkok this week confirmed that following a complaint made directly to the Australian Ambassador, H.E. James Wise, by a UK national, which was copied to the Commonwealth Attorney General, along with letters of complaint sent to several other agencies asking if documents posted on the renegade bloggers web site were real or not.
The Australian Ambassador after being asked to confirm that Australian government officials in Bangkok had provided documents to Drummond as he claimed, generated a storm of correspondence that resulted in this response from one of the agencies:
'As you will be aware your complaint was forwarded for assessment to the Department's Professional Conduct Assessment & Review area. Following that, I emailed you regarding obtaining further information which you provided on 7 and 8 May 2013.
The assessment has now been finalised and the matter has been referred to Central Investigations (CI) for investigation'
Drummond allegedly stupidly bragged that Australian Embassy officials have been providing him 'back door' copies of documents, which is highly illegal in Australia and could result in the responsible officers being prosecuted – however when the documents were more closely examined critical information was not present.
Officials are now remaining tight-lipped pending the outcome of the investigation and sources advise this blogger Drummond is now officially 'persona non grata' at the Australian Embassy.
This blogger will report again as the story unfolds…………………………….
er, the story did not unfold.