A PERFECT FIT!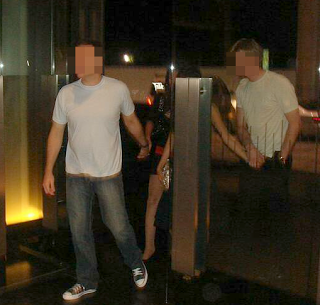 Nobody need be shocked by yesterday's 'Sunday Mirror' story on the Leicester City Football Club orgy with Thai girls in the King Power Hotel in Bangkok – and the references to a 'one out of ten minger' and 'slit eye' and 'lick it! lick it!' as three Leicester City hopefuls demonstrated their idea of fun.


Indeed I doubt whether Vichai and his son Aiyawatt Srivaddhanaprabha were 'infuriated or embarrassed' as the Sunday Mirror promised they were bound to be.
I sat down with the son Aiyawatt at the family King Power Hotel in Bangkok last year discussing some other matter but it was clear he was not the sort of type who would let something like this interfere with his plans for Leicester.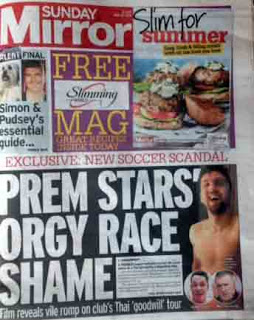 But what an absolute gift for the British newspapers that the boys filmed themselves – confirming in one foul swoop: that British footballers can be absolute yobs: that Thailand is still up there as a top tourist sex destination, and that footballers and Thailand can be a perfect fit.
Thawatchai Arunyik, Governor of Tourism Authority of Thailand, said of TAT's relationship with the team:
"The last two years working with Leicester City have been an amazing adventure, filled with aspiration, incredible people and some wonderful memories – qualities for which the Kingdom of Thailand itself is much loved for, making our relationship a perfect fit."
Ah memories. Well certainly everyone leaves Thailand with an amazing memory or one thing or another, er, but it's not all good.
Of course the Sunday Mirror, like all of the British popular media like to catch a footballer in flagrante delicto but there is an ethical line and a privacy one too they cross at their peril.
So when footballers Wi-Fi their own sex sessions back to their mates in the UK and it is passed on to a newsdesk I can almost hear the roars of delight.
In fact British footballers, and I am a little more than guessing here, have been hiring Thai prostitutes for years.
Scores have been photographed entering hotels and hotel rooms together – and these pictures have in the main not been taken by paparazzi but the fans themselves.
This is one of the things about Thai hospitality.
Sometimes Thais just do not want to disappoint.
Although they can be fanatical supporters, loyalty to a particular club would not prevent them handing over an incriminating photo of a star of his favourite team.
In fact they might even regard this as one up for Thailand.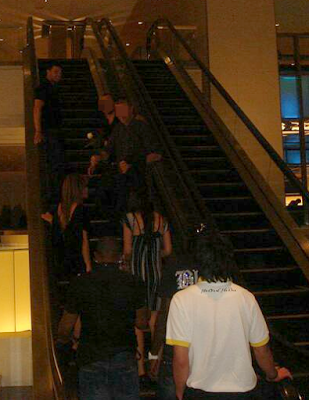 Hotel stairway to heaven? More like running the gauntlet
And they will stay to the early hours outside a Bangkok hotel just to say 'hello'.
And they would even talk to the women if they checked out after a 'short time'. This is actually their natural curiousity!
Perhaps top of the bill could come Manchester City FC which was owned by the now exiled former Thai Prime Minister Thaksin Shinawatra – or Sinatra as City fans called him.
When they came to play Thaksin asked a massage parlour owner to take care of them and the players duly took off to the Plaza in Makkasan and some even brought their goods home with them. But when they got back to their hotel they must have felt like they were going to a movie 'Premiere'.
A few years ago a newspaper was flooded with pictures of a well-known snooker player on his travels in Thailand.
All the pictures to one newspaper apparently showed him with lady boys. The story was never published.
But a week later after a trade off, the player told a 'my gallivanting days' type of kiss n'tell story of his debauched life with women and booze.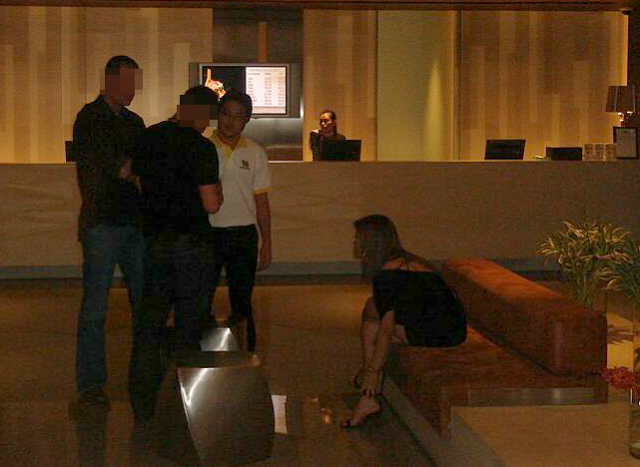 But a footballer still has to get through security
A bedroom picture of an England captain with an identified Thai woman has been doing the rounds in Bangkok for years. If he'd called the woman a 'minger' or 'slit-eye' it would have made the papers a long time ago.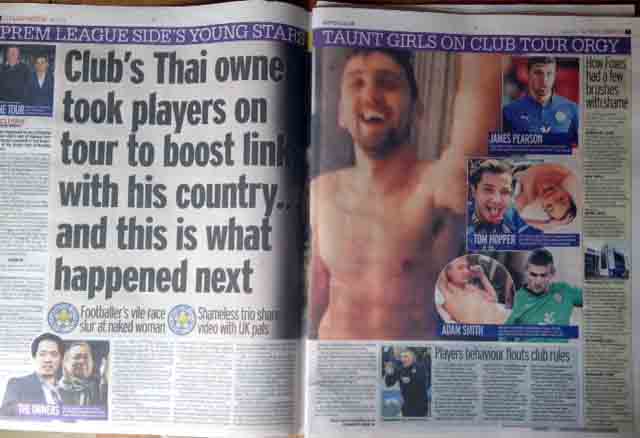 These expressions are much worse than the use of the expression 'slope' by Jeremy Clarkson formerly of BBC's 'Top Gear' but then again that was a joke. The Leicester Footballer was simply ignorant and stupid and they beg the question where on earth did they go to school?
The problem of course is that Britain, outside the Daily Mail, Express and Telegraph, now prides itself on its racial tolerance, while Thailand, if truth be told, below the surface is not racially tolerant at all.
Interestingly according to Oxford University's Migration Observatory 'of 329,839 people living in Leicester – the East Midlands' largest city – in 2011, 33.6 per cent were not born in the UK, the highest proportion of any place in the region.
And in 2013 the Daily Mail whimpered: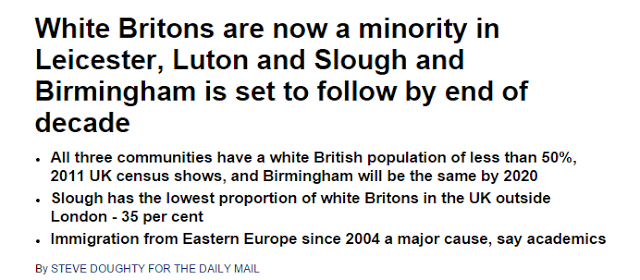 And this was after the local council warned Asians to stay away!
From Wikipedia
In 1972, Idi Amin announced that the entire Asian community in Uganda had 90 days to leave the country. Shortly thereafter, the Leicester City Council launched a campaign aimed at dissuading Ugandan Asians from migrating to the city. The ads did not have their intended effect, instead making more migrants aware of the possibility of settling in Leicester. Nearly a quarter of initial Ugandan refugees (around 5000 to 6000) settled in Leicester, and by the end of the 1970s around another quarter of the initially dispersed refugees had made their way to Leicester.
It's a funny old world.


Footnote: If you think you are one of the footballers featured here. Please place a monkey in a brown paper bag by the heating pipe in the third cubicle along in the Gents on Platform 1 at Manchester Piccadilly station to prevent gradual clarification.


But enough frivolity – a more serious story will breaking overnight.