PROTESTERS CLOSE DOWN THAI CAPITAL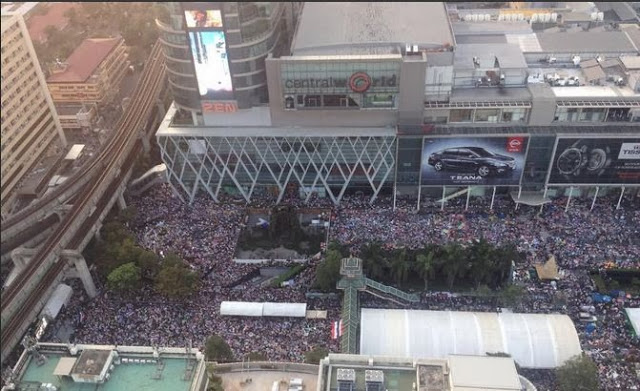 Seven hours into the shutdown of the Thai capital Bangkok Prime Minister Yingluck Shinwatra today was reported to have called for talks with protesters to discuss reform proposals and a delay to the election.
With the capital choked, and several ministries and the Stock Exchange either closed or about to be, the Prime Minister called for talks about the election date – up until now an immoveable feast.
Protesters have demanded reform before election. Prime Minister Yingluck has demanded an election then reform.
With barricades blocking Bangkok's major road intersections overnight, a sea of protesters today brought Bangkok to a standstill today in protest against 'the corrupt successive governments' run by Yingluck and her exiled elder brother Thaksin Shinawatra.
Tens of thousands of protesters which included loyalist yellow shirts, unions, Bangkok's urban middle class, bikers and even lady boys, took to the streets all over the city's central areas shortly after dawn.
Overhead motorways usually choked with rush hour traffic were eerily quiet…but nobody could escape the sound of tens of thousands of whistles being blown in protest.
One demonstrator was admitted to hospital overnight after being shot in the neck but so far the latest protest has been non-violent.
Army Generals are meeting today to discuss the situation, and are watching how talks go, though they are unlikely to step in without cause or perhaps excuse.
Major Banks have closed their city centre offices. Government workers have vacated several government offices and protest leader Suthep Thaugsuban has stated: 'We are here until the government goes completely and we have political reform."
That is one of the more polite comments coming from the states of the People's Democratic Reform Committee the largest of the government opposition groups.
Obscene cartoons of Prime Minister Yingluck Shinawatra are on display and the rhetoric can turn ugly on both sides.
A red-shirt supporter went on Facebook to suggest the kidnapping of Thai Army leader's daughters should the military intervene with a coup.
While protesters say they will leave Thailand's Suvarnabhumi airport, an air traffic control centre in the city is under siege as is the Stock Exchange of Thailand. They have so far closed down the Ministry of Foreign Affairs, Department of Labour, Ministry of Science and Technology and the government's new complex to the east of the city is also under siege.
The Government's Centre for the Administration of Peace and Order (CAPO) say they expect the demonstrations to last for four days. But already the protest is beginning to have a sound of permanence. Tent cities are going up all over the capital.
Spicy soup kitchens are catering to the demonstrators and cash is being collected everywhere to help provide logistics.
Prime Minister Yingluck Shinawatra has resisted attempts to have an election delayed until May so reforms can be made first. She has called for an election on February 2nd and says she will then set up an independent reform council.
She would probably win a quick election using the vote of the rural poor, but they have now started protesting against the government too after Shinawatra's failure to deliver them cash for their rice.