PLUS! BUY IN THAILAND NOW – THROUGH AMERICAN RECOMMENDED – LISTED BY- HOMELAND SECURITY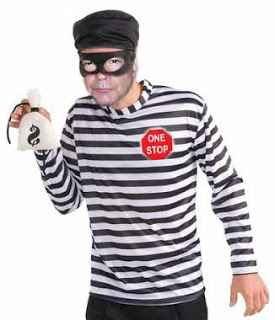 Don't waste a minute. American Drew Noyes could be gone soon from Thailand. He has applied unsuccessfully twice to travel to the United States while on bail appealing a two year jail sentence for extortion – and the third time he expects to be lucky.
So take him up quickly before he hops it. Below is his promo on LinkedIn.
And there he is photographed with David Hanks, the former Melbourne brothel owner, who is up on racketeering charges, as well as for working in Thailand illegally.
Hanks hopped it having been given leave by the Pattaya Court. He's went back to Australia where sadly he does not have a brothel anymore to pick up assets and has now returned to Pattaya.

But he has left a young bride and baby behind he may still be back.
Here is Drew's LinkedIn Promo. – He writes:
"In July 2014 Drew Noyes was elected President of the Lions Club Int'l of Bangkok Silom. He is the first westerner elected.
(After being rejected by Rotary and having had his attempt at forming Optimists Club in Pattaya blocked by Optimists International. He is also the first President to be elected having been found guilty in the United States of larceny and burglary and of extortion in Thailand. When Drew says he is FBI security cleared he means they have checked him out and yes he is duff).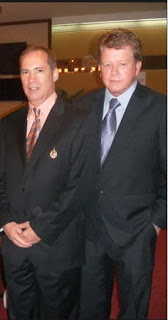 Convicted burglar jailed for
extortion and former pimp and
man on racketeering charges
at Lions Club Silom 310D
AMAZING THAILAND!
For 17 years American Drew Noyes has used his legal, investment (sic) and real estate experience in Thailand to build a leading law firm for English speaking clients providing them with contracts, wills, mediation, divorce, real estate, civil, criminal and family court attorneys.
His firm One Stop Service Center Co., Ltd. In the One Stop Legal Services Division also registers Thai companies of foreign ownership.
(Legal services division? Some mistake here)
Drew Noyes is one of Thailand's leading experts on foreign investment in businesses and property as well as an expert on Thai law. Helping clients build successful businesses is his personal specialty.

One Stop Service Center is not registered as a law firm. He employs no lawyers on his staff, but hires then ad hoc. He is not being defended in court by one of his Pattaya lawyers. He is not a leading expert on anything apart from taking cash from clients. According to FBI/ Homeland Security he has a criminal record in the United States for burglary and larceny – and that on top of all the stuff he had done in Thailand.
CONSIDER THIS OPPORTUNITY-
Foreigners can still open their own Thai Company with the same benefits as Thai citizens IN BUSINESS AND LAND OWNERSHIP!
(TOSH)
The secretary behind Warichya Pharawet was best known at the Buffalo Bar, Pattaya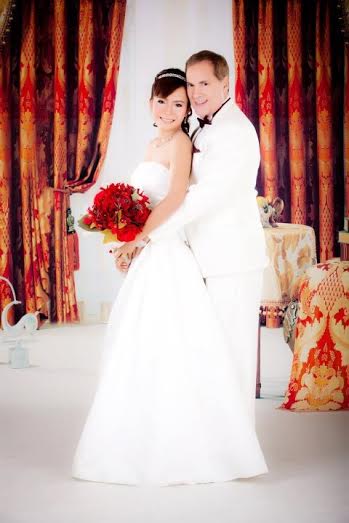 They are being romantically linked (this picture is NOT photoshopped)
"But for how long?
The ASEAN Economic Community (AEC) forms in December 2015 with 600 million consumers, surpassing the European Union (EU) as the world's third largest population.
The EU has 503 million inhabitants — the world's third largest population after China and India.
Two AEC member countries, Bruni (sec) and Singapore, have much higher GDP per capita than America and any EU country.
(absolute tosh)
Use American Drew Noyes who had been building businesses in Thailand since 1997 and his Thai legal experts at One Stop Legal Services in Pattaya Thailand.
Hurry now if you want to sponsor Drew Noyes in his new life but there is no such company as One Stop Legal Services in Pattaya. Wonder when the Lions Club Silom 310D will wake up to the man at the helm?
Perhaps they could check with Homeland Security, the Star in Wilmington, North Carolina, or even use Google!.