FATHER FINALLY GETS SOME CLOSURE AFTER A REMARKABLE INVESTIGATION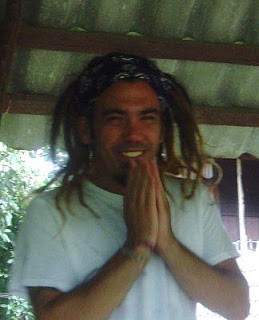 BRITISH JOURNALIST COMMENDED BY THAILAND'S HUMAN RIGHTS COMMISSIONER
Sergeant Uthai Dechachiwat never even glanced as the father of Canadian backpacker Leo del Pinto as they sat on parallel benches two metres apart at Chiang Mai Provincial Court.

Five years eight months after Uthai gunned down 25-year-old Leo in Pai Uthai was at last being called to account. But he would not be there but for the doggedness of a British journalist and the meticulous work of Thailand's Human Rights Commission.
Indeed the Chief of Police in Pai, Mae Hong Son Province, publicly insisted he was not going to let his man go down for the killing of a foreigner and his 'troublesome girlfriend'.
And Uthai, while charged, was set free while witnesses in Pai were all too aware that testifying against the local policeman and on behalf of the foreigner had hazards. The decision to give him bail was a fatal one.
While local propaganda was portraying the local policeman as a helpful and considerate and 'jai dee' good hearted – he had an inner rage. In an outburst he carried out an uncontrolled attack on his 18-year-old Thai bride whom he beat to death with piece of wood shortly after their honeymoon…and of course while on bail.
This week Sergeant Uthai paid the ultimate price thanks to the work of British journalist Andrew Drummond but much more to Dr. Surasee Kosolnavin, who was Thailand's Commissioner for Human Rights at the time of Leo's death.
"This case highlights a problem with our society, but unfortunately this happens in other societies too" said Dr. Surasee after Uthai was finally condemned to 62 years six months in jail – 37 years six months for the murder of Leo – to serve on top of the 25 years in jail he had already got for murdering his wife.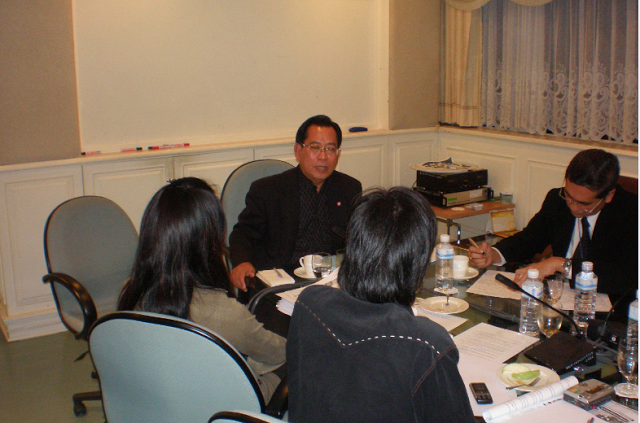 Despite the pressure to stay silent and not get involved there were witnesses who knew the truth and had the courage
to give testimony against the Pai Police. Pictured here are two I met at the TNHRC offices in Bangkok
"I saw the newspaper reports (by Andrew Drummond in the Nation) and knew there was something wrong so I decided the TNHRC should act."
Andrew Drummond travelled with a team from the Thai National Human Rights Commission which included lawyers (Surasee was himself a former Chief Prosecutor) and forensic experts.
Between them they discovered that, police were putting pressure on witnesses and trying to falsify evidence.
They put out stories that the foreigners were ne'er do wells; that they were involved in a violent lovers tiff and of course anybody who said otherwise should look out.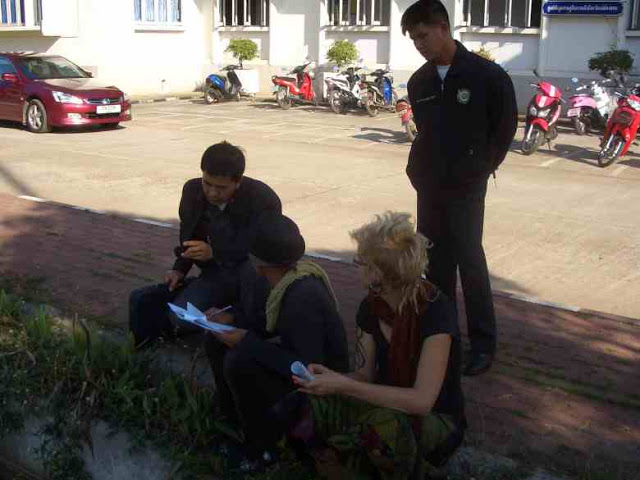 Lt. Colonel Sombat Panya approaching Carly Reisig add boyfriend outside court
They confirmed Uthai's story that he gunned down Leo in self-defence – that Leo was above him and attacking as he fell and fired. Even the police chief Lt. Col. Sombat Panya gave demonstrations at the police station that Uthai's gun had a hair trigger.
But forensic evidence showed that it was Leo was below Uthai when the shots were fired. He had his hands out as if to protect himself, or as Carly testified, was saying 'Don't shoot!'
AND Dr. Surasee's team found four sound witnesses whose testimony totally discredited the police lies – and he even gave them safe housing near his home in Chiang Mai. Their contributions were vital.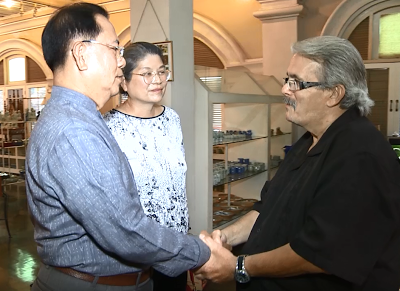 Ernie del Pinto thanks Dr. and Mrs. Surasee Kosolnavin
The police propaganda was however partially successful, even up to today with foreign news agencies repeating the police line from previous reports, researched from the parotted police line in the Thai press, but Drummond's consistent reports for Canada's CBC and Calgary Herald told the other side of the story and Canada's Department of Foreign Affairs, Trade and Development, was pressured to take a stronger interest.
Del Pinto had publicly complained about the Canadian government's lack of action.
VIDEO REPORT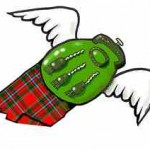 The Canadian Embassy monitored the trial, a difficult things to do at the best of times and officials has to make many trips because of the adjournments and failed appearances of witnesses. Meanwhile Andrew Drummond continued to publish their reports of its progress and police misdemeanours.
That progress was very slow, mainly because police on several occasions just did not turn up to testify on what had become a DSI – Department of Special Investigations case.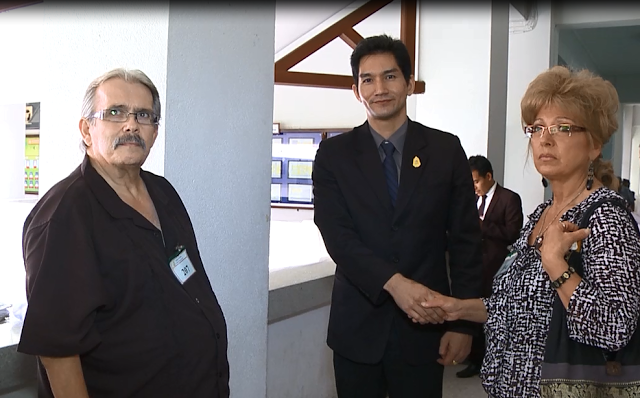 Leo and Clara del Pinto thanks
the public prosecutor
Dr. Surasee, noting that even police headquarters in Bangkok was going to support Uthai had earlier succeeded in moving the case from police control.
This week as Consular officials took Ernie to see Uthai being sentenced, before taking him to Pai to see the spot where his son died, Ernie del Pinto, and Dr. Surasee Kosolnavin finally met up. Andrew Drummond filming for CBC recorded the occasion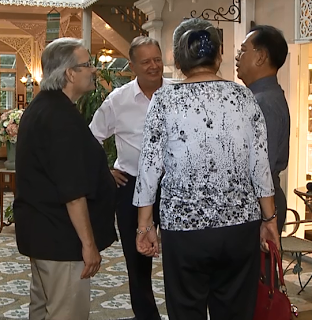 Ernie del Pinto, Andrew Drummond,
Dr. and Mrs.Surasee Kosolnavin
"I have to thank you from the bottom of your heart," Ernie told Dr. Surasee. 'You stepped up. You really stepped up to this. I know nobody would be in jail for my son's murder were it not for you."
Dr.Surasee told him: "You should thank this man here. He knows a lot and he knows what he is doing. You chose well."
"This man pleaded guilty at the last minute to avoid the death sentence, just as he did when he murdered his wife," said Ernie, who travelled from Calgary with his wife Clara and sister Madeline.
He added: "He knows the system. He has pulled my leg and my wife's leg for five years now.
"But I have some satisfaction of knowing that now aged 43 he stands a good chance of dying in jail, and you know what? I hope he has a miserable time there."
Ernie del Pinto reads a statement outside the court
CBC News – compiled from copy/rushes Andrew Drummond/ David Found