British journalist Andrew Drummond, who has had numerous libel and Computer Crime Act cases brought against him by phony lawyers American Drew Noyes and Scot Brian Goudie dismissed, has now also been the subject of more attempted attacks both on his person and on this website.
Having already reported to the Crime Suppression Division, Technical Division, a false Facebook site put up in his name insulting to the Royal institution, a report has now been made to police over a post on the website Ripoff Report also claiming the journalist has insulted the Royal institution. These claims are of course false and intended to damage. Rip Off Report editors have sensibly cut the name of this site.
The journalist has also received a message from a Polish woman in Pattaya to report that she had been asked by a named person to make a complaint of sexual harassment by Andrew Drummond. This was just to play a joke on a friend, said the instigator. Andrew Drummond does not know the Polish woman but thanks her for her information.
Happy Christmas children.
——————————————–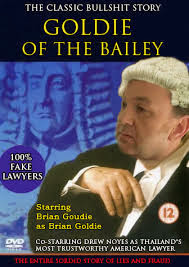 FOOTNOTE: A series of libel cases brought by Brian Goudie against Andrew Drummond at the Koh Samui Provincial Court have now been merged together by the order of the court today.
The libels relate to a number of photo-shopped pictures on this site showing Brian Goudie, who claimed to be a lawyer and a former officer in the Royal Marines, as a lawyer and officer in the Royal Marines but who is in fact former convict E0000274 Brian James Goldie as guest of the West Australia Department of Corrective Services in Hakea Prison, Canning Vale, WA.
Goudie wishing presumably to increase Drummond's costs had called for the cases to be tried separately.