DAVID HANKS ' I AM INNOCENT – DSI ARE CORRUPT'


Former Melbourne brothel keeper David Hanks, originally from Girvan in Scotland, has been remanded by Pattaya Criminal Court for judgment on August 18th for a number of offences from racketeering to working illegally.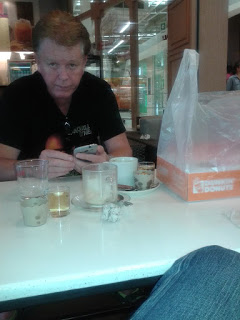 Two Russian defendants failed to appear for trial. It's alleged among other things that Hanks was the financier for a scheme lending cash to hapless Russians at 6 per cent a month. Hanks was defended by Sanya Namnaphon who was listed as a partner in the firm of fake lawyer Brian Goudie, like Hanks also Scottish from Falkirk.
Goudie is currently on trial for posing as a barrister and former office in the Royal Marines to cheat an American woman, Barbara Fanelli Miller, 75 at the time out of nearly around US$240,000.
Goudie formerly used Sanya because he was cheap and cheerful and would cover cases at 5000 baht a day while Goudie charged clients 50,000 baht a day as he had been, er ,' called to the bar'.
Needless to say the Thai Police have never caught up with this pair of charmers but the Department of Special Investigation did.
Now Goudie is representing Hanks by directing the defence – and that appears to be calling the DSI corrupt, and saying Hanks was mistaken for another foreigner called David who had a totally different address.
Hanks, lawyer (not Sanya) Goudie
The Russians co-defendants have returned to their motherland leaving Hanks holding the baby.
Goudie appears confident of Hanks acquittal and states
"Hanks' lawyers asked the Court to investigate why information about the case had been leaked to the Press, and why he had been wrongfully linked to a fourth Russian Man, Alexander Matsov, and an infamous Russian Mafia figure who was not involved in the case at all."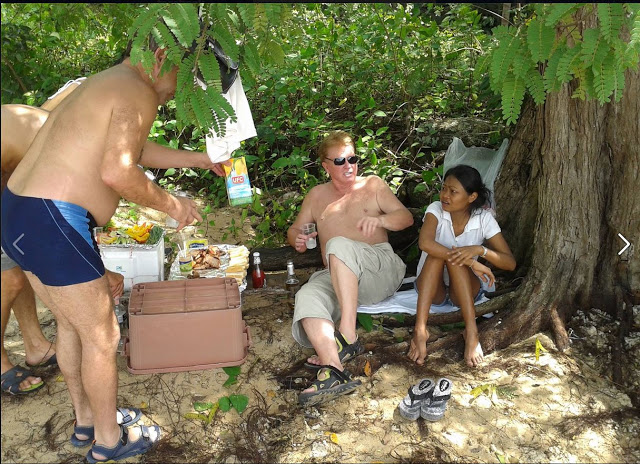 Hanks entertaining a Russian to a beach barbecue at Bang Kao Bar, Samui, I do not think the Russian bought into
Goudie's plan to sell the beach
The judge however did not record this exchange which in any case should have been directed to the DSI, but it was not a strong legal point.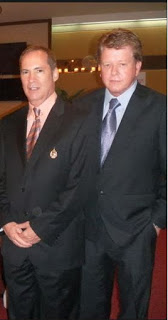 Drew Noyes with David Hanks
He appears to be going very much more on this.
"One particular police officer was unable to explain why Hanks had been arrested when 16 Russian witnesses had failed to identify him, but had instead identified a 'David' who had a different address, and was at least 20 years Hanks' junior."
And this.
"A high ranking DSI officer, who has already been transferred amid allegations of corruption, was named as being at the centre of the proposed illegal money lending and protection scam."
That is indeed an original defence. A bit like being arrested for rape and telling the court the police were the rapists.
Goudie is reported to have borrowed a considerable amount of money off Hanks. I am not sure how sad he will be if Hanks is sent down.
I say if because predicting what will happen in the Thai courts by looking at the evidence simply does not work.
. For some background on Hanks – go here.