"I WAS SHOCKED! MOTHER, 76, WAS THE MASTERMIND – SAYS BRIAN GOUDIE
An American child sexual abuser who was allegedly part of a
plot to be sprung from jail in Pattaya by a fake Scottish advocate has been
sentenced to 33 years in prison.
Gregory Miller, 46, a schoolteacher at an international
school on the Eastern Seaboard, was sentenced on November 14th, said
Sutham Siribunyawat, principal lawyer at Sukhothai International Lawyers in
Bangkok said today.
The law firm had been brought into salvage Miller's defence
after Miller's mother, Barbara Fanelli Miller of Wisconsin, complained that
Brian Goudie, the boss of a firm called Alba Laws, had taken her for US$300,000
promising the release of her son, from Nong Plalai Prison, Pattaya.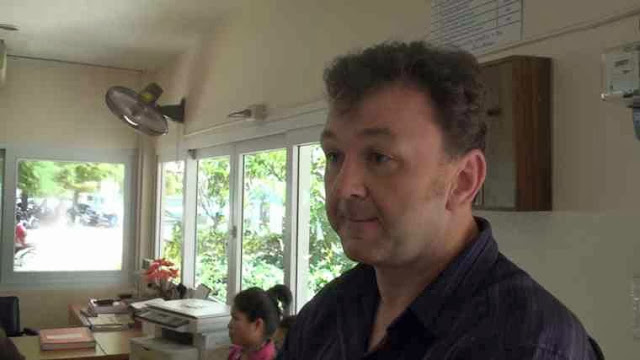 Goudie – ran company called Alba Laws
Sutham – 'Boiler Room Buster'
Sutham Siribunyawat, best known for
busting a boiler room operation in Bangkok
, who has taken criminal and civil action against Goudie said that his company had completed
extensive research into how the US$300,000 had been spent.
"He spent less than 1 million baht (US$30,000) from our
estimation. How do we know? Goudie's
legal team, who have left him have been very helpful."
Of that million baht some 70,000 baht was spent on two
lawyers, some 50,000 spent on police, and some 350,000 spent on compensating an
alleged victim, said Sutham.
Goudie has been ordered to surrender to Pattaya Provincial
Court in February to go to trial for cheating Mrs. Fanelli Miller.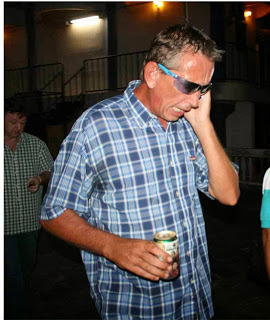 Ian Tracy 'Mercy Centre' Prison Visitor
Mrs Miller, now 76, told from the U.S. how she travelled to Thailand after speaking to Goudie, a British lawyer
who promised he could help.
She said she was met at Suvarnabhumi International Airport
by Briton Ian Tracy, who was a volunteer prison visitor for the 'Mercy Centre'
in Pattaya.
She told how she was put up in a room in the Jaggy Thistle,
where Tracy also lived and Goudie gave her a 100 per cent guarantee that she
would be able to take her son back home.
Mrs Miller did not explain how that was going to be done,
but Goudie said that it was just a matter of talking to the right people. The
costs however would be expensive.
Laws suits claim that Goudie milked her for almost everything she was worth.
It transpired that Tracy had obtained for Goudie a number of
clients from Nong Plalai Prison, Pattaya, including Ulster drugs trafficker
Jimmy 'Doc' Halliday, and a Briton wanted for murder in Spain.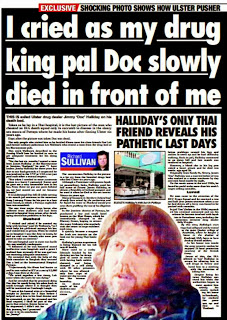 Jimmy Halliday
His policy was to ask for their land title deeds in lieu of
payment or as a guarantee against payment.
In the case of Halliday he secured a power of attorney
shortly before he died in hospital under prison guard of necrotising fasciitis,
a flesh eating disease.
This was ostensibly to pay his fees and the hospital
bill. He paid the Bangkok-Pattaya
hospital just one million baht of a two million baht bill, sold Halliday's 2.5
million baht condo in a complex called View Talay 2, and re-assigned the deeds
of the 'Jaggy Thistle' pub to himself and to his cash receiving company Ramidin Co. Ltd., which has an identical company with an account at HSBC in Hong Kong.
What Barbara Fanelli Miller did not know was that Brian
Goudie was not a lawyer but a former convict.
Under the name Brian Goldie he
been jailed in Australia for 'stealing as a servant' and given three two year
prison sentences – two to run consecutively.
An Australian Appeals Tribunal to whom he had applied for
residency rejected his application and in the judgment he was described as a 'person
not of good character'.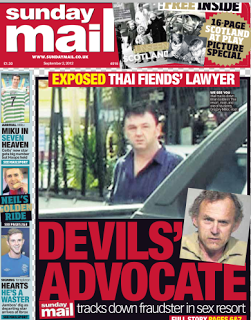 Two witnesses, a wife and an ex-girlfriend testified as
to his dishonesty. His wife June Weiss
said: "He considered honest people to be stupid".
Both women said he had confessed to a fraud on the Royal
Bank of Scotland for which a warrant for his arrest had been issued in 1994.
The warrant has since expired. His alleged co-conspirators also fled to
Australia.
On his legal website today Brian Goudie, who is out on bail
on charges of pretending to be a lawyer and also a former Captain in the Royal Marines in charge of 120 men, to obtain pecuniary advantage, plays
down his role in the Miller affair.
He has already admitted in court he does not have any legal qualifications.
He states: "When Barbara Miller revealed to lawyers a long
history of mental health issues and previous treatment with drugs designed to
chemically castrate Greg Miller, it is alleged the relationship with lawyers
turned sour, who had allegedly advised Miller to plead guilty as part of a plea
bargain arrangement – which he refused to accept".
He does not say who makes the allegations.
But he said that he was horrified at the sex abuse crimes of
his client thus breaching the most elementary legal ethics.
He has also recently taken to claiming that he did not want to do the bidding of Miller's elderly mother. He suggested that it was she who part of a ring supplying cash to get paedophiles out of jail in Thailand.
However a resident of the Jomtien Complex, Pattaya, close to the 'Jaggie Thistle' said: 'She was like a duck out of water. She was very frail and always had a worried look on her face. She looked like she did not know where she was."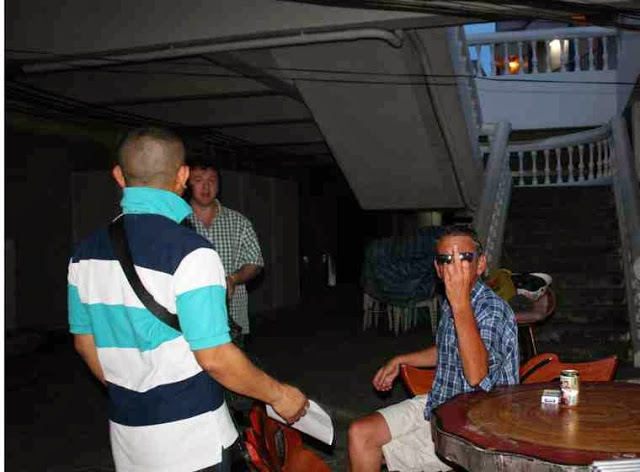 Ian Tracy gives the gives the finger as he is waiting to be taken away from Jaggies Thistle to be jailed for child sexual
offences. However Goudie's partner at the time 'Nang' claims Goudie tipped off police because
Tracy's monetary demands were getting excessive
What Mrs Miller also did not know was that his own 'client scout' Ian Tracy was a convicted
paedophile – and was actually living on his premises when police raided the
Jaggie Thistle early this year. Tracy is
now serving four years in Nong Plalai prison for offences against young boys.
Thai Police could do not worse than interview Ian Tracy in Nong Plalai Prison.
After the arrest Goudie insisted that both of his clients were
innocent unless proved otherwise. He
only started referring to Miller as a 'depraved' child abuser after legal
proceedings were began against him.
As far as I am concerned I have no criminal record in Britain and the Procurator Fiscal who dismissed the case against me will confirm that. He is sending me a letter to say just that.
"I am in Thailand on a legal British passport and I have built up a good and reputable business".
He admitted that he had taken the 'Jaggie Thistle' and an apartment from Jimmy 'Doc' Halliday before he died.
"But I paid for him to get out of prison and into hospital to save his life. He was a man who did not have a reputation for paying his bills. You would do the same.
As for Ian Tracy he said: "I had absolutely no idea that man was on charges of sexual abuse of minors. If I had known he would not be allowed near my place".
Initially he said he would pay the money back – but Goudie
was just playing for time – something the Thai justice system has given him so easily.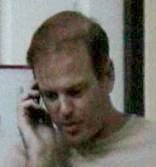 Miller
Miller was found guilty of 13 cases of child abuse involving three boys. He is understood to have had a record of child abuse in the United States and had been ordered to receive counselling and medication in the past.
Mr. Sutham said: " It would appear that police were upset by Goudie's behaviour. They put extra charges on Miller which we were able to have dismissed. But by the time we got involved the damage had been done – a lot of it."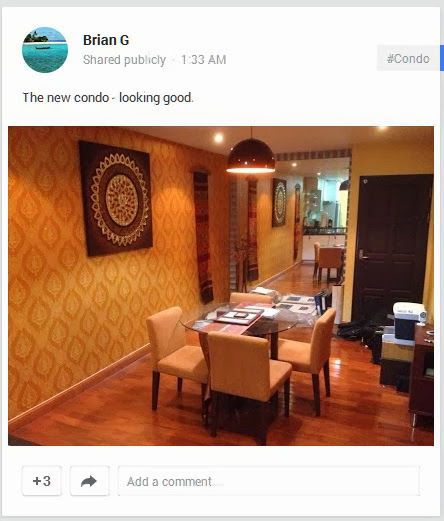 Comment: Utilities now cut off from this apartment which he tried to obtain in lieu of extravagant
barristers fees
Goudie looks like he is planning to move. He is trying to sell the 'Jaggy Thistle'in Pattaya and Bang Kao Bay Residences on Koh Samui. He claims work has started on Bang Kao Bay – it hasn't.
The two properties were both acquired in a very questionable way – in his role as a British barrister.