BRIAN GOUDIE'S DAY OF RECKONING LOOMS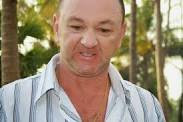 Brian Goldie, who resurfaced in Thailand posing as a barrister and former officer in the Royal Marines after a six year jail sentence for theft in Australia, is due to face judgment tomorrow for posing as a lawyer to cheat a 78-year-old American woman out of 7.8 million Thai baht (US$217,983).
Goldie, who has changed his name to Brian Goudie, also faces arrest at Pattaya Provincial Criminal Court, for fraud on two British clients and one German client of his pseudo law firm Alba Laws.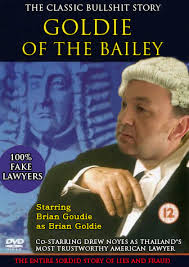 He is not expected to turn up for the judgement. In a sms sent recently he stated: 'I won't be here anyway. Miller case either finished or settled and I am gone'. He had tried to negotiate with the plaintiff's lawyers.
The plaintiff is Barbara Fanelli Miller, aged, 78, of Madison, Wisconsin. Recently she emailed this site in relation to the Thai justice system.
"With my broken heart, and trembling hands I write this. My only son is gone and I loved him tremendously. I can fight no longer. Nothing will bring Greg home.
To save myself, I have to be done with this nightmare and try to focus ahead for me and it is what Greg would want me to do.
I can fight no longer. The pile of injustice in Thailand and the FBI from America is way too high for a 78 year old lady to cope with. I have been over my head for a very long time and I'm exhausted from treading water."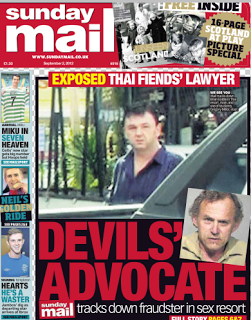 Her son Gregory Miller died while in custody of a long term heart condition.
A school teacher on the Eastern Seaboard he had been accused of child sexual abuse in a controversial case and one of two brought to the attention of the US Department of Justice. The FBI was also involved in the background to the arrest.
Goudie, from Falkirk, West Lothian, is accused of pocketing bail money and extortionate monetary claims for his legal expertise.
He also faces trial for fraud on the two Brits and German who asked for his services to help them in a property dispute and is accused of embezzlement.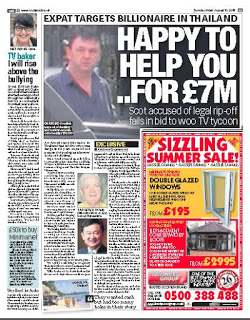 GoudIe has also been linked to a property scam on Phuket and an attempt to scam American business man Bill Monson, former business partner of former Thai Prime Minister Thaksin Shinawatra out of of 7 million Thai baht.
And he is also due in court next month on 'revenge porn' charges brought by a former assistant and girlfriend.
Goudie, who set up internet blogs and Facebook pages to attack former clients and current enemies, has closed down his Facebook page.
His colleague Drew Walter Noyes, who also arrived in Thailand falsely claiming to be a lawyer has 'gone'. He is in the United States and says he will return to hear the result of an appeal and a two year jail sentence for extortion.
However he is selling his assets in Thailand and has repeatedly stressed on the net how his four children need him in the U.S. where he is commuting between Knoxville and Jefferson City, Tennessee,