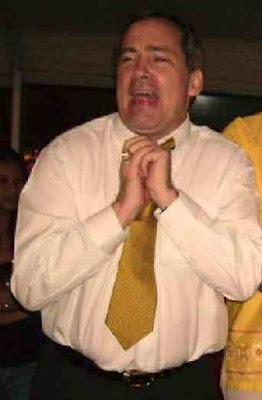 Drew Noyes, the fake American lawyer convicted of extortion while running a newspaper in the Thai resort of Pattaya today failed to surrender to bail which was granted to him to take his children to the United States.


#DrewNoyes, who is appealing a two year jail sentence for attempting to extort Michael Goulet of the Thonglor Clinic, Jomtien out of 7 million Thai baht – on pain of a police raid and bad publicity in his Pattaya Times newspaper – is due to hear the result of his appeal next Friday.
Another hearing will be heard at Pattaya Court tomorrow which his lawyer had been ordered to attend.
Noyes' lawyer is expected to claim that he has had difficulty settling his children in the United States. He is reported to have successfully moved three of his four children by his first marriage to Nittaya Chaisit.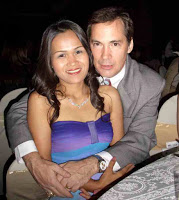 Noyes-Nittaya
The fourth, a daughter is reported to have runaway to Bangkok– and today he tweeted that two other children by his common-law wife Wanrapa Boonsu (also convicted and sentenced to two years in jail for extortion) were 'now international'.
But that still leaves four children behind in Thailand. One by Nittaya, one by Wanrapa, one by Anchalee, a former worker as his One Stop Service Centre – and one allegedly by Nittaya's niece.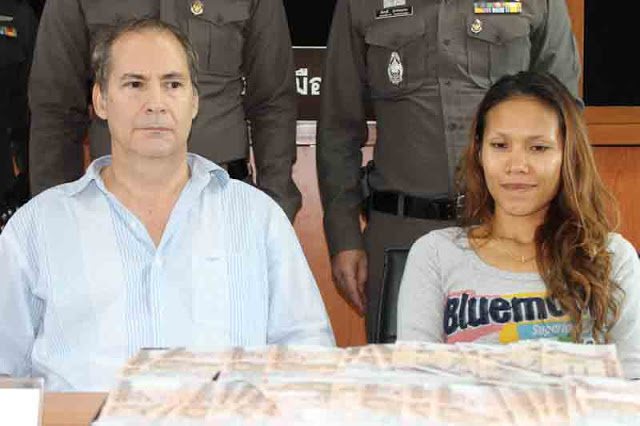 Noyes and Wanrapa under arrest
It's speculated that Noyes will not appear next week when, if not issued tomorrow, a warrant of arrest will be signed. The court will delay the hearing of the verdict for a month.
If the Appeal court confirms his guilt he is not expected to return.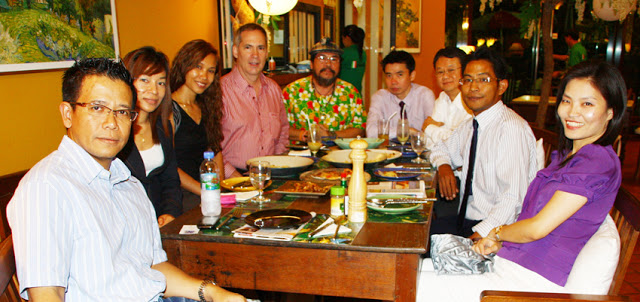 Noyes and Wanrapa dining with judges in Pattaya
Noyes was exposed in the United States for alleged property and share fraud and sexual harassment by the Wilmington Morning Star. He arrived in Thailand pretending to be a lawyer and financial expert and by royal proclamation had come to help the Bank of Thailand and the country out of a financial crisis.
He had told Pattaya Court he had never been to jail and was never going to jail.
Comment: He was using a little poetic licence there
With military at Bangkok airport