HOUND DOG?
Flying Sporran's Social Diary
Congratulations are in order for Colin de Jong, well known philanthropist in Pattaya, Knight of Rizal, columnist on Pattaya People and close friend of former Copenhagen gangster turned media mogul and Police Volunteer Chief Niels Colov.
His daughter has just found the father she never knew.
The Canadian papers and the Huffington Post are running with the story that Melanie Dedoro went on a social web search for her father using #ceesdejong – his real name.
Within days they were talking on the phone.
She said she and her family are hoping to head to Thailand in August to cap off what she describes as a "truly surreal" experience.
I guess it will be. Melanie, 46, has a son aged 27, her dad has a daughter aged 2. She can also join in a singalong.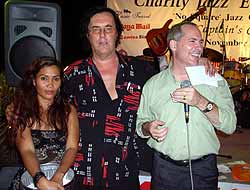 That's Pattaya for you. Colin (Cees) has escorted Colov and Drew Noyes to Angeles City in the Philippines, Asia's second most popular sex tourist destination. Noyes however was not allowed to go on a recent trip due to the fact that he has been convicted and sentenced to two years jail for extortion.
What's more Colin de John has been knighted by the Thai government. according to a Dutch crime website.
"De Jong was knighted by the Thai government for its commitment to charities such as orphanages, childcare, assistance to foreigners who in one way or another into trouble hit. 'Sir' Colin is considered great expert in the field of the 'shady world' in the Land of Smiles" – Google Translate from Crimesite Camilleri
Its a funny old world.
(left) Colin de Jong with Drew Noyes and Wanrapa Boonsu, both convicted of attempting to extort 7 million baht out of the Thonglor Clinic while running the now defunct Pattaya Times newspaper.