-Flying Sporran's Weekend Diary-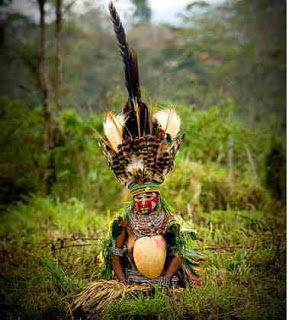 Unhappy TrueMove customer?
Just had an email from what appears to be one of the remotest provinces of Papua New Guinea where apparently the tribes are getting restless.

It comes from Sandaun Province – pronounced Sundown – and it's a complaint about True.
The writer clearly wants somebody's head.
By the time I have reached the second paragraph I'm thinking – 'Oh no. These poor guys are sitting in their long house in the tropical rainforest and they have subscribed to True Satellite TV and have just found out that it doesn't work in the rain!'
True don't want to meddle with this lot.
Anyway then I read that my PNG friend had won US$3 million in a True Move lottery and the penny dropped.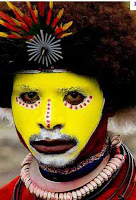 Show us the money!
Would True, who run one of the world's most expensive cable channels, and whose directors act as if they wouldn't be seen dead giving a tical to a Klong Toey beggar, be handing out cash like this?
Wait a minute TrueMove is the mobile phone arm. But Nah.
Its not even worth making the call. This is a typical 419 scam*.
Nobody in Thailand is going to fall for this scam. But I guess people who have never heard of True Move and just looked them up on the net might just do.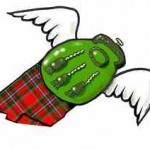 This is all a bit sad really. No not so much that some Bangkok based Nigerians or Ghanaians are now inflicting the old 149 scam on Papua New Guinea people in the former West Sepik, but that they have mobile phones and the internet in this province.
Westerners I thought are quite rare there (No, I'm not referring to how they're cooked).
I had chosen far flung parts of Indonesia & PNG as the final places to travel, which would not already have been trashed by the 20th and 21st centuries.
It's obviously too late.
Sad. Borneo's already gone. The first time I was in Borneo it took four days of boat travel to conduct an interview with the Penan. I went back four years ago and did the trip in 3 hours on a logging road.
But obviously The Flying Sporran cannnae let this plea from yon clan oer'seas go unheard.
So below in pictures from 'Steve', a native of Sanduan who has a Blackberry, is the True Move scam.
(Papua is one of the few countries in the world alongside Thailand which does not officially have 3G yet , or do we this week?. But the local Digicel company has been rolling it out anyway and has the Digicel Foundation which funds clinics in the highland tribal areas)
First you are told allegedly by True Move that you have won US$3 million. The logos are all copies of course.
Then you get a certificate from them saying they have authorised the Standard Chartered Bank to release the money, ahem, under the Thai Monetary Units Regulations Act 1988 and Fund Release Operation Order of the FSA!
.
True Move is apparently working with the scarecly credible Financial Services Authority of Thailand!
So then you get this rather ornate form with the garuda from the non-existent Thai FSA in which you are asked fill in enough personal details to be of value and go on somebody else's list.
(That's the logo of the British FSA on the top left of the document and reproduced below)
Then you get a letter promising you a trip to Thailand at their own expense (when funds have been transferred of course – to them)
And finally the sting – you have to send some £1000 or 49,624 baht, oh plus 12 satang, to pay to clear your money.
Mavisa Sodagul should not be confused with Mavisa Sodagul from Buri Ram on Facebook cuddling a teddy bear. Well, maybe she should, as a poster has already pointed out below. She has three Nigerians Facebook friends and one Facebook friend from the Cameroon.
For more about 419 scams click here