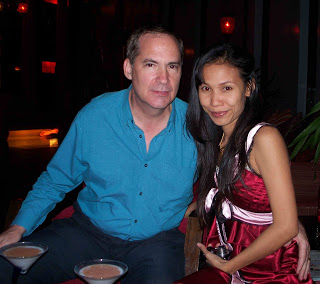 Drew Noyes- Wanrapa Boonsu

– COUPLE ON BAIL FOR EXTORTION POCKETED 'THAI WIFE'S' PAY-OFF – CLAIM.


Drew Noyes and Wanrapa Boonsu- the controversial couple behind the Pattaya Times newspaper and a supposed law company in Pattaya called P.A.P.P.A have been accused of swindling another foreigner out of 2.5 million baht while they were on bail for attempted extortion.
Legal action is being taken against them by Dutchman Theo van der Schaaf from Alsmeer – the Netherlands famous flower city – who smelled something very bad when he started dealing with P.A.P.P.A Company and the famous duet.
'I don't want gangsters – if I wanted gangsters I would have hired credible ones'
Mr. van der Schaaf claimed that he had to cancel services after Noyes legal team acted like gangsters. He said if he wanted gangsters he would have hired credible ones.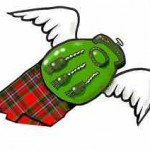 Mr. van der Schaaf had employed the services of Drew Noyes, who together with his common law wife Wanrapa is on bail in the sum of 200,000 baht on the extortion charge, to settle a dispute with a former Thai girlfriend in whose name he had bought a house and who appeared to be reluctant to allow him to sell it.
'Put the property in my wife's name' – Noyes
He had asked Noyes'office to mediate with the woman. He said that Drew Noyes in turn advised that, should she not agree, he should take a civil action against her to reclaim the house and a criminal action for assault. Mr. Noyes also suggested that van der Schaff put the property in a trust with him or his wife Wanrapa's name for safekeeping!
Mr. van der Schaaf , owner of Lazy Daze bar in Hua Hin, said he handed over 400,000 for the job from start to finish, including court cases. Later at the request of Wanrapa Boonsu he also transferred another 2.5 million baht to the P.A.P.P.A bank account from his account in Hua Hin to compensate his girlfriend and pay for land office fees. He had also instructed Noyes to sell his pub. .He told Noyes to act diplomatically and Noyes agreed to provide weekly updates.
He kept records of his cash transfer.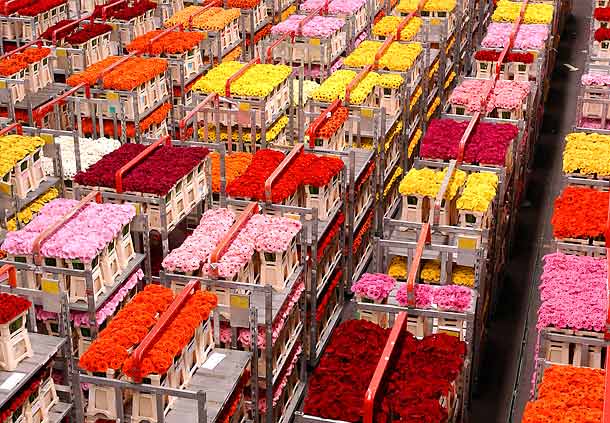 Flower market at Alsmeer- the 'world's flower capital'
But says Mr. van der Schaaf – not only did Drew Noyes' team fail to negotiate. They also did not offer the woman the cash and they have refused to return it afterwards.
Noyes sent a team of three to Hua Hin, a lawyer and two men claiming to be off duty Pattaya policemen, the woman said and they threatened her.
Such was their behaviour, she claimed, that she called the local police on them and they were forced to leave. Later a P.A.P.P.A lawyer lodged criminal and civil cases against her in Prachuap Kiri Khan court.
The woman was last week interviewed by the President of the Federation of Thai and Foreign Spouse Networks who called to mediate after the P.A.P.P.A fiasco. The Federation has experience in mediating between mixed marriage couples and partners.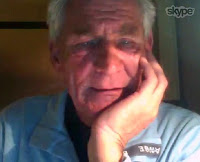 Theo van der Schaaf
The woman claimed that she would assist Mr. van der Schaaf in selling the house but she thought he was being naive dealing with local foreign property developers who would cheat him.
Said Mr. van der Schaaf: "A very delicate situation was made worse by these people who appear to have behaved like gangsters. I had to get the cases cancelled and I had to do this through my ex-girlfriend's lawyers because I was getting nowhere with Drew Noyes.
"I went to the Thai Embassy in Amsterdam to get my revocation of my power of attorney to Drew Noyes' lawyer notarised.
"When I asked Drew Noyes to return the 2.5 million he put down the phone on me. He has not taken calls, and has not replied to many sms's or emails I have sent him over two months."
"The only thing he has threatened to do is to claim he has withdrawn a block on my ex-girlfriend selling the house. That is obviously some sort of threat that he would make her free to sell the property."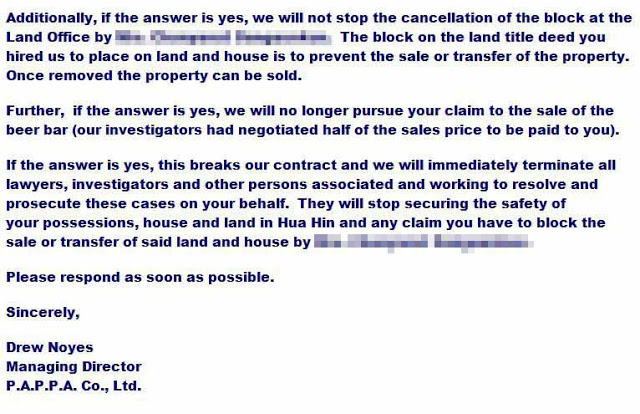 A scarcely veiled threat for saying 'Yes' to the question could he confirm he no longer wanted Noyes services
Below is the agreement signed with P.A.A.P.A which is registered not as a law firm but as an accountancy business. Theo van der Schaaf has no agreement in Thai. The name of the ex-girlfriend has been removed as the dispute has not been finally resolved.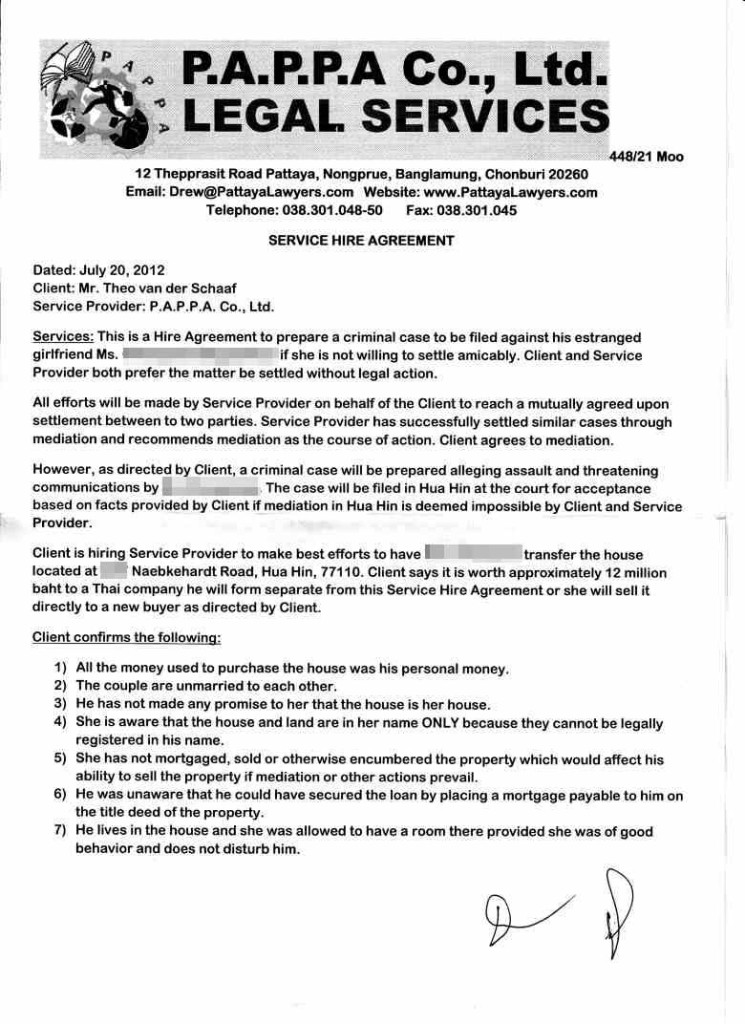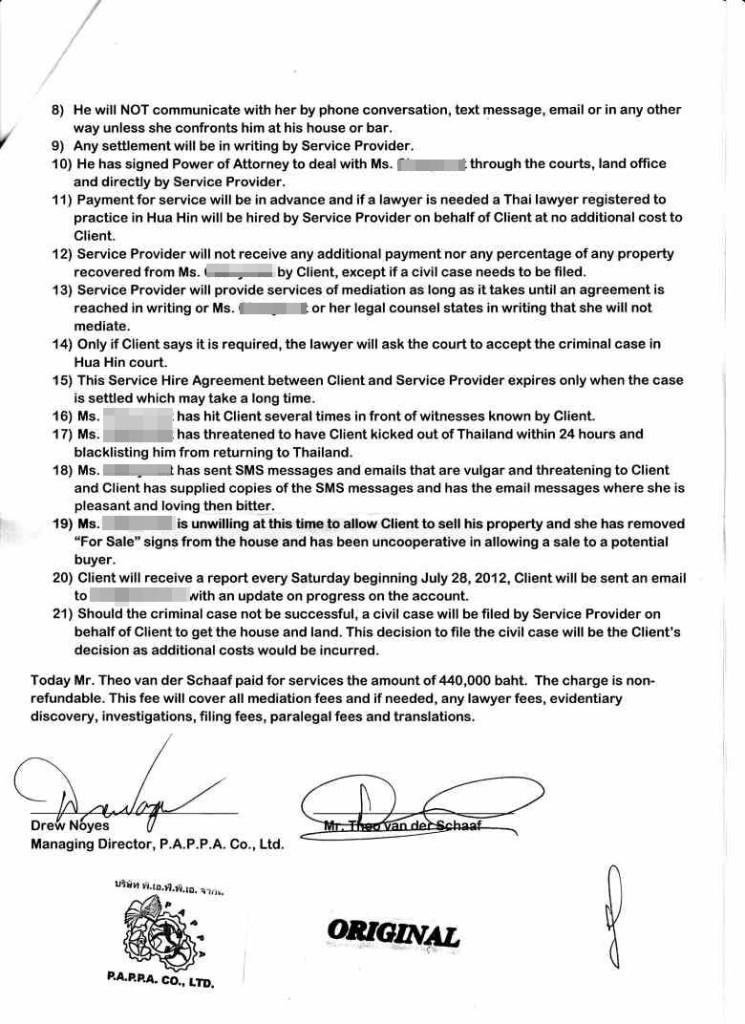 "Unfortunately I found out about Drew Noyes too late,"said Theo.
After having received no communication with Mr. Noyes for the best part of two months on Sunday he sent the email below to Drew Noyes at his now famous gmail address and at pattayalawyers.com. He also copied it to this site.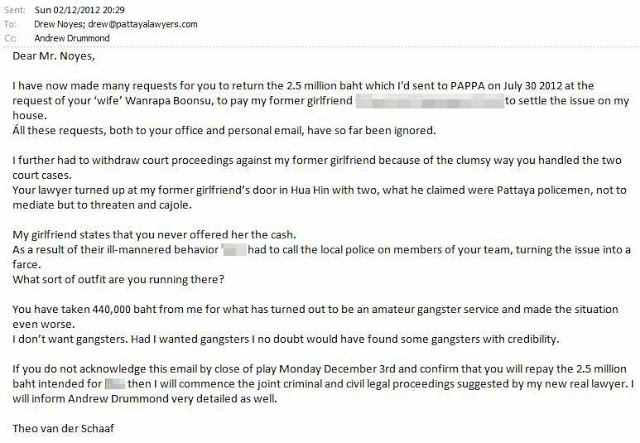 Drew Noyes has ignored the ultimatum. But he confirmed receiving it because this is the odd reply he sent Mr. van der Schaff yesterday headed 'Preparing our reply' as in, er, What do we say?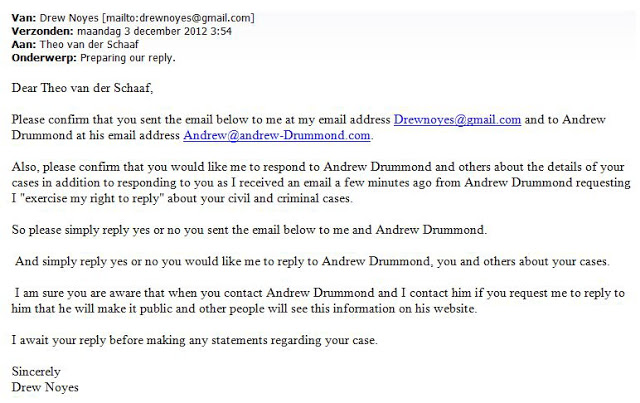 This is very strange as a top official of the Ministry of Information and Communications Technology has already testified in Pattaya court that the email address drewnoyes@gmail.com is functioning perfectly well and was indeed used to post a message on the internet libeling a Pattaya businessman (see below) and incidentally many others threatening the 'Flying Sporran'
Further I did not ask him about the criminal or civil cases. I asked him why he was not returning Mr. van der Schaff's money.
Mr van der Schaff of course replied that Noyes should stop prevaricating and he should explain why he has not returned the cash. Mr. Noyes has not. Nor has he excercised his right of reply. He would not be in breach of client confidentiality to give a reason as to why he has not returned the cash.
Drew Noyes and Wanrapa Boonsu stand trial on February 5th next year on a charge of attempting to extort the Thonglor Clinic, Jomtien out of 7 million baht on pain of bad publicity in the Pattaya Times.
Drew Noyes is expected to take the stand next Monday December 10 to defend himself on a charge of libelling Andre Machielsen, a Thai citizen of Dutch birth. Its alleged that Noyes called Machielsen, a well known seasonal Father Christmas, of being a drugs dealer.


Background
Drew Walter Noyes arrived in Thailand in 1998 after he was exposed in the Wilmington Morning Star in Carolina Beach, NC, as a man of 'myriad lies'. The newspaper reported that that a case had been brought against him for share fraud (judgment now issued for US$72,000) and that he was being sought by a local businessman for the return of US$80,000. There were also a number of cases lodged against him in North Carolina in relation to assaults on women and a sexual harrassment case in California. His name was also removed from the National Futures Association.
With his cash he invested in beer bars in Pattaya called the Lollipop and Zebra where he was involved in a controversy regarding the sales of these bars. It was at this stage and with the help of a friendly official he found Thai libel laws useful to bring charges against his first complainants.
Shortly afterwards he flooded the internet with less than credible biographies of himself and he began describing himself as the most reassuring professional credible American businessman to have set foot in this land and started the Pattaya Times newspaper and P.A.P.P.A Co. Ltd.. announcing that he has spent 14 years in service to the King of Thailand.

By donning a suit, organising a law seminar, and having his picture taken with police, city officials, and even the US Ambassador he appears to have convinced local dignitaries that he was a man of substance.
Complaints started flooding in about his business activities but other media in Pattaya did not touch the story.
This site however has consistently highlighted his activities. His biggest blow came earlier this year when he was arrested for attempting to extort the Thonglor Clinic, Jomtien out of 7 million baht.
His ex-arch enemy turned friend and colleague Niels Colov of the Pattaya People and leader of the Foreign Police Volunteers has stated that he believes Noyes will get off the current charges. The cast will be a test of Pattaya justice. He has also been supported by George Anderssen of ThaiVisa.com the most popular public forum in Thailand who will not allow warnings about Noyes on his site.
Mr Noyes now works closely with Americana Phillip W Venne,described as the Managing Director of the One Stop Legal Advice Center, and Jerry Weinerth and Australian David Hanks,. All these men appear to have business cards describing themselves as advisors.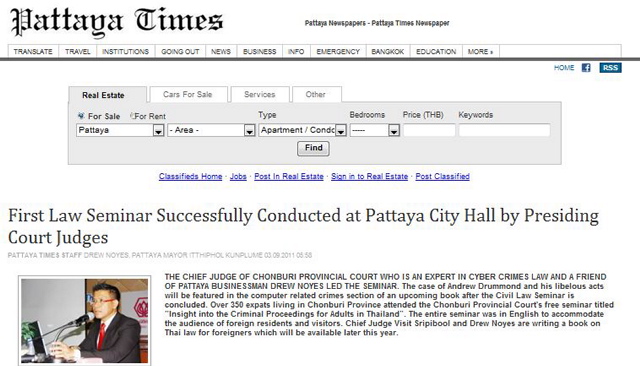 Drew Noyes has claimed that together with the Chief Judge of Chonburi he is writing a law book which will also expose the libels of Andrew Drummond. Needless to say that is also not true.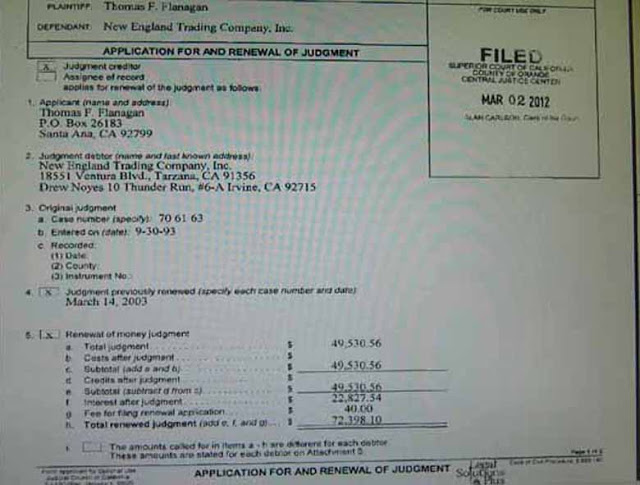 Seeems there is a queue for Noyes' cash. This judgment in favour of Tom Flanagan whom he sold US$25000 worth
of bogus shares to is now for over US$72,000. Right now he is reported to be putting his money in a 'Gentleman's Club' and guest house!
A Flying Sporran Legal Advisory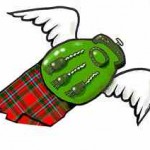 If you have brought a property in the name of a Thai girl friend or wife do not bring criminal charges against her for assault.
Unless you have multiple witnesses you are unlikely to win and your fight for your property will take an even more calamitous turn.
Never do package deals like this for legal services or pay 400,000 up front to ANY lawyer without other professional advice.
Never employ a lawyer on the recommendation of just one person. Always google. Always ask around. While many lawyers speak English do not fall into the trap that that is a sign of honesty.
——————————–


Finally – in case Mr. Noyes refuses to acknowledge registered letters as well here is a letter sent to him by the lawyer representing Mr. van der Schaaf.