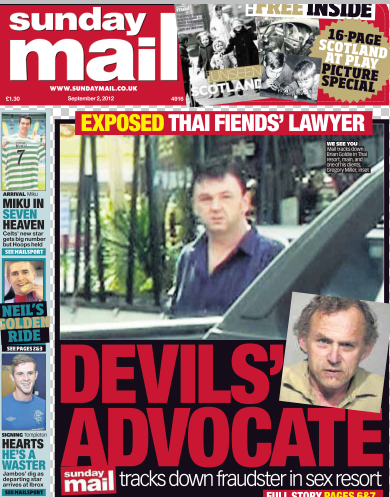 Fake barrister Brian Goudie went truly on the run yesterday after not unexpectedly failing, despite his promise, to surrender to bail for defrauding an American woman out of US$300,000.


In a day fraught with angst for the 47-year-old con man from Falkirk, Scotland, who has been posing in Thailand as a barrister and former officer in the Royal Marines, Goudie fled Pattaya – after the Managing Director of his pseudo law company Alba Laws was taken into custody.
His own lawyer left first having to tackle a case in Chiang Mai – but 400,000 cash was later raised by friends of Supanya Worakam, the Thai woman he put in as his company boss.
Goudie fled as lawyers for 75-year-old Barbara Fannelli Miller filed a special objection to bail.
Meanwhile another warrant was issued for his arrest for defrauding a Briton whom he was representing in a case against a British Pattaya property developer.
It is alleged he also defrauded the Briton out of 400,000 Thai baht and kept cash the court had awarded his client.
Goudie will be arrested in Koh Samui if he turns up next Monday to bring a case against Andrew Drummond for libel – by publishing photo-shopped pictures of him on this site.
As he went on the run Goudie continued to blog furiously away on the net. He claims he will be filing legal cases against Andrew Drummond and associates for providing false information that he went on the run from Scottish police for an alleged fraud on the Royal Bank of Scotland. He even said he will be suing Barbara Miller.
He carries a piece of paper around with him from the Procurator Fiscal in Scotland saying charges against him were dismissed.
This is indeed true because the case, which dates back to 1994, timed out and neither Goudie nor his alleged conspirators returned to Scotland from Australia to face charges – and the Australian Appeals Tribunal ruled that Goudie was not a person of good character, by doing so.
Andrew Drummond, currently in Phuket, said: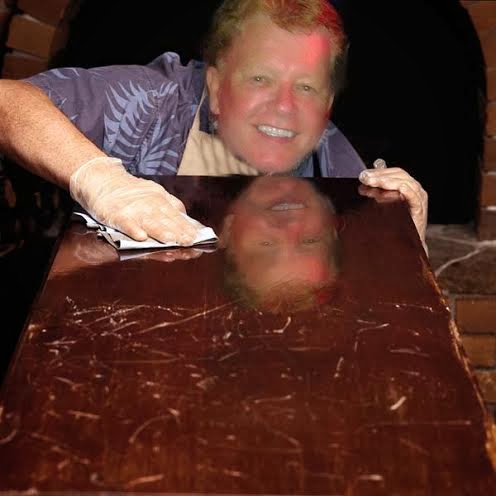 Hanks furniture repair
"Goudie is showing all the characteristics of a cornered tiger, or perhaps rat. He is lashing out with nowhere to go. I would expect him to head for one of Thailand's borders.
"Ï understand the investigation into him has led authorities to start examining not only the status of his work permit but also the structures of his companies and tax matters, and that this process is continuing into the status of his colleagues, former Melbourne brothel owner David Hanks and Drew Walter Noyes, the former publisher of the Pattaya Times and now joint owner of One Stop Legal Services in Pattaya – who is currently on trial for extortion.
"If that is true they will find a can or worms."
Fellow Scot Hanks, from Girvan, now claims he runs a furniture repair business.