FAMILIES SMEARED – AS INVESTIGATION DEEPENS INTO KOH PHANGAN DETOX DEATH.
American Ibogaine Dealers Seek Mystery Syringe


Thai Police from the same command which investigated the two Burmese charged with the murder of Britons Hannah Witheridge and David Miller on Koh Tao appear to have mislaid a vital statement on the alleged unlawful killing of a young Australian man on neighbouring Koh Phangan.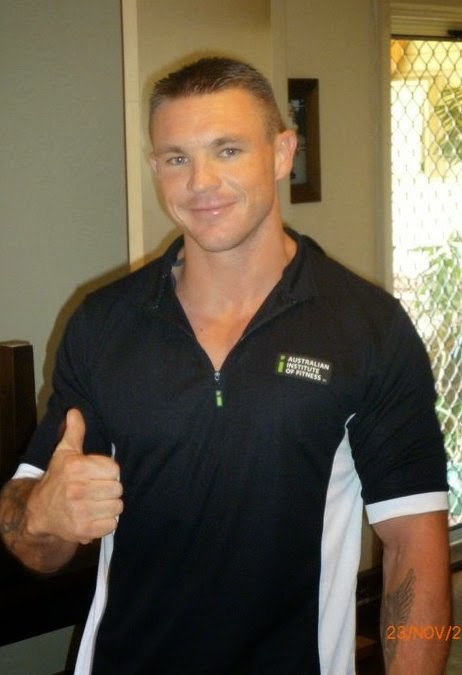 Brodie Smith
And the families of Brodie Noel Smith, 33, and Kara Spark, 26, who underwent treatment with the West African tribal hallucinogenic drug Ibogaine have been subject to abuse after they complained Brodie died after a detox treatment went badly wrong.
Police recorded the fact that Brodie from Mandurah, West Australia, caused his own death by shooting himself with up with 'narcotics' in the Utopia Resort on the island famous for its out of control 'Full Moon' parties….and that is the conclusion they sent in documents to the Australian Embassy in Bangkok.
But what they did not even mention was a statement written by Brodie's fiancée Kara Spark, who told police that Brodie died after being administered with Ibogaine mixed with pills in a drugs programme run by American's Victor Cracknell and Michael Picone, from Buffalo, New York with no medical supervision.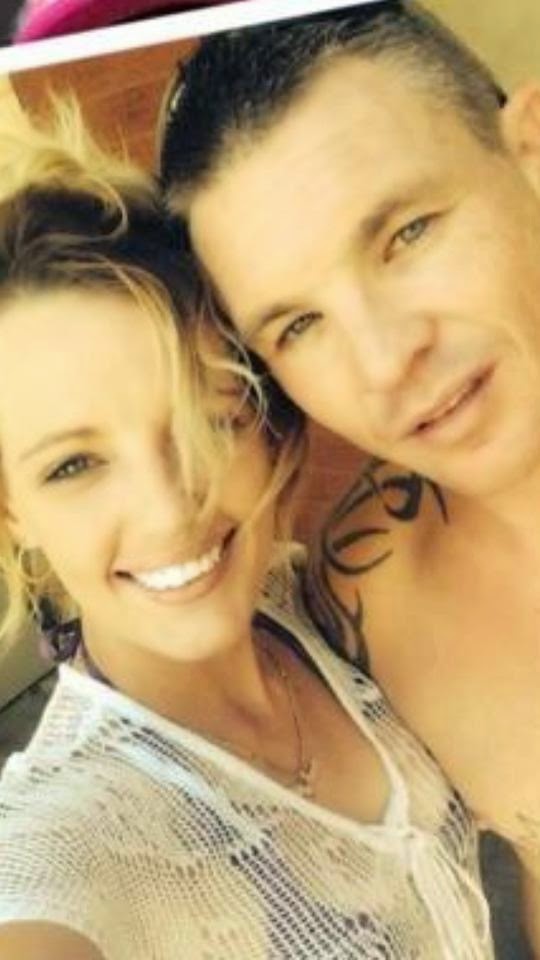 Kara and Brodie
On the contrary Thai Police claimed that Kara had said her boyfriend had injected herself.
Today DFAT – Australia's Department of Foreign Affairs and Trade confirmed to Brodie's mother that while police had sent them certain documents – Kara's statement was not one of them.
Nor did local police even mention Kara's claims in its report to the Embassy.
At best its lazy police work. At worst its a deliberate cover-up.
Cracknell and Picone were running what they falsely claimed was a detox company on the holiday island registered to the Ministry of Health.
They had even put a version of the Ministry's logo on their website ibogainethailand.net. The Ministry of Health knows nothing about the programme – and neither apparently do island police.
Cracknell told police that he found Brodie was already dead when he called at the Utopia Resort on October 21st this year to take his friends Kara and Brodie on a tour of the island.
He heard Kara's screams first, and found that Brodie had died by shooting himself up with drugs in the bathroom in Room No. 4. A syringe was produced to the police, he said.
But Michael Picone confirmed to Lindsay Murdoch of The Age and Sydney Morning Herald that Brodie was on the island to be treated by them with Ibogaine in Room 4:



"Brodie was coming to fight a methamphetamine addiction.
"Brodie Smith actually died in his hotel room. He overdosed from injecting illegal narcotics that he smuggled into Thailand from Australia before his scheduled Ibogaine session could take place.
"After he died his girlfriend Kara produced a freshly used syringe and gave it to the police as she was reporting to them that he had shot up in the shower and overdosed."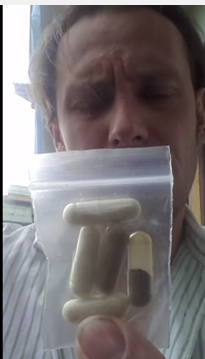 Client with Ibogaine at Utopia
Resort
Kara Spark emphatically denies ever seeing a syringe, let alone reporting to police that her boyfriend had shot up in the shower.
And if there was a syringe it should of course have been examined for traces of narcotics along with Brodie's body.
Brodie is recorded as having a heart seizure after taking narcotics. But there is no police report or medical report on the type or narcotic.
Kara, also from Mandurah, West Australia, claims she was hysterical and refused to give a statement to police on Koh Phangan on the day of Brodie's death.
She said she fled by boat to the neighbouring island of Koh Samui still under the influence of the drugs, pursued by Michael Picone.
She claimed Picone tried to book her into a clinic rather than the Bangkok-Koh Samui hospital as he did not want the hospital authorities to know what had gone on in Koh Phangan.
But after four hours she said he relented and she was finally admitted to the hospital's ICU.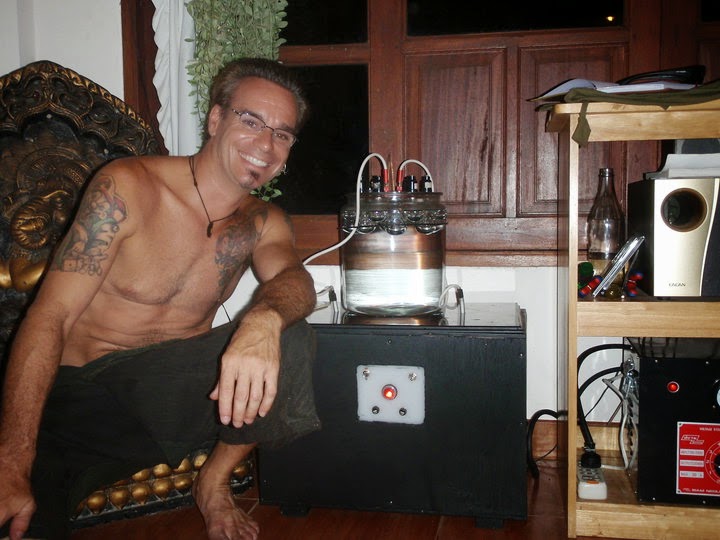 Picone with a machine for making colloidal gold/Facebook
A statement from from Kara's mother Rachael Dewick who flew to Koh Samui immediately to pick up her daughter also implicates Michael Picone in attempting to cover up the death.
She said: "I met Mike Picone at Koh Samui airport with Kara. Picone told me Brodie's death must be covered up. Ibogaine was illegal and they would all get life sentences."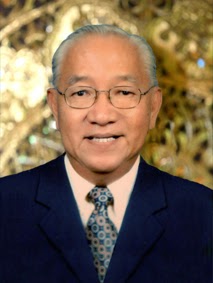 Kenneth Chung
He referred to three life sentences for Picone, Cracknell and Brea, an American woman who was part of the Ibogaine team.
But critically on October 24th, with the Australian Honorary Consul Kenneth Chung present as both a witness and interpreter Kara made a statement to Police Lieutenant Wiriyapon Srinuanpan of Koh Phangan police.
In the statement she described how she arrived with Brodie on Koh Phangan on October 20th on a Bangkok Airways flight from Phuket.
Both checked in to the Utopia resort and they slept before waking in the morning and both taking showers. Victor Cracknell called at about 7.40 am and shortly afterwards administered them both with the drug they believed was Ibogaine. They took two pills each in capsule form.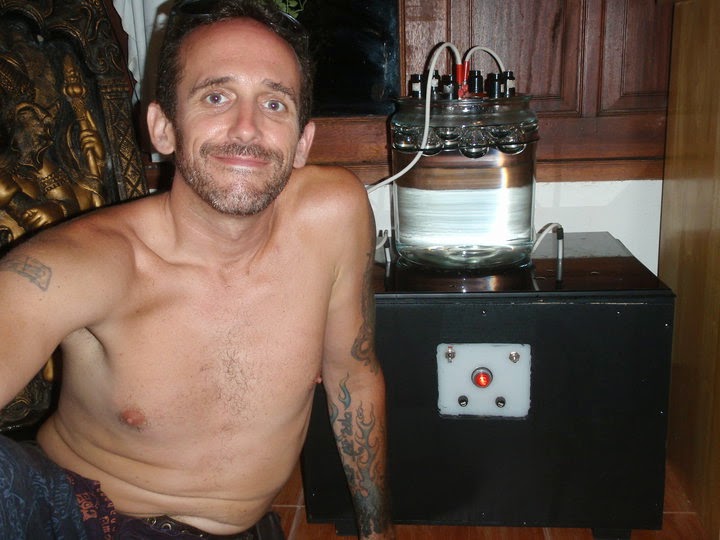 Victor Cracknell/Facebook
Later at about 8.30 am Victor gave them two what he described as anti-nausea pills.
Then again about 9 am he gave them both more Ibogaine capsules. Kara took four. Brodie took five.
Both were then told to cover their eyes with their clothes and lie down.
She said she lay down until about 11.50 am. At this time Victor gave Brodie two more capsules of the anti-nausea drug, which she now believed to be valium.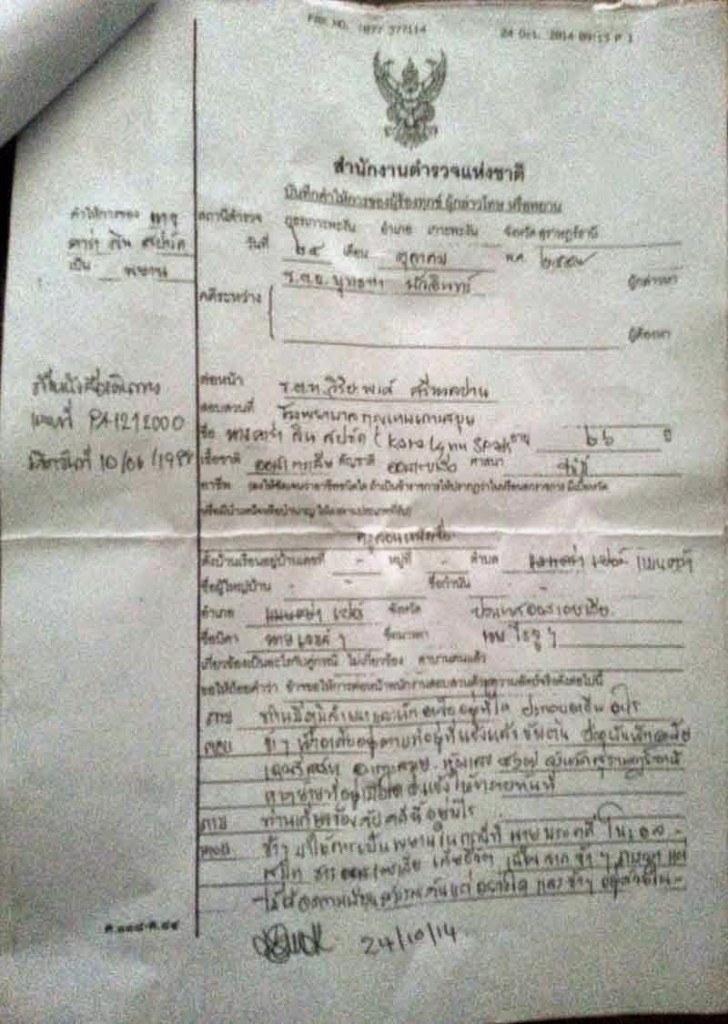 Page One of Kara's statement
" Subsequently at about 12 am I saw that Brodie was unable to breath properly. Then he lay down and was breathless and unconscious. I tried to call him and grabbed his arms and legs, But he was unconscious. He had no senses."
Cracknell, she said, claimed he was not dead but she did not believe him and insisted police were called.
Asked what she believed was the cause of death, she said, a combination of Ibogaine and the extra pills, which she believed were valium.
Since this death was exclusively revealed here it is clear that extensive misinformation has been distributed in the social media attempting to defend the two Americans and discredit the families of Brodie Smith and Kara Spark.
Just as locals put out a story on Koh Tao that Briton David Miller was killed in a jealous rage by his gay lover – attempts have been made to destroy the victims. Brodie of course was a drug addict and that is the reason why he booked for Ibogaine treatment.
But Kara has been widely described as a drug addict from a problem family. Enquiries show she has no history of drugs and her family is stable. Karen herself is a teacher and care worker. She was in love with Brodie and helping him get off drugs.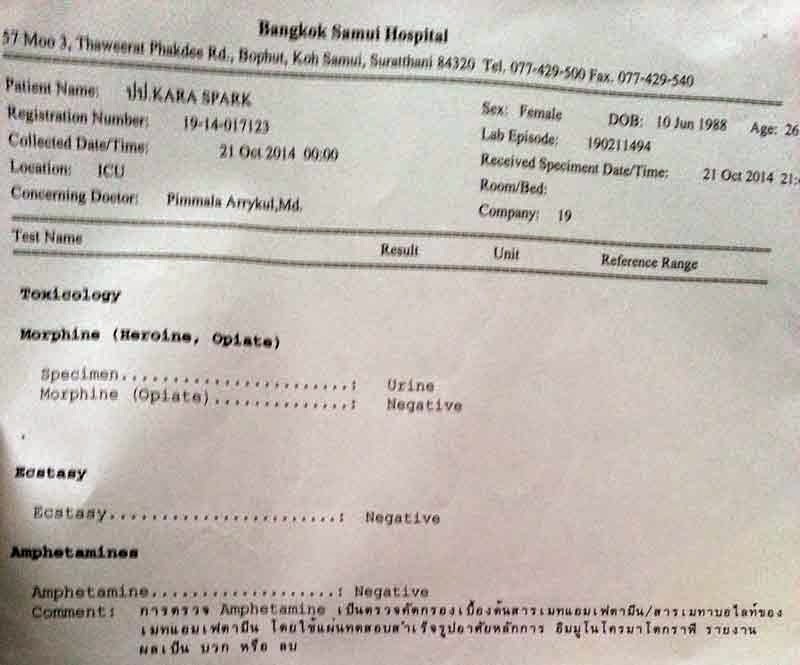 No drugs in Kara on the day of Brodie's death and when she took Ibogaine. But Ibogaine would not show up
She agreed to undergo the Ibogaine treatment with Brodie to help him through his trial and also because she had heard of the other healing qualities of the drug – such as curing anxiety. The two Americans had promoted the programme as a bonding experience.
A copy of clinical tests on Kara at Bangkok-Samui Hospital, which she had insisted she be admitted to after being administered Ibogaine and some pills, one of which she spat out, shows no trace of, methamphetamine, morphine (heroin), or Ecstasy.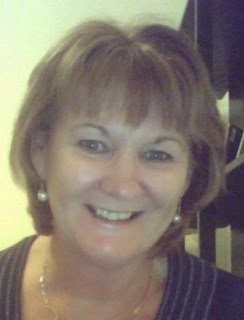 Dianne Tucker – not a drug
user. Does not smoke
or drink
Similarly Brodie's mother Dianne Tucker is a non-smoking, non-drinking, manager of a shelter for abused woman in Halls Creek, in the North West Australian outback. Running the Ngaringga Ngurra Aboriginal Corporation's unit she insists she has never touched recreational drugs in her life.
Claims have also been made that Brodie tried to stay on Koh Samui so they he could continue taking drugs were described by Kara last night as 'beneath contempt'.
'Brodie had been planning some time to get off drugs. I was helping him. We were both hopeful for the future.
The claims that Brodie had brought drugs from Australia, that he wanted to take drugs on Koh Samui (where we were for just half an hour or so) and that he injected himself are appalling. How low can these people get?"
Ms Spark said she was willing to return to Koh Phangan or Koh Samui to testify.

"In Australia these two men would be have been put away a long time ago", she said.
Cracknell and Picone have been invited to comment. An associate said: "They are instructing lawyers so they can go to the police station and get evidence of the syringe."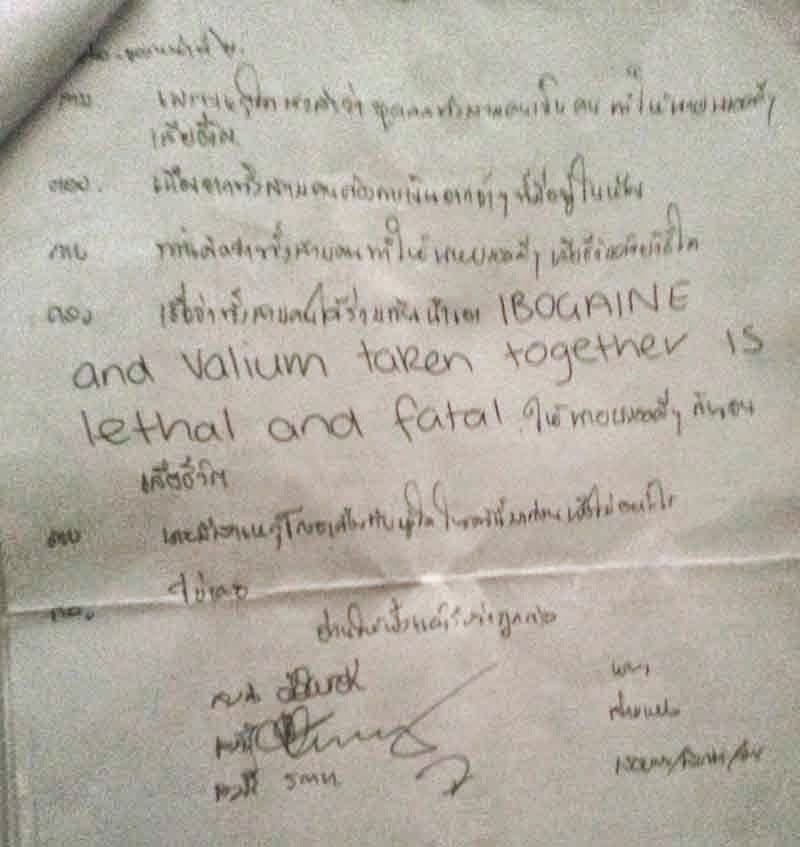 Statement Page 3 with the signatures of Kara, Kenneth Chung and Lieutenant Wiriyapon.
Kara insists the mix with 'valium' was fatal
Experts however say that Valium should not produce any bad reaction when mixed with Ibogaine but Kara insist that it must have been the mix of drugs which caused Brodie's death and she wrote in English at the end of her statement 'Ibogaine and valium taken together are lethal'.

Shea Preuger
Shea Preuger, who runs an Ibogaine programme in Costa Rica – the hallucinogenic is banned in the United States and many other countries – said:
"Those guys told me once that they sometimes use Tramadol to stabilize people. Tramadol within two weeks before Ibogaine increases the risk of a seizure on ibogaine. I told them this, but they didn't respond.
Amphetamines up to 9 days before ibogaine can cause adverse side effects with ibogaine, alcohol the 12 days before, and so can many different forms of pharmaceuticals – some up to 90 days before ibogaine. These are all things to consider."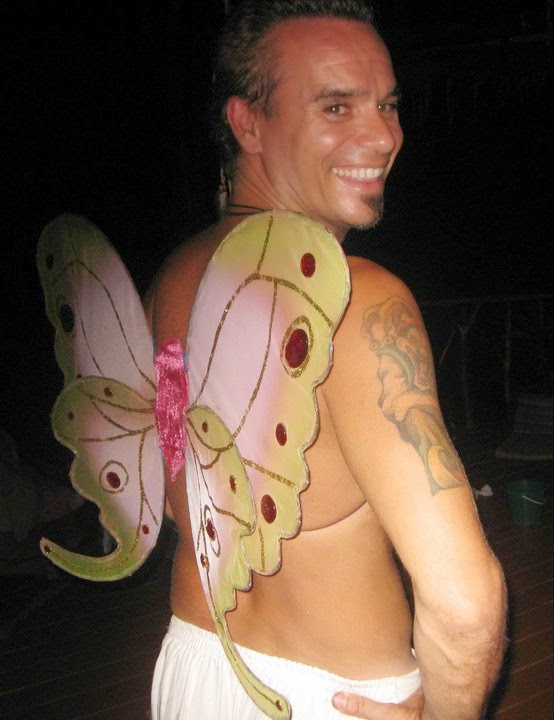 Picone – flight of fantasy?
Shea Preuger admits however having a disagreement with the two Buffalo men and says in a magazine interview that she was run off Koh Samui by rivals.
David Sandberg, a British authority on Ibogaine who runs the website ibogaine.uk however has stated:
"Normal doses of benzodiazepines like valium can safely be taken prior to ibogaine to assist in reducing anxiety or to help the client sleep if necessary."
However he stated that statistically probably one in 300 people die while undergoing Ibogaine treatment and the hallucinogenic drug should never ever be administered without medical supervision and issues the following warnings.
"- Ibogaine is principally recognised for its ability to vastly reduce the symptoms of drug withdrawal, thus allowing addicts to detox relatively painlessly.
Any other claims made for the drug, such as that it creates long-term drug-abstinence, or removes the effects of trauma or conditioning in either addicts or non-addicts, may have a degree of truth but are a great deal less substantiated.
Cracknell – Angelic dreamtime healer

– You must be medically tested before you take ibogaine. Proper clinical testing of heart and liver function are the absolute minimum.
The site author is not aware of any reputable treatment provider who would allow you to take ibogaine without prior medical testing.
Do not go with someone who does not insist on it. Ideally, you should have constant monitoring of heart function whilst on the drug, and medically-trained staff present.
– Beware of listening excessively to the advice of just one individual when deciding whether or not to take ibogaine.
Ibogaine's effects can be life-changing, and it is common for someone who has had a very positive experience to do their utmost to "spread the message," possibly allowing their enthusiasm to override the very real concerns about safety.
– If you are thinking of taking ibogaine for personal development and haven't yet been involved in proper therapy (therapy where there's an open admission by the individual of the presence of emotional issues), be aware that you may be being attracted to a "quick fix" strategy that avoids really dealing with deeper issues.
If this is the case, ibogaine could possibly make things worse.
For some, using psychoactive substances can invoke disturbing reactions as the mind's defences struggle to keep down rising repressed material. "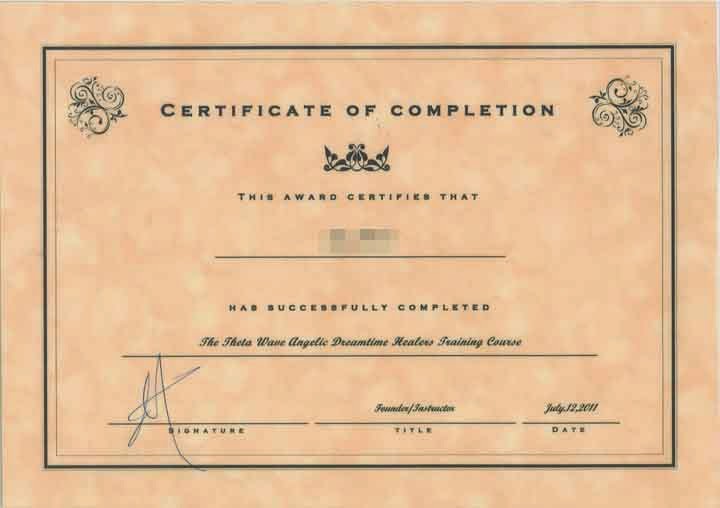 Victor Cracknell and Mike Picone offer a range of products in the field of alternative healing on Koh Phangan on top of their Ibogaine treatment.
They both manufacture silver water, and colloidal gold and zinc. And Cracknell is something of a guru. He for instance offers the Theta Wave Angelic Dreamtime Healers Training Course. This possibly is also not registered under the Ministry of Education.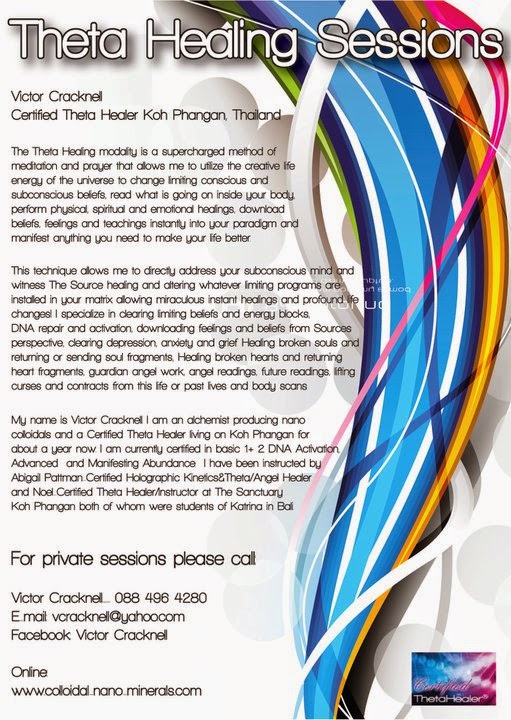 Cracknell does 'DNA repair and activiation' DNA is quite topical on the islands
at the moment – I don't think Scotland Yard went to him though.




AUSTRALIAN'S BID FOR DRUGS CURE ENDS IN DEATH – SYDNEY MORNING HERALD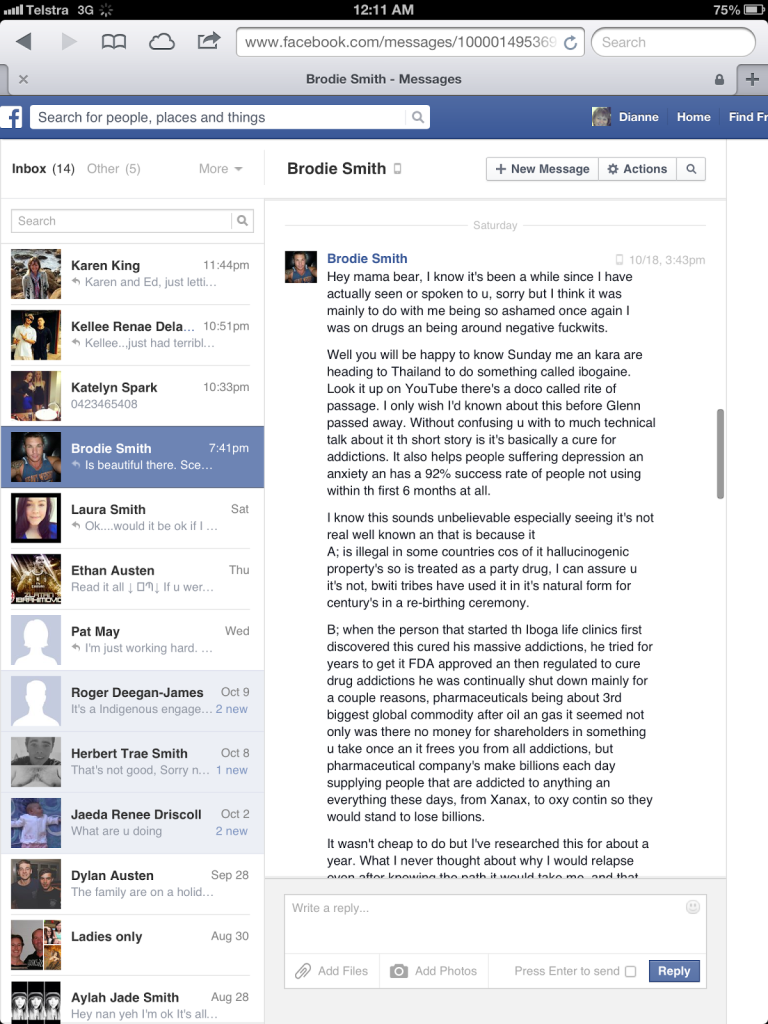 Brodie's last letter to his mum. His brother Glenn who was suffering from
a advanced stage of leukemia overdosed. This does not appear to be a letter
from someone who is going to do the same thing.
Comment: The lack of police investigation into Brodie's death is spectacularly apparent. And this is the same police force and same unit which conducted the investigation into the murders of Hannah Witheridge and David Miller. That this force rules by fear is apparent in the statement issued by the Myanmar Investigation team that witnesses are out there who could possibly save the two Burmese charged with the killings – but are scared to come forward. There are also many other reports that the island police also rule by cash. In fact one of my first experiences in Thailand 25 years ago was being shaken down by island police over a car accident in which I was a passenger in a vehicle hired by a television crew of which the brakes failed. Stories much more serious than this are widespread. Thai Police have stated that Scotland Yard are happy with their investigation into the Koh Tao murders. The statements by the families appear to confirm this. Other information has also been provided to this website about the operations by these two men – who appear to offer other programmes which I cannot go into. Will Thai police produce a syringe? Will it have Brodie's DNA on it? Unlikely. Its just the death of another foreigner. The Australian authorities might wish to raise the subject with the Thai Ministry of Foreign Affairs though….They could save another life.