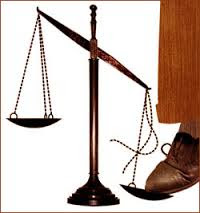 With the confirmation of the conviction and jailing of Drew Noyes, former publisher of the Pattaya Times newspaper – and the conviction and new arrest warrants for fake British lawyer Brian Goudie, aka Goldie, now is the time to close the book on these two low life scammers.
The wheels of Thailand's legal system screeched, and groaned and came off the rails on numerous occasions demonstrating how primitive it is and how easily fooled.
The only person who has sued me who is not yet in jail is David John Hanks, the former owned of the Masquerades Brothel in Keysborough, near Melbourne, who played the part of the not too intelligent  Scottish 'heavy' for both of them.  But I am confident of his come-uppance.
Drew Noyes is kicking his heels in the United States and faces arrest if he comes back to Thailand. He ran again as expected. Just as he did after the Wilmington Morning Star (now Star-News) exposed his 'myriad of lies', property fraud, share fraud, and sexual harassment way back in 1995.
Brian Goudie also disappeared and failed to keep to the terms of the bail while appealing a very light three year jail sentence for defrauding a 78-year-ld woman out of approx US$240,000.officially, but more like US$300,000.
We had exposed Noyes for re-inventing himself as an American lawyer, an American financial expert who had come to Thailand by Royal Proclamation, and for cheating a wide variety of people in different ways.
Similarly with Brian Goudie, who claimed he was a qualified British barrister and former office in the Royal Marines, we exposed him as Brian Goldie, who had been jailed for six years in Australia for stealing from the company that employed him, who had had an arrest warrant issued by police in the UK in connection with a fraud on the Royal Bank of Scotland – and who had fled both the UK and Australia for the easy pickings of Thailand.
Goudie is in breach of his bail terms and has new warrants of arrest out for him.
These guys will turn up like bent pennies somewhere else and no doubt commit more frauds because they cannot change and Thailand, despite convicting them, has failed to adequately deal with them,  Good luck to those who have to deal with them in the future.
Brian Goudie – Swindler Scot – YourTV- UK April 12  9.00 pm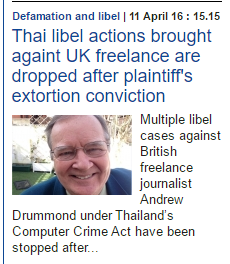 The story was covered today in the journalist's weekly – UK Press Gazette: