GOUDIE OF THE BAILEY, UNREQUITED LOVE AND FLASHY CAR IMPORTS
Flying Sporran's Weekend Ramble


(NB If you have not been following the chronicles of con man Brian Goudie,. aka Goldie I am afraid this will not mean much to you – but you can Google him but briefly he is a former convict known as Brian Goldie who has reinvented himself as a British barrister and former officer in the Royal Marines and is the star of a TV doc called 'Brian Goldie -Swindler Scot')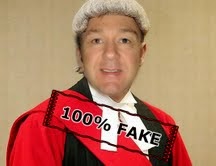 Fake barrister Brian Goudie is celebrating the fact that some of his closest friends are either in jail or, he claims, about to be put in jail.
Top of the list is a young woman called Nang, his former girlfriend, who lived with him in the 'Jaggy Thistle' in Jomtien, which he acquired on the death bed of Ulster drugs trafficker Jimmy 'Doc' Halliday.
He had put Nang in as managing director of Halliday's company two days after it was raided by police and found to be operating without a drinks licence.
Nang thus took the brunt of the court action which was a hefty fine. I guess she was still in love at the time but Goudie gentleman that he is reported that she was found guilty of offering illegal sex services.
And Goudie, former convict 0000274 in a Hakea Prison, West Australia, more recently has been blogging that his 'ex' is a Soi 6 freelancer which is not true and I am not sure there is such a thing.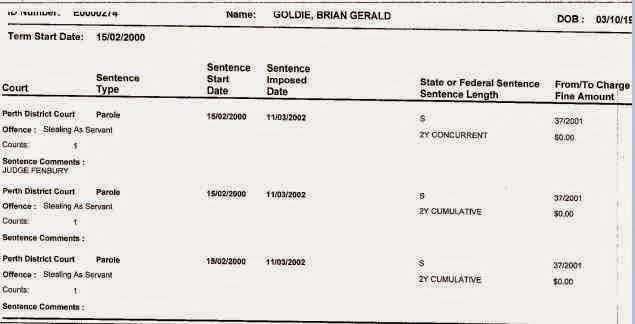 (Soi 6 is a street of short-time bars in Pattaya where I understand as a rule the women live on the premises. Its where American millionaire Bill Monson was taken by Goudie when he was trying to get him as a client)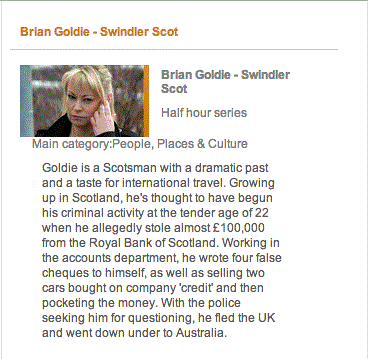 They fell out when he brought in a second girl 'Neung' from Misty's in Pattaya to live at the 'Jaggy' and have never seen eye to eye since.
Nang was not happy with his new demands
Neung later hopped it after which Goudie made desperate calls over Facebook (she was not answering her phone) to get her back.
His relationship with another woman called 'Yingme' whom he claimed was 'his lawyer' also crashed spectacularly.
Goudie has now started up putting pictures on Facebook of the daughter he fathered a few years ago from a young woman from Prachuap.
He told the Australian Appeals Tribunal he had no relationship with the daughter he fathered in Scotland before he went on the run over 20 years ago before Scottish Police started investigating frauds on the Royal Bank of Scotland.
It seems as a service debt Nang may have liberated contents from 'Jaggy' including television sets – well at least that is what he is charging her with although she was MD at the time. He had not taken the parting well.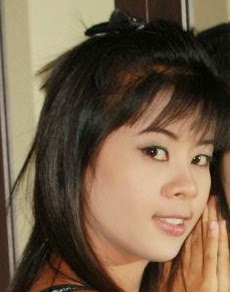 Nang
Goudie, jailed in Australia for six years for fraud, it appears has a habit of filming his girls as they provide a special service to him.
He also put one of those gems up on the net, it's alleged in papers sent to Pattaya, by the TCSD.
Goudie is now claiming that the videos were on 'stolen' computers, forgetting his original line that someone had cracked the password for his dropbox.
And he does not explain however how the images appeared before his computers were allegedly stolen.
But never mind, he says, Pattaya Police tell him there is no case against him. We're obviously talking to different police.
And if you ask me who is telling the truth – I can't give an answer.
Nang and Neung join a long line of woman who have ended up less than happy with this Scots conman, who has claimed to be a barrister and officer in the Royal Marines.
Goudie also says Nang is facing multiple cases in Koh Samui. And Goudie says police are hot on her trail. Police I spoke to however said the case is dead. Who is telling the truth? Same answer I'm afraid. This is Pattaya where justice is often decided on the basis of a pile of 1000 baht notes.
Anyway he has to get off his own charges first.
In fact when he was at the police station in Jomtien 'finalising the cases against her' he said he 'heard' that his old friend Andy Mathews was arrested in a nearby bar.
That would, I suspect, be better translated as Goudie 'shopped ' him because that's what he does to former colleagues.
In this video he talks about making money 'like there's no tomorrrow' defending child sex offenders – and tells how he shopped a Briton who has since been released at the order of the Supreme Court. The Briton Ian Tracey has since been released by the Supreme Court after it declared a mistrial. Tracey had introduced Goudie to Jimmy 'Doc' Halliday. Goudie used Halliday's power of attorney to take all his property when he died.
I would not take this 'Walter Mitty' lawyer so seriously bar for the fact that Pattaya police will fall for almost anyone wearing purple.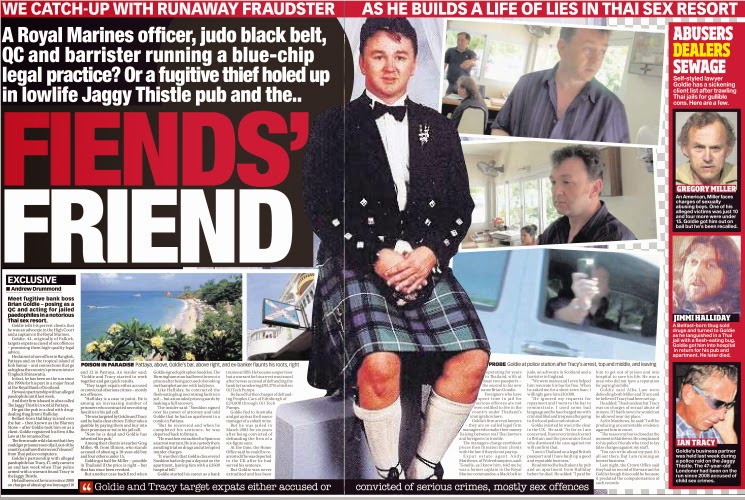 Goudie also appears to be delighted that his old friend Andy Mathews, from the British Midlands, has been banged up for assaulting Rolf Wilhelm Haupt, the German casino boss behind Pattaya's Ocean Properties. But he says:
"It was a shock to see Andy arrested – I know he has had some sort of disagreement with Rolf Haupt, but did not realise it was so serious to warrant being remanded in custody."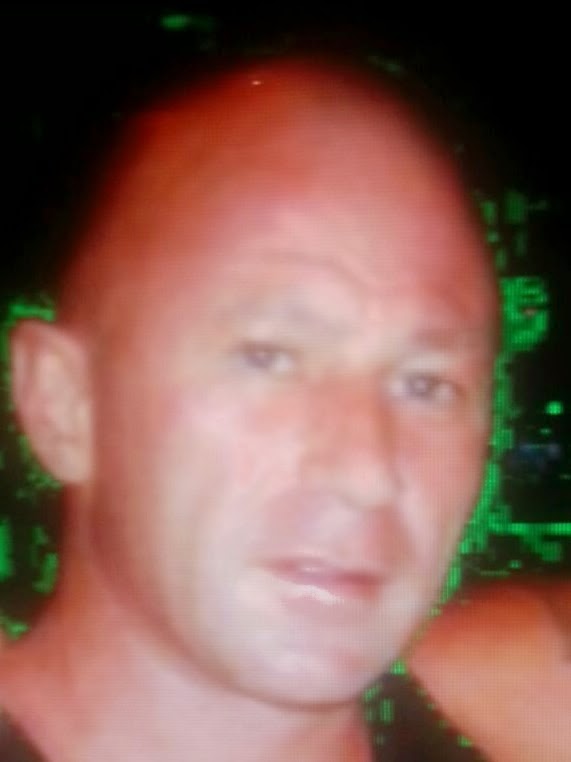 Mathews
Goudie would of course have been next in line.
Rolf Haupt? Haupt's company buys up in bulk apartments in new developments in Pattaya hoping to make handsome profits when the prices go up.
He was formerly in partnership with Mathews, who, well to put it frankly is not in the same league. Mathews is straight.
Mathews made two mistakes. The first and most calamitous was to lend Goudie 400,000 baht over a short period.
Goudie never paid it back. He claimed his company Alba Laws was having trouble retrieving cash from its clients. Goudie does not have a history of paying anything back voluntarily.
Mathews helped Goudie refurbish the 'Jaggy Thistle' pub which was going to be run by a former Pattaya Foreign Volunteer Policeman called John MacDonald.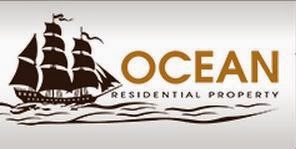 Then a little birdie told Mathews that Goudie was, er, not an officer and a gentleman.
His law degree was fake. He was in fact a former bank teller at the Royal Bank of Scotland, which he was accused of defrauding.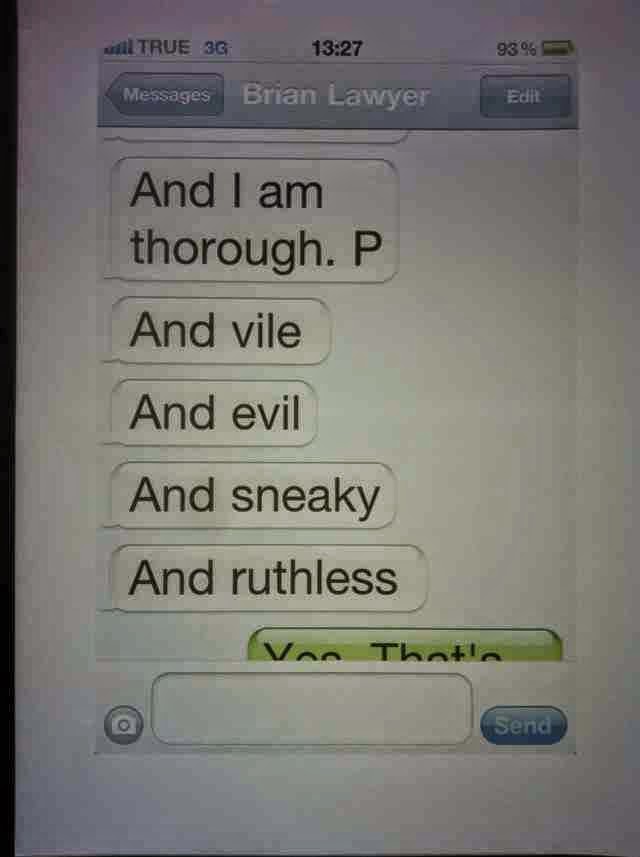 And he was not an officer at all just a 'wee jimmy' from Falkirk, albeit a professional con man.
A furious Mathews stormed the Jaggie Thistle threatening physical violence against Goudie and Goudie took him to court. Mathews never got his money back just this sms on the left from Goudie.
If there is one person who can describe who exactly Goudie is – well its Goldie himself. He says it even better than the television documentary 'Swindler Scot – Brian Goldie' – devoted to his activities.
Mathews' second mistake was to go into business with Haupt – considerably above his league. The inevitable happened. Mathews an amateur boxer, also gave Haupt a left hook, or right hook, I am not sure which, after he claimed Haupt swindled him out of the profits of a major property deal.
He claimed Haupt owed him 27 million. Whether that's true or not I do not know. But Andy Mathews is a child of nature – quick to laugh, quick to anger.
Anyway he had used Goudie's Alba Laws to defend himself. Not good.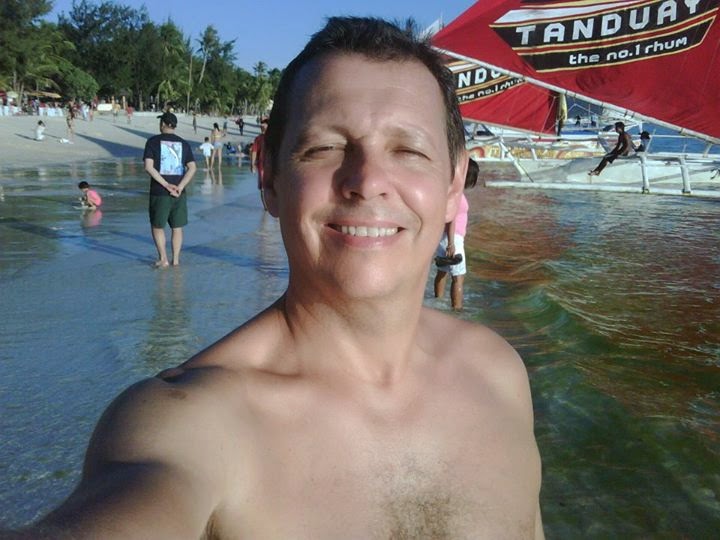 Rolf Haupt
By the time the case got to court they were no longer friends…and the lawyer he hired did not even put in a defence.
Nang, who was with Goudie at the time, claims Goudie was paying Mathew's lawyer to get him convicted.
He's in trouble now because I understand he would not leave Haupt alone and was active on the internet issuing threats.
What's interesting about Haupt though are his businesses. One is putting large sums of cash into property in Pattaya – and the other was importing flash cars.
Guess who his adviser was. Yes. Step forward Brian Goudie aka Brian Goldie.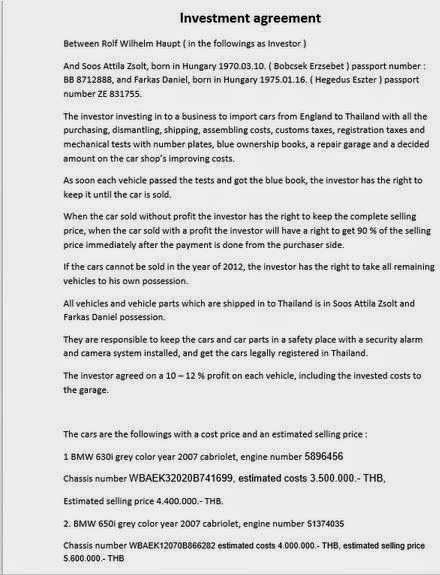 He set up an arrangement with two Hungarians selling fast cars acquired in the UK. I do not know the origin of these cars but there is material floating about with details of their engine numbers etc.
But I am not sure this is not an occupation that foreigners are allowed to take part in. I believe the DSI have been doing an investigation into car importers.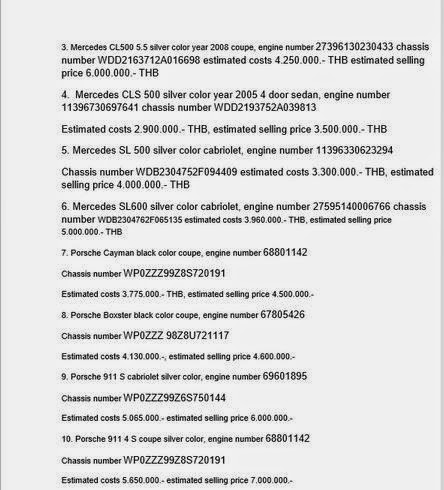 Goudie is currently of course on bail for cheating an 76-year-old American woman out of 7.9 million baht. He has secured a stay of execution so, he says, he can pay it back. I love these Thai laws which support crooks if they repay what they have stolen.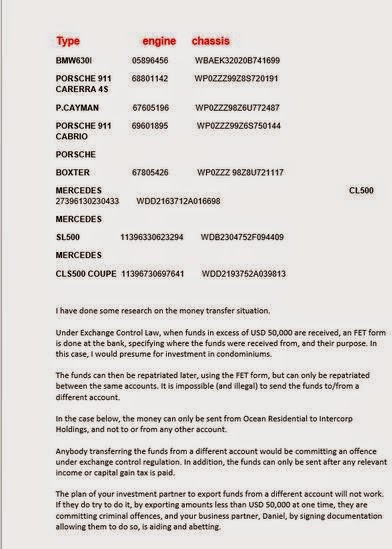 This last bit was written by Goudie as 'legal counsel' – in an email dated Aug 1 2011
God it's sh*tty down there. But some good things come in large packages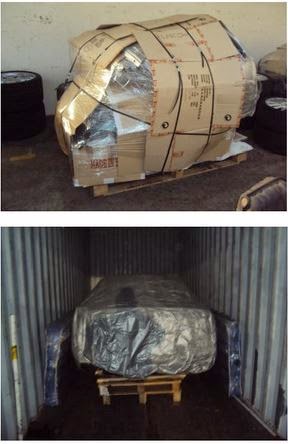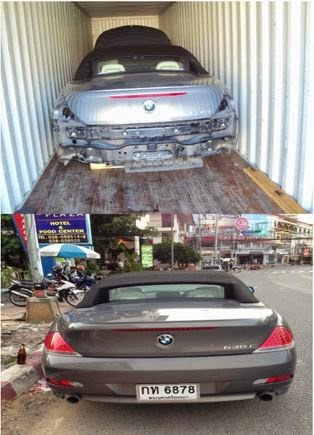 And there is a lot of money coming into Thailand to be
laund
invested in Pattaya's real estate market.
Anyway here's a clue for the local plod. This is what Goudie should look like.